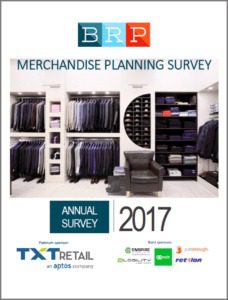 Retailers know that success in today's environment requires them to align their systems and organizations around fulfilling customer-led demand. But outdated planning systems and the legacy of channel-specific inventories still present major stumbling blocks many retailers. Still, brands including Uniqlo, Zara and Bonobos have solved some of these challenges, in part by more closely aligning customer data with planning systems.
In its 2017 Merchandise Planning Benchmark Survey, Boston Retail Partners (BRP) set out to gauge the current state of retail planning processes and systems, including merchandise planning, assortment planning and localization, store planning, allocation, omnichannel demand planning and space planning. "To innovate the customer experience, [retailers] must transform their disparate systems, processes and organization into one cohesive environment with the ability to offer customers a seamless shopping environment across any channel and the capability to deliver merchandise immediately — wherever it is needed," according to the report.
Although customer-centricity is the top strategic initiative for almost half (47%) of the retailer respondents, the road to implementation has been rocky:
More than half (53%) of retailers that have integrated planning processes across channels say the initiative needs improvement;
Almost one-third (31%) of retailers still maintain separate inventory in each channel, although this percentage has dropped from 69% a few years ago;
Systems for store planning, merchandise planning, and assortment planning and localization are likely to be three to five years old; and
More than one quarter (28%) of retailers view omnichannel demand planning systems as somewhat or very ineffective.
The survey underscores the fact that there are still opportunities for better integration across channels — and the people, processes and technology to support them. "Customers use technology daily to enable and control their shopping journey," said Gene Bornac, Senior Vice President of BRP in a statement. "Now it is up to retailers to play catch up with their organization, processes and technology to deliver the right products for the right price in the right place."
Cost Holds Back Many Upgrades
Retailers find that some planning applications are more helpful than others. More than half (55%) report that merchandise planning and allocation systems are somewhat or very effective, and 53% find assortment planning and localization systems somewhat or very effective. However, less than half of retailers see store planning, space planning and omnichannel demand planning as somewhat/very effective. In fact, more than one-quarter (28%) of retailers view omnichannel demand planning systems as somewhat or very ineffective.
When it comes to changing their current applications, cost is the biggest concern for retailers considering new omnichannel demand planning (36%), store planning (36%) and merchandising planning (33%) solutions. While one-third of retailers looking at changing their assortment planning and localization applications are concerned with cost, an equal share are concerned about a lack of technical expertise within their organizations. Retailers' biggest concern with allocation systems is having resources familiar with the tool (28%), even more than cost (25%).
In spite of the growth of software applications in the cloud, about one-third of retailers say their future deployment strategy for planning systems is on-premise, ranging from 39% for merchandise planning to 28% for omnichannel demand planning. Up to 36% of retailers are considering future cloud deployments, whether public or private, for the six planning systems discussed in the report.
Uniqlo, Zara and Bonobos Break New Ground
While having the right technology tools to support advanced planning is essential to customer-centric retailing, a shift in the internal culture and mindset of the organization is required to view the enterprise collectively instead of as disparate divisions. The report highlighted three organizations that have developed enterprise-wide solutions that fulfill customer expectations while also playing a key role in the companies' financial success:
Using customized analysis and forecasting technology that focuses on customer-centric data and just-in-time (JIT) inventory practices, Uniqlo can analyze and react to sales on a weekly basis. The retailer also leverages localized production and special arrangements with its clothing manufacturer to respond quickly to customer demand and free up investment capital.
Zara also has implemented JIT practices. As a data-driven organization, Zara shares regular product feedback between stores and corporate, which gives it considerable agility to make last-minute changes to protect inventory investments.
Bonobos operates a no-stock, no-inventory model that circumvents several challenges of the traditional merchandise planning model. Physical locations known as Guideshops allow customers to interact with product physically, then order product to be shipped to them. This enables significant savings on inventory costs.
BRP's 2017 Merchandise Planning Benchmark Survey is based on a survey of more than 500 North American retailers conducted online in October 2017. The majority of respondents reflect the specialty retail segment, with 36% of the respondents within the specialty soft goods category and 20% in the specialty hard goods category. Nearly all the survey respondents operate physical stores and most also have an e-Commerce presence.