The NRF 2019 Big Show filled New York City's Javits Center with people (37,000 attendees) and exhibitors (800+) as well as several less tangible elements: ideas, energy and excitement. Both retailers and solution providers were generally upbeat about prospects for the coming year, holding productive discussions about the technologies and strategies that will help them achieve their business goals.
"New technologies, such as AI/machine learning and AR/VR, are being explored in more practical detail," said Debbie Hauss, Editor-in-Chief, Retail TouchPoints. "Companies are moving beyond initial interest in the concepts and are implementing the technologies in real-world applications. Other key trends include the integration of humans and machines, and using technology to achieve business goals rather than building goals around the new tech. New tech will be important moving forward, but the human element will be necessary to create a meaningful customer experience."
[For complete Big Show coverage, visit our NRF19 news hub.]
The Retail TouchPoints editorial team reports on the Big Show's biggest themes, including:
• The retail industry invested $3.4 billion in AI in 2018, and retailers including Walmart and GUESS are already seeing real-world benefits from AI-enabled solutions;
• U.S. retailers can learn from Alibaba's advanced supermarket technology, and China's move to a cashless society has global implications;
• Amazon Go-style technology, powered by AI and sensors, can make even tiny stores cost-effective;
• Kroger, Walmart and Ahold Delhaize are making their own strides in grocery technology, from digital shelves and online sales to in-store robots; and
• The store is surging at Target, where 75% of all holiday 2018 orders were fulfilled by the retailer's brick-and-mortar locations.
Retail Industry Invests $3.4 Billion In AI In 2018
Retail is betting big on the promise of AI: the industry ranked first in AI spending with $3.4 billion invested in 2018, topping the $3.3 billion spent by the banking industry, according to Deborah Weinswig, CEO and Founder of Coresight Research. AI is touching every part of the retail ecosystem, from shopper communication to supply chain optimization.
Weinswig expects the rate of adoption to only increase as AI becomes one of the primary means of stripping friction at brick-and-mortar stores. The prevalence of out-of-stocks and difficulty of returns can both be smoothed out through the proper use of AI technology.
Walmart is investing heavily in machine learning, as EVP and CTO Jeremy King discussed at a session titled The Technology Leadership Behind Walmart's Digital Transformation. AI investments have produced benefits ranging from easier reorder processes to shelf-scanning robots that prevent shelves from going bare.
Even flashier, customer-centric applications of AI are generating benefits behind the scenes. GUESS and Alibaba's pilot store uses smart mirrors, smart racks and AI-enabled fitting rooms to offer recommendations and improve service, but that same technology drives analytics that can help the retailer run the store more efficiently.
"What's really cool about the store is every item is enabled with Bluetooth low-energy chips, RFID and motion sensors, which enable all of our inventory to be tracked and analyzed," said Edward H.J. Park, SVP, North America at GUESS during a session titled The Artificial Intelligence Revolution Is Here. "This can help us look at traffic patterns and product interest, and enables us to track and scan each wall, each mannequin, to let us know how much revenue has been generated on a weekly basis." — Bryan Wassel
China Goes Cashless; Alibaba Showcases Advanced Supermarket Tech
Understanding Chinese retail and consumer habits is becoming more of an imperative, especially as e-Commerce giants Alibaba and JD.com continue to achieve tremendous sales growth. In a session titled Future NOW: How China Today Foreshadows Shopping And Consumerism Of Tomorrow, Rod Sides, Vice Chairman of U.S. Retail and Distribution at Deloitte Consulting, revealed that China generated $13 trillion in digital payments in 2018. With this total in mind, U.S. retailers should monitor how they can leverage the Alipay and WeChat Pay platforms.
"China is the world's first cashless society," said Harlan Bratcher, Global Business Development Head of JD Fashion during the session. "The last time I went to Beijing on business a few months ago, I never once stopped at an ATM…restaurants rarely do cash. It's definitely happening more in the U.S., but [in China] you have to take 1.4 billion people into account, whereas the population of the U.S. is 340 million."
Beyond digital payments, these retailers are meeting consumer demands by diving head-first into technologies that U.S. merchants have only tested on a small scale. For example, JD.com operates more than 100 drone bases across China. The company introduced pilot drone-enabled delivery in mountainous areas in Southwest China, and operates nearly 20 unmanned stores throughout the country. The retailer currently delivers packages to hard-to-reach provinces and to buildings in busy cities across China.
Alibaba had a major presence at NRF. The Chinese giant showcased its Hema supermarket technology on the floor (rebranded as Freshippo). Innovations include:
• A smart checkout system;
• AI-powered robot "waiters" that deliver trays to shoppers;
• A conveyor belt system designed for online order fulfillment; and
• Facial recognition-based payments.
Alibaba has rolled out more than 10,000 self-checkout machines at its own stores, and stores operated by third parties, since the product was launched in 2018. — Glenn Taylor
Tiny, AI-Enabled Stores Offer Amazon Go-Style Frictionless Shopping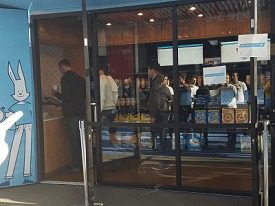 Retailers looking for ways to match the convenience of Amazon Go should investigate the AiFi NanoStore, a modular, automated store format that can have a footprint as small as 160 square feet. The technology, which was demonstrated at the Big Show, can help retailers open outposts in spots that are otherwise too small or isolated to support a full-scale operation, while also providing a way to pilot frictionless checkout technologies.
"This is a new marketplace that unlocks new opportunities," said Steve Gu, CEO and Co-Founder of AiFi in an interview with Retail TouchPoints. "Historically, if you look at the number of SKUs and the operation costs, you actually would lose money. However, with modern technology, this sort of store becomes possible."
The stores use AI, sensors and camera networks to create a seamless shopping experience. Shoppers are admitted after they select their payment method. Once inside, the store tracks every item shoppers take or put back on the shelves in real time, providing them with a running tally of their purchases. Shoppers then can leave with their selections, resulting in a completely frictionless shopping experience.
Each location can be customized in terms of branding, layout and product selection, from packaged goods to souvenirs to fresh produce. Additionally, multiple NanoStores can be chained together to form a larger location.
Two European retailers already are partnering with AiFi. Zabka, a Polish convenience store chain, will roll out NanoStores in 2019 and 2020, while Carrefour will harness the same technology that powers NanoStores to reduce friction inside its own locations. — Bryan Wassel
Kroger, Walmart Set A Fast Pace In Grocery
E-Commerce expansion has motivated many U.S. grocers to embrace technology to a greater extent than ever before. Kroger, which made the most recent headlines with its connected store partnership with Microsoft, displayed its EDGE shelves at the Microsoft booth. The shelves provide shoppers with information such as prices, promotions and nutritional and dietary information.
In a keynote address titled Restocking The Future, Kroger CEO Rodney McMullen said that grocers should do what they do best on their own, but partner with others in areas where they might not be as skilled. He highlighted Kroger's work with Ocado, Alibaba and Nuro as ways the business has turned itself into a tech-forward player in online grocery.
Walmart's ascension into the role of online grocery leader also sets a high standard for other retailers. The retailer plans to have 2,140 online grocery pickup sites, reaching 69% of U.S. households, and online grocery delivery through 800 stores, covering approximately 40% of the population, by the close of its 2019 fiscal year at the end of January. By Jan. 31, 2020, Walmart plans to operate nearly 3,100 curbside pickup and 1,600 delivery locations.
"Click-and-collect is the most exciting thing in retail," said Scott Galloway, Founder of Gartner L2 during his session titled Beyond The Buzz: State Of Retail 2019. "Try to figure out a way to leverage your stores as an asset base. Also, look at the fact that Americans love to be in their car. It's not convenient to get a yellow sticky on your door saying that you weren't there when they arrived just 47 minutes after you ordered it."
Finally, the big announcement from Ahold Delhaize that it will bring 500 self-navigating robots to 172 GIANT and Stop & Shop stores indicates that grocers are seeking new ways to deal with old problems, including reducing out-of-stocks and creating a safer shopping environment. — Glenn Taylor
Target CEO: Stores Are Our 'Single Biggest Competitive Advantage'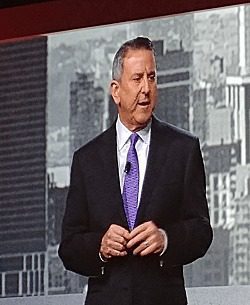 The headlines this holiday season shouted about mobile's remarkable growth as a commerce channel, but Target CEO Brian Cornell credits another valuable asset: the retailer's physical stores. "Our digital sales went well, but three out of every four orders was fulfilled using our stores, whether the items were picked up in the store, delivered by associates to customers in the parking lot, or picked and packed by store associates shipping them to customers," he said during the session titled More In Store: Target Invests In Its Guests And Its Future. "We consider our stores our single biggest competitive advantage, as service centers, fulfillment hubs and incredible showrooms."
Cornell also credited the retailer's 350,000+ employees, noting that investments in its associates account for $1 billion of the approximately $7 billion Target has been spending on store and technology improvements. "The best investments we made have been in our team," said Cornell. "They are the ambassadors for our brand."
The human connection with customers is important to Cornell. When Target acquired delivery service Shipt in December 2017, "their emphasis on personal service is what sealed the deal," he noted. And while technology offers advantages, there are many times when a human understanding of customer needs is paramount: "Would you rather have a drone dropping a box on your doorstep, or a real person who knocks softly on the door rather than ringing the doorbell so as not to wake the baby?" Cornell asked.
"A few years back the conversation was: 'Is everything going to move to digital?'" said Cornell. "Now the well-run retailers of tomorrow are offering great physical and digital experiences — and the innovative move for many pioneer digital retailers has been to open up stores. The consumer wants both. It's not an 'either/or' but an 'and' environment." — Adam Blair
[For complete Big Show coverage, visit our NRF19 news hub.]