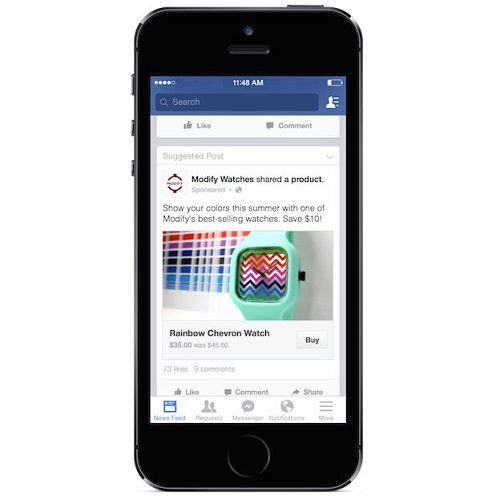 Facebook is in the early stages of testing a new feature designed to help businesses drive sales through the users' News Feeds and on Pages.
A "Buy" button will be included in ads and Page posts as a call-to-action for customers to purchase products directly from a brand or retailer without having to leave their Facebook pages. The test currently is limited to a selection of small- and medium-sized businesses in the U.S.
At first blush, Facebook's new feature presents valuable engagement and revenue opportunities for retailers, according to Bob Heaney, Research Director and Principal Analyst of Aberdeen Group's Retail & Consumer Markets practice.
"As it relates to ad revenue conversion to sales and the push to buy convenience of the program, it cannot be beat," said Heaney in an interview with Retail TouchPoints. "With the new 'Buy' button, there is no need to transfer to another site, or to re-enter already validated credit card or payment information."
Should Facebook extend the "Buy" button to other businesses and offer it as part of its ad offerings, organizations will have the opportunity to create a seamless integration between social media and e-Commerce.
"By weaving the shopping experience within the social interactions consumers have as part of their Facebook usage, companies will be able to offer a better omnichannel experience," explained Omer Minkara, Research Director of Aberdeen Group's Customer Experience Management & Contact Center practice. In addition, because Facebook is mobile-optimized and has an application, "this can help organizations ease the user experience and help their perception as more customer-friendly."
Retailers that test or implement the "Buy" ads also can ramp up engagement by incorporating messaging that is personalized, localized, and drives urgency and word-of-mouth.
"This doesn't present an ad opportunity for brands to yell louder and harder; it's an opportunity for them to get more strategic," added Laura Davis-Taylor, SVP of Omnichannel Experience at The Integer Group. "An ad message is noise, but if you can make it meaningful to consumers, it becomes a service. Retailers need to put themselves in the seat of people who are going to be exposed to these ads and make sure they matter."
For example, ads touting a sale countdown or flash sale promotion can create urgency and encourage customers to make an impulse purchase, Davis-Taylor explained.
There also may be an opportunity for "Buy" ads to become powerful word-of-mouth vehicles for brand advocates.
Social media is a "community of people and influencers who can shout out with these paid social ads," Davis-Taylor said. "What if we could give brand ambassadors a cut for sharing these ads? There's great potential there to get people curating and sharing ads for their communities."
Obstacles That May Prevent "Buy" Button Adoption
To ensure customers who engage with the "Buy" button have a great experience, Facebook made payment security a significant focus.
"None of the credit or debit card information people share with Facebook when completing a transaction will be shared with other advertisers," the company reported, "and people can select whether or not they'd like to save payment information for future purchases."
Despite Facebook's attempted reassurance, credit and debit card security continues to be a great concern among consumers. Given the recent string of data breaches that have taken place in the retail industry, shoppers are more cautious of where they submit their information and how it is being stored. In fact, 30% of consumers worldwide don't trust retailers to secure their data, according to ACI Worldwide research.
Although security is a top concern for retailers and consumers alike, there are several other factors that may hinder adoption of Facebook commerce. One concern is around the platform allowing unauthorized users to complete purchases. Facebook members often leave their session open on their computers, providing the ability for others to intentionally or unintentionally use the account to purchase items without the authorized user's knowledge.
Heaney also cited several other unanswered questions around three different topics:
Inventory availability: Would the system be able to allocate and deliver inventory based on overall demand? What about out-of-stocks or back orders?
Final cost for participation: Will ad price be adjusted as a result of delivery/shipping costs and sales tax? Will consumers have the option to adjust delivery options?
Back order and returns: If products are out-of-stock after an order is placed, how will consumers be notified? Would they be able to cancel or return an order? How would consumers have money refunded to their accounts?
"It is certain that most of the answers to the above concerns lie with the retailer shipping the product and not Facebook directly, but without a knowledge of who the retailer is behind the 'Buy' button, this puts the whole scheme in serious jeopardy of under adoption, or even worse, customer dissatisfaction," Heaney said. "Only if Facebook is willing to guarantee and honor returns and credit will this be a strong contender with Amazon."