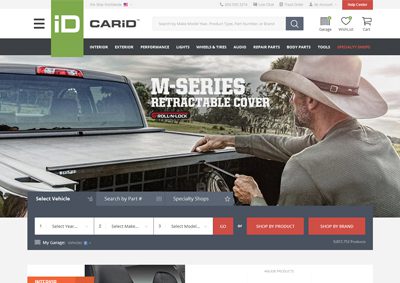 In the "bad old days" of shopping for auto parts, they were purchased at local dealers with limited inventory. Customers dealt with a person sitting behind a counter sifting through huge stacks of catalogs. Items were sometimes available, but often they were out-of-stock or on back order. Or, in an even more worrisome situation, much-needed parts were ordered by your local mechanic with a "trust me" wink about the cost, just as he was about to tear apart your car.
As with so many other parts of retail, e-Commerce has made big changes to this not-so-customer-friendly model, and consumers are voting with clicks and taps.
AAA: Auto Parts + Amazon = Acceleration
A recent study by Hedges & Company found that while sales through auto parts stores showed less than 1% growth from 2014 to 2015, online sales of aftermarket auto parts experienced a 16% growth rate from 2015 to 2016, when they are expected to reach $7.4 billion. A large part of this growth has been generated by Amazon, which has become this market's single largest online retailer, offering nearly eight million auto parts.
In fact, it appears the e-Commerce cylinders are just starting to fire up, as Hedges & Company forecasts tremendous annual auto parts sales growth, including:
12% to 16% annual increases over the next four years;
$1 billion increases in sales during each of the next four years;
2017 online sales projected to hit $8.4 billion; and
Online sales to break the $10 billion mark in 2019.
Consumers are now purchasing more parts online and either completing installations themselves or, at the very least, arming themselves with a lot more knowledge about their mechanics'costs. The Automotive Aftermarket Suppliers Association (AASA) Joint Channel Forecast Model projects conventional retail do-it-yourself (DIY) sales to grow 3.5% in 2016, according to Hedges & Company.
The Road To Omnichannel Success: Data Insight
How can auto parts retailers take advantage of these trends? Successfully leveraging an e-Commerce channel and the acquisition and retention of shoppers comes down to providing a differentiating customer experience. That can be helped along with smart use of consumer data. With today's almost unlimited stacks of data inherent in e-Commerce, the answers to any consumer questions auto part dealers seek may be easier to access than a catalytic converter on a '77 Dodge.
"Your data might show a majority of new customers coming in through social media instead of banner ads, so you shift your attention there," said Steven Royzenshteyn, President of CARiD.com, an online retailer of aftermarket auto parts. "Taking a look at customer behavior will give you insights into what's working and what isn't."
Not only can retailers adjust their advertising and marketing budgets seemingly on the fly, they can also take advantage of analytics to learn what customers are looking for in each region of the country, and to decipher how weather may effect sales.
In addition to being fast and secure, adopting payment methods such as ApplePay, Android Pay and Samsung Pay will also provide retailers with additional useful information.
Brick-And-Mortars Won't Be Left By The Side Of The Road
With online auto parts sales growing significantly larger each year, it is vital for retailers to align their online presence with any brick-and-mortar locations they operate. The potential benefit is that multichannel shoppers tend to be more profitable than customers who shop through just one channel.
"In some cases, online auto parts purchases can actually drive business to local shops in the form of installation and as an alternate parts source," said Royzenshteyn.
Above all, however, retailers should understand what their e-Commerce strategy is and make it as seamless as possible. To capitalize, retailers must:
Fine tune the mobile site;
Keep up with social networks for customer insight;
Offer multiple payment options;
Ensure the e-Commerce and physical locations' offers and messages are aligned; and
Leverage customer data from every point possible.
"Determine the main purpose of your e-Commerce presence, whether it is to increase customer reach, brand recognition, push in-store conversions, or offer an alternate purchase path," Royzenshteyn concluded.
Auto parts retailers, buckle up: e-Commerce is just getting into gear.