During a recent visit to the newly opened T11 Food Market (located in the Chaoyang District in Beijing) Du Yong, CEO and Founder of the supermarket, provided a personal behind-the-scenes tour to Retail Store Tours.
The visit was arranged by Kevin Peng, Secretary-General of The China Chain Store & Franchise Association (CCFA), and Philip Cheng, the Association's Manager.Founded in 1997, CCFA is the national representative for franchise chains in China, and a leading resource for existing and potential franchisors and franchisees. Sharon Shi, strategic partner for Retail Store Tours in China, also attended the tour.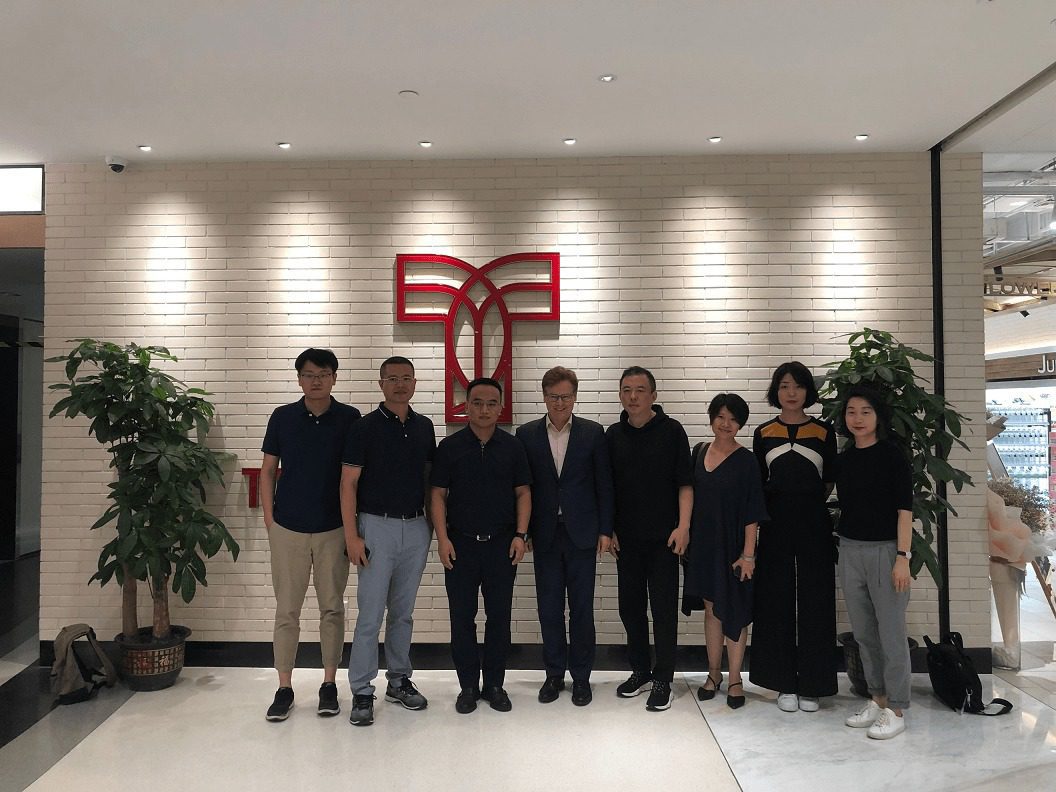 The executive team at T11 Food Market in Beijing hosted Retail Store Tours and China Chain Store & Franchise Association for a VIP experience.
How T11 Delivers A Five-Star Experience
T11 Food Market opened in June 2019 and is a work of both beauty and function. The attention to the smallest detail is flawless. Retail Store Tours gave T11 its highest rating: five stars (see evaluation criteria below).
Here is some context to the rating: Retail Store Tours evaluates thousands of stores and retail concepts each year and maintains a large database of stores across all retail categories. The group evaluates stores based on six criteria: The Human Touch, Store Design, Use Of Technology, Business Model, Customer Management, and Unique Value Proposition. Here is an overview of T11 based on these factors.
The Human Touch:
From the moment shoppers enter the store, they are greeted by a friendly and knowledgeable store team member. This continues in every part of the customer journey throughout the entire store experience.
Store Design:
The T11 store design leaves no detail untouched. The store uses LED lighting throughout the entire building, which beautifully illuminates the products and departments. This can boost dwell time: when used properly, lighting in a retail store extends the customer time in the store by 17%, according to a study by Philips Lighting. The product merchandising was outstanding, with each product illuminated by its own focused LED light. Additionally, the packaging was organized by color, making it easy to identify.
Within the bread and bakery section, shoppers can view and select fresh French breads cooked behind transparent glass windows. The pastries are inviting to look at and even tastier to eat. T11 also offers a comprehensive assortment of the best wines in the world with suggested pairing and wine ratings. The wine section accounts for approximately 20% of the store area, offering more than 2,000 SKUs of red wine, beer, white wine, and sake available from 150 purveyors.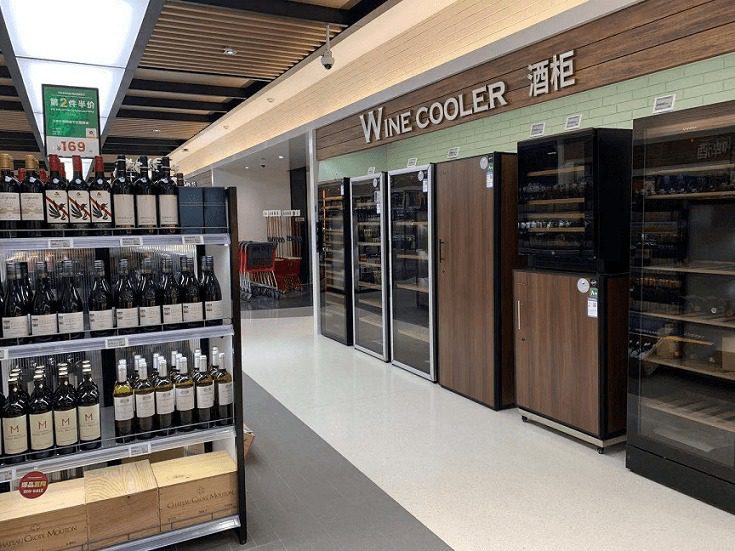 The wine section and wine cooler area at T11.
The Spirits Locker contains a broad range of spirts from very affordable to rare.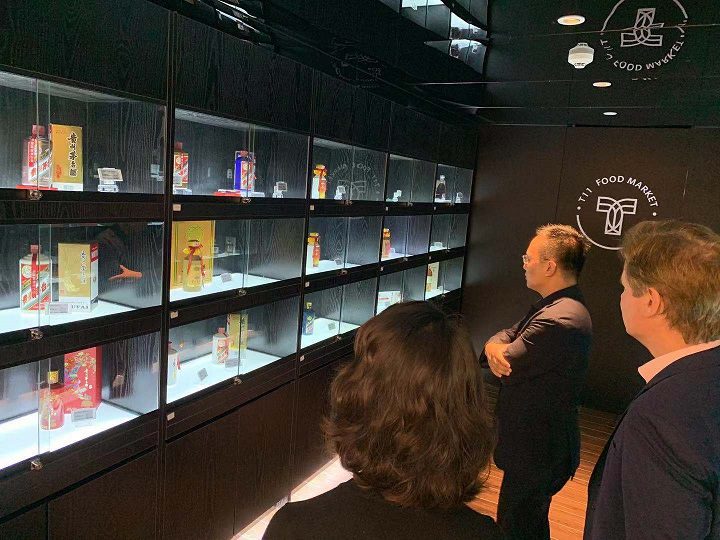 Du Yong, CEO and Founder (center) of T11, provides an overview of the spirits section.
The Market Bar is a beautifully designed and immersive and private setting for shoppers who want to get away from the store.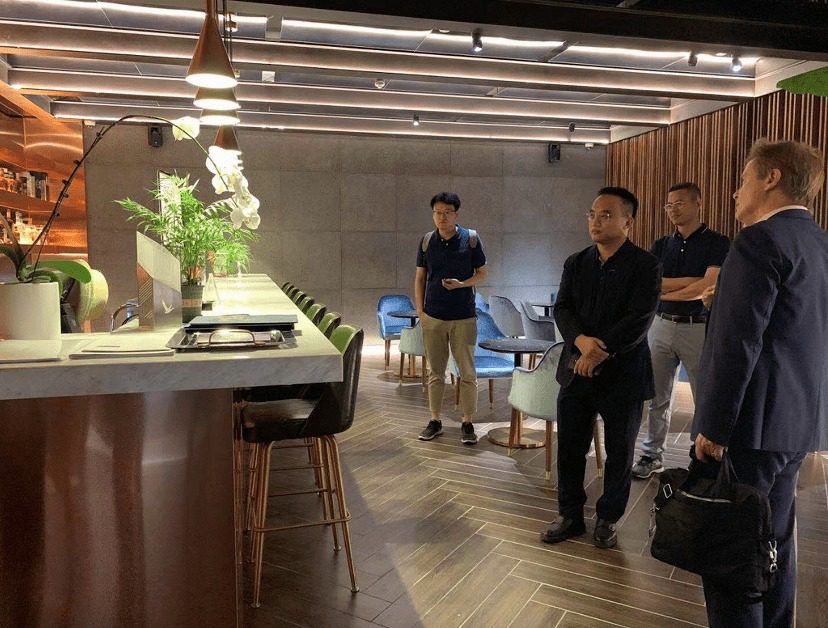 The supermarket also has a restaurant with multiple dining options, where shoppers can select a fish from the seafood department that the chefs then cook to order.
Use Of Technology:
The fascinating fact about T11 is that it was founded by technologists and developers. Upon opening the market, they created a software to manage and sync the supermarket's back end retail operations such as supply chain, stock replenishment and employee scheduling. And they're not keeping this technology for themselves — T11 plans to offer software as a service to supermarket chains around the world.
Employee Training:
All T11 team members are courteous and trained to service the needs of the customers.
Business Model:
T11 is designed as a tech-driven supermarket targeting middle class consumers, and was built by software engineers and designed with today's and tomorrow's technologies in mind.
Customer Management:
T11 can track consumer purchases and make recommendations, both with the intention of fostering shopper loyalty.
Unique Value Proposition:
T11 offers an unbeatable shopper experience and can deliver grocers a software solution to run their business with the latest technology, potentially powering mobile experiences for consumers through features such as AI and voice shopping.
After the primary store evaluation is complete, Retail Store Tours provides a secondary rating on the use of touch, sight, hearing, smell and taste in the retail experience, which impacts the overall customer journey.
The Retail Store Tours research illustrates that when more senses are activated during the shopping experience, higher satisfaction levels are generated, which helps foster customer loyalty. In the U.S., Eataly and the Starbucks Roastery are examples of companies that have mastered a thousand little details executed with excellence. Casinos have long mastered the use of customer design to control traffic and time spent in the casino. In comparison, T11 rates very highly in these areas.
T11 also is above average in its use of frictionless payments and self-checkout systems. The Chinese market is already at the 90% level for frictionless payments, according to the Retail Store Tours Institute (RSTI). Retail Store Tours recommends that retailers and grocery stores make all efforts to reduce friction at checkout.
'New Retail' Experiences At Hema, 7-Fresh Streamline In-Store, Online Shopping
T11 is not the only grocery innovator in China. There is a term in China called "New Retail," coined by Jack Ma, the founder of Chinese e-Commerce giant Alibaba.
Alibaba's supermarket, Hema (headquartered in Hangzhou), takes the online shopping experience that Alibaba's customers already enjoy and transposes it from the virtual space into the physical world. Hema CEO Hou Yi is focused on ensuring that customers have the same digitized shopping experience in-store as they have online. To that end, shopping at a T11 or a Hema store is similar to shopping online at Alibaba, except that in-store customers can actually inspect the food they are buying.
JD.com's Beijing-based 7-Fresh stores also function as both offline markets and online distribution hubs. Much like Hema, 7-Fresh integrates online digital technologies extensively into the shopping process. The brand's most remarkable innovation, the RoboCart, is a souped-up shopping cart that customers link to their smartphones while in-store. Typically, the cart follows a shopper around the store without having to be pushed. If the shopper can't find an item, it can also lead the way. As customers find what they want and place those items in its basket, the RoboCart automatically registers products, eliminating the need for scanning.
When the shopper is finished, the RoboCart makes its way to the checkout. 7-Fresh charges the cost of the items to the customer's digital wallet and JD's fleet of delivery vehicles delivers the items to their desired location. As with Hema, 7-Fresh guarantees delivery in 30 minutes within a three-kilometer radius.
Some aspects of New Retail already have made their way into the American marketplace. Amazon Go stores, for example, have done away with checkout. Shoppers use the Amazon Go app to enter the store, take what they want from the shelves and simply walk out. Amazon's technology identifies what has been taken and charges the cost of those items to the customer's Amazon account. No scanning, no checkout. Shoppers also can use the Amazon Go app to find out remotely what items a particular store has in stock.
The business implications of New Retail are profound and far-reaching. T11, Hema and 7-Fresh require customers to download apps and open accounts; they essentially bind customers — and their data, including shopping preferences — to Alibaba, JD.com and T11 respectively. In terms of new customer acquisition, if nothing else, New Retail is clearly the winning play and T11 is a leader in this category.
---
Dan Hodges is Founder & CEO of Retail Store Tours. Retail Store Tours is an experience specially curated for organizations to discover and explore the driving forces changing retail around the world today. Participants see and experience the best of retail innovation in a two-hour plus experience led by an industry professional. You will meet with and talk to the companies creating the "new" retail. The opportunity to network with professionals in and outside your organization and to share expertise is one of the benefits of the experience. Retail Store Tours are available in 25 cities around the world and at leading industry events. Retail Store Tours was launched in China in August 2019 with programs in Shanghai, Beijing and Hangzhou.