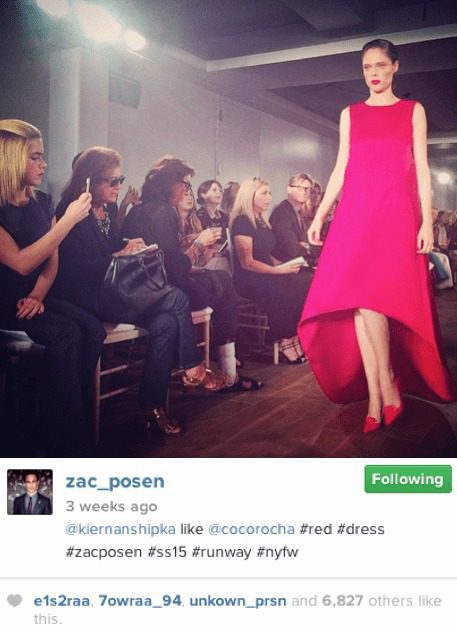 This year, magazine editors, tastemakers, bloggers and even designers figuratively ripped down the velvet ropes and gave consumers an inside look at Fashion Week festivities.
Typically known as the most exclusive event of the year, Fashion Week has evolved into a highly digitized and social event. More attendees are turning to Instagram, Twitter and other social networks to share behind-the-scenes footage of shows from coveted designers, such as BCBG Max Azria, Marc Jacobs and Oscar de la Renta.
"Style doesn't have to just come from Vogue anymore," said Apu Gupta, CEO of Curalate. "The democratization of style is being played out on the social web and there is profound acknowledgement that bloggers and tastemakers actually know what they're doing and can influence consumers' decisions. By incorporating others into the mix, brands can also make everything feel a lot more authentic."
Of all social networks, designers favored Instagram the most because of consumers' overall activity on the network. Analysis from Forrester Research confirms that overall engagement on Instagram is significantly higher than other social sites — even Facebook.
Through a study of more than three million user interactions with more than 2,500 brand posts across seven social networks, Forrester Research discovered that top brands' Instagram posts generated an engagement rate of 4.21%. Facebook and Twitter only garnered engagement rates of .07% and .03%, respectively.
"If your brand is looking for social engagement — and if you're not finding it on Facebook, Twitter, or other social networks," said Forrester analyst Nate Elliott, "you should start using Instagram today."
During Fashion Week, overall engagement and participation on Instagram increased significantly between the fall/winter 2014 and spring/summer 2015 shows, according to research from Curalate. Total number of images shared on Instagram increased more than 25% from 92,334 to 115,912. Most surprisingly, total engagement — which includes image "likes" and comments — swelled by 101%, from 5.4 million to 10.8 million.
"These results prove to brands that Instagram isn't just a novelty anymore," Gupta said. "You have to figure out how, as a brand, Instagram plays a role in how you tell your story."
Luxury Brands Relinquish Control
Traditionally, luxury brands were "very manicured" and prevented everyday consumers from getting an inside look at exclusive events and fashions, Gupta explained. However, a significant challenge with maintaining this buttoned-up image is consumers today have an "insatiable" appetite for content from the brands they love. "Brands need to produce more content and really draw consumers into their world." Brands and retailers alike viewed Fashion Week as an opportunity to bring consumers behind the curtain, tapping Instagram for its simplicity and overall impact.
For example, Saks Fifth Avenue timed the release of its #SaksStyle user-generated content hub with the kick-off of fall/winter Fashion Week. The retailer "knows style is something people celebrate on social and specifically on Instagram," Gupta said. "What better way to highlight that than to bring that user-generated content to the e-Commerce site?"
Even the most high-end brands, such as Alexander Wang and Prada, took to social media to publish photos and videos of their fashion shows; they also streamed the fashion shows live on their web sites. Designers Zac Posen and Tory Burch went the extra mile by publishing photos of the creative process, showing unfinished items and fittings with models before their fashion shows.
Some brands and designers also partnered with solution providers to make their social feeds shoppable during Fashion Week. BCBG Max Azria tapped LiketoKnow:It, an application from RewardStyle, which gives Instagram commerce capabilities.
"Looks posted by influencers on their Instagram accounts during the show were available for purchase to those signed up to LiketoKnow:It service," noted Rachel Arthur, Global Senior Editor at WGSN, a trend forecasting organization for the fashion industry. "It's a little bit clunky, but doing so enables users to 'like' an image to instantly have an email sent to them with details about the items featured, then click to purchase from there."
Oscar de la Renta, Zac Posen and Libertine partnered with mobile marketplace Spring to offer exclusive items available for purchase immediately after their shows.
Social Insights Help Deliver Better Product Lines
Social media enables brands to connect with consumers in a more direct and personal way. This has become an imperative as more Millennials — who tap into social networks on a daily basis — acquire more spending power. In fact, Millennials aged 17 to 34 will account for $1.4 trillion in spending by 2020, according to Accenture research.
Although breaking down social barriers can undoubtedly help brands and retailers boost engagement and bottom-line results, there also is an opportunity for brands and designers to better understand customer preferences and develop more profitable product lines.
More designers are looking at customer feedback to guide their product designs, colors and patterns, rather simply pushing products out to consumers and hoping they stick, according to Andrea France, Retail Industry Principal at SAP. "I think we're at an inflection point where things are changing."
Using social media analytics, brands can combine structured and unstructured feedback to collect detailed intelligence that allows them to make better decisions.
Progressive organizations leverage "active listening," which involves monitoring social media feedback and applying those insights to the overall business, according to Aberdeen Group research. The report, titled: Social Powers Activate: Engineering Social Engagement To Win The Hidden Sales Cycle, indicated that key capabilities of these best-in-class businesses include:
Monitoring social channels for content and mentions specific to the company (70%);
Identifying key social influencers in a market for engagement (55%);
Identifying and prioritizing social posts for engagement (45%); and
Identifying customer advocates for outreach and engagement (42%).
"There needs to be a way to take all that data and capture true sentiment," France noted. "In doing so, designers will get greater insight and different opinions, sentiment and feedback."
Recently, SAP used social media analytics to track social feedback and sentiment from critics and the entire social web. Looking at color specifically, SAP learned that black and white received the most mentions (27,535) on social networks, followed by pinks (16,853) and blues (12,155). However, purples, nudes and metallic garnered the most positive net sentiment, receiving social scores of 94%, 93% and 92%, respectively.
"Although they weren't talked about as much, the overall sentiment of these colors was higher," France said. "Those are insights brands can use to determine which trends are happening and, in turn, determine where they should be going."
Social feedback and sentiment also can help retail buyers and merchandisers make more profitable decisions. After a fashion show, buyers venture to the designers' studios to shop the lines and purchase products for their stores, France explained. With social data in hand, designers can better determine which items should be mass-produced.
"There may be overwhelming feedback from consumers that says they really like a pink dress, for example," France said. "But the designer may not make the product because the buyer or merchandiser did not select that design on their own. We should be listening to social chatter because there could be a discrepancy between what the buyer or merchandiser purchases from a brand and what the general public likes."

As more consumers rely on social media to get a glimpse into Fashion Week festivities, designers will focus on developing organization-wide strategies for tracking and listening to feedback, engaging advocates and influencers, and applying their feedback to marketing campaigns and product development.