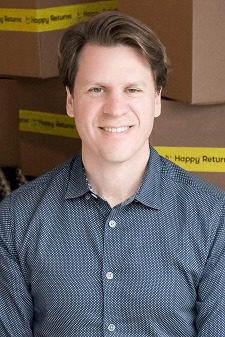 It's certainly understandable that more than one industry expert has referred to returns as the "ticking time bomb" of e-Commerce. For retailers, returns create a host of challenges — including managing refunds and exchanges, the logistics and costs of return shipping, and re-integrating returned merchandise into store or e-Commerce inventories. Consumers faced with the hassle of boxing and returning items will continue to demand more convenient methods, provided at little or no cost to them.
As its name implies, Happy Returns aims to remove — or at least mitigate — many of these return pain points for both retailers and consumers. The company's approximately 400 Return Bars, staffed by "Returnistas," give shoppers a physical place to return items purchased from retailers including Rothy's, UNTUCKit, Everlane, Eloquii and Draper James. Retailers using the company's Full Stack Returns service, which encompasses software, services and logistics, get a white label solution that handles returns cost-effectively, via aggregation at various steps of the process designed to reduce shipping and handling costs.
Judging by its recent explosive growth — a 10X increase in the number of returns handled between June 2018 and June 2019, facilitated by the opening of a second return hub facility in Blandon, Pa. — Happy Returns seems to be living up to its name. CEO and Co-Founder David Sobie revealed that the company's expansion is just getting started, sharing creative ways that the retail industry may be able to defuse the returns "explosion."
Retail TouchPoints (RTP): Happy Returns got $11 million in financing earlier this year, making a total of $25 million since the company was founded in 2015. What are you using the additional capital for?
David Sobie: The funding is really about accelerating growth ahead of opportunity, for example by being able to take on more square footage in our facilities than we might need today. We had had one return hub in Van Nuys, Calif., and with our new Pennsylvania facility we have a total of 50,000 square feet of space in the two facilities. With those in place, we've been adding people, infrastructure and processes to accommodate our increased volume: our employee head count rose from 37 to 67 over the past year. Our goal is to exit this year with around 1,000 Return Bars, up from the 400 we operate now. We've also been adding high-quality retailers such as Revolve, which joined in May. That's not only a big company, but one with really well-publicized return rates. Our ability to succeed as a company will largely depend on our ability to service retailers of that magnitude and scale.
RTP: Returns have always been a fact of retail life, but they seem to have become a much more pressing problem in recent years. Why do you think that is?
Sobie: Certainly there are the built-in limitations of e-Commerce — you can't try on a piece of clothing or feel it when you buy online. Another complicating factor is the global nature of supply chains. For example, I've been a long-time wearer of Vans shoes, and I've been a men's size 10 for 30 years. But as these businesses grow, global supply chains mean the shoes might be made in a factory in China, or Vietnam or Mexico. It's not uncommon for sizing to be inconsistent across different parts of the globe. That's a reality, and if you're a brand trying to produce the highest-quality product at the lowest cost, those kinds of manufacturing challenges are kind of unavoidable.
From the consumer's perspective, that means there's a low confidence level in terms of sizing, which has changed people's behaviors when they're shopping online. They have gotten used to the idea of buying multiple sizes and styles and eventually keeping only one or two of the six or seven that were originally purchased.
RTP: We've heard about better sizing technologies, as well as innovations like using augmented reality to raise consumers' confidence levels about buying apparel online. Are there technologies that you think could get at the root of high return rates?
Sobie: I haven't seen proof of any of them working, and I've been at this for a while, not only at Happy Returns but at JustFab, Revolve and HauteLook. I've heard the pitch and the dream, that 'This tool will predict fit.' There have been all kinds of initiatives, including better product descriptions, the use of video, more accurate model sizes and even an iPhone app to take pictures of your feet. But I've yet to see evidence that it's working.
To be fair, one of the challenges is that when returns are free, there's not as much incentive for consumers to change this behavior. Additionally, when you think about the move to using mobile devices for shopping, to ask customers to do more work as part of the checkout process so that there are fewer returns for the retailer — there's even less incentive for them to help.
RTP: Given that returns seem to be inevitable, what is Happy Returns doing to at least make them less of a problem?
Sobie: From the retailer's point of view, they would love to see returns just go away. We can't do that, but we can turn as many returns as possible into exchanges. With our software layer and the ability of customers to return in-person, we can maximize the number of exchanges by making that process easier for customers.
Second, just as retailers want to offer their customers options for delivery, they also want to give them return options that aren't terrible. For those without stores or large store networks, the Return Bars allow them to offer in-person returns. And given that free returns are becoming table stakes in retail, the retailers want costs to stay low. Using Happy Returns is more cost-effective because of our ability to aggregate items together.
Within the retail store environment, we will be deploying our first couple of self-service return kiosks this fall in stores that house Return Bars. They will serve as a backup to the associates who are using iPads to process returns, and we'll be using these first deployments to test and learn. Store associates don't really like dealing with returns, because they are often paid on commission, so accepting a return is not a good way for them to monetize their time. That sets up a conflict between serving the customer's needs and what the store associates see as their job.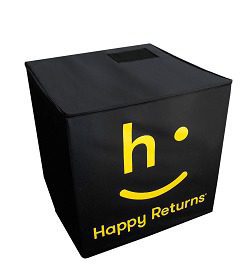 Finally, we're kicking off a program of using cardboard-free reusable tote packaging, similar to a soft-sided cooler you might take on a picnic. They can be packed flat, and that's what will get shipped from the Return Bars to our return hub. After the deliveries, the packaging is collected and reused at Return Bar locations. Draper James, Revolve and Rothy's are the first retailers that have signed on to this cardboard-free solution. Approximately 165 billion packages are shipped in the U.S. each year, which consumes one billion trees annually. This delivers returns in a way that is good for the planet.
RTP: What's your long-term forecast for returns? Will we still be struggling with these same issues in two, three or five years' time?
Sobie: We will in the sense that sending things back by mail is a pretty broken system, and retailers will still be expected to pay for returns. But I think we'll also be focusing more on the intelligent routing of returns. Returns are a natural disposition of a retailer's inventory, so where your customers are is where returns end up happening. It's the inverse of the faster shipping that Amazon and Walmart are competing on: that's not enabled by sending things faster, it's by having inventory everywhere.
We want to focus on maximizing the profitability of a given item. In the future, now that Happy Returns is touching the goods, what would that enable in terms of the decisions a retailer can make? For example, if we're handling an item in our warehouse in Van Nuys and it could be resold, why would we ship it back to the retailer's DC in the middle of the country? Why not ship it directly to the consumer in Los Angeles? In addition to potentially using a returned item to fulfill directly to a customer, we could be looking at smarter decisions about which items a retailer should take back, and which they should liquidate to an outlet.