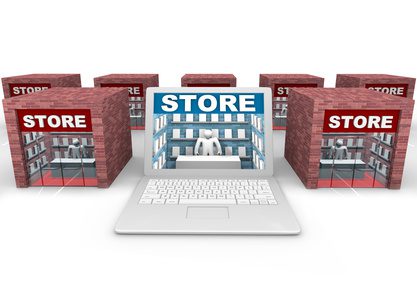 "Omnichannel" continues to be one of the most-used buzzwords in the retail industry today. While all retailers strive to create seamless, compelling and personalized interactions across channels, a number of pure-play e-Commerce retailers are jumping into brick-and-mortar by putting their own, unique spin on the in-store experience.
Nearly half (49%) of consumers believe the best action retailers can take to improve the shopping experience is to better integrate in-store, online and mobile shopping channels, according to Accenture. Although many online-only retailers have been successful in a single-channel environment, they are not able to capitalize on the most dominant sales channel — the store. As much as 95% of all retail sales in 2013 were captured by businesses that have some form of brick-and-mortar presence, according to the A.T. Kearney Omnichannel Shopping Preferences Study.
Some e-Commerce retailers are at an advantage when moving into brick-and-mortar, if they are part of a larger corporate organizations. For example, women's athletic apparel eTailer Athleta, a subsidiary of Gap Inc., didn't have a brick-and-mortar presence until 2010, but expects to expand its physical store count to 100 by the end of its fiscal year on Jan. 31, 2015. Microsoft, which first sold branded products through the now-defunct Windows Marketplace, opened its first two stores in October 2009, and now operates a total of 104 locations throughout the U.S., Canada and Puerto Rico. Additionally, Microsoft announced that it will open a Fifth Avenue flagship store, but has yet to confirm an opening date.
Startup businesses don't experience expansion quite as fast, but some certainly have built successful and strong brands as they transitioned into the physical retail world. Eyewear manufacturer and retailer Warby Parker took its first foray into brick-and-mortar by partnering with larger retailers to sell their products in stores. Warby Parker has grown from managing small boutiques in 2011 to operating nine retail stores and seven showrooms throughout the U.S.
Bonobos took a similar approach by partnering with Nordstrom in 2012 before launching a physical presence. The men's clothing brand and retailer has since built 10 retail stores, known as "Guideshops." The retailer expects to open an additional 30 Guideshops across the U.S. by 2016.
Fashion And Apparel Lead The Way
Of all categories, it is evident that fashion and apparel retailers represent a substantial share of the online retailers that have made the move to brick-and-mortar.
Boston Proper, JustFab and Frank & Oak are only a sample of brands that have opened brick-and-mortar stores to complement their online presence, while J. Hilburn recently opened its first full showroom in Dallas, Tex.
"Fashion and apparel are encompassed in one of every shopper's three emotional needs," said Veeral Rathod, President, CEO and Co-Founder of J. Hilburn. "You've got food, shelter and clothing. While fashion isn't necessarily a need, there's something that's very emotional and personal about it, and it's a very difficult product to buy online only."
The rapid growth of CountryClubPrep.com, an e-Commerce retailer that sells "preppy" apparel, drives home the potential for successful online-only retailers to venture into brick-and-mortar. The Charlottesville, Va.-based business was founded in 2012 by two then-attorneys on the premise of being "Zappos for prepsters." The brand experienced early success by achieving a 600% annual growth rate. CountryClubPrep.com opened its first brick-and-mortar retail store in August 2014.
"We wanted to create a marketplace; it seemed like there was a high demand for these types of products but no concise or attractive marketplace to buy them," said Stephen Glasgow, Co-Founder at CountryClubPrep.com. "It was something we and all our friends wanted so it seemed like a great space to jump into."
In creating a store environment, the retailer can reinforce the brand lifestyle in a personal way that is more difficulty to illustrate online, thus building a true omnichannel experience, according to Glasgow. As part of the store experience, the retailer has held "game day weekends" during college football season. During the events, shoppers are invited into the store before the game to drink mimosas and purchase bow ties. The overarching goal, Glasgow explained, is to engage store visitors who embrace the "preppy lifestyle" and convert them into lifetime customers.
"The best customers to reach are the ones who have already purchased from us," said Matt Watson, Co-Founder of CountryClubPrep.com. "We're not a brand unto ourselves. We're a retailer and we carry a lot of great brands, but they also can be found elsewhere on the web. The question remains: How do we make sure they come to us versus another retailer? By offering free shipping and returns all the time. I think that's a must in the online ordering environment. We need to find a way to wow the customer with any way they contact us. It's important that we really focus on the people who have already purchased from us, and make sure our message is getting to them."
On the heels of the first store opening, Glasgow and Watson already anticipate opening a second location near the University of Kentucky this fall.
Will Amazon Become An Even Larger Competitor For Retailers?
While apparel retailers appear to be a significant source of eTailers jumping into the brick-and-mortar space, online behemoth Amazon has managed to grab headlines yet again. The e-Commerce giant, which dominates the landscape by offering low prices on a variety of different product categories, has decided to take the competition to brick-and-mortar with The Wall Street Journal reporting that the retailer will open a physical location in New York City in time for the 2014 holiday season.
Little is known about what products the Amazon store will sell or what impact it will have on the industry as a whole, but reportedly it would primarily serve as a mini-warehouse where customers can return and exchange products, as well as pick up online orders. While Amazon.com hasn't confirmed the store opening or any details surrounding it, the company confirmed plans to open pop-up kiosks in San Francisco on October 22 and Sacramento, Calif. at a later date.
ETailers Explain The Online-to-Physical Store Paradigm Shift
Making the leap from online to brick-and-mortar can be both time-consuming and expensive for businesses. Retailers that successfully take this step must not only stand out, but also truly understand the desires of their customers. During a September 2014 panel, titled: "Online's Day Off," executives from Rent the Runway, Bonobos and Birchbox discussed the changing landscape of the retail industry and the role their companies played in adapting to these changes.
Retail Success Story: Rent the Runway
Like many online-exclusive retailers, designer dress rental service Rent the Runway initially had a focus on capturing as many loyal shoppers as possible. After experiencing successful showroom launches in New York City and Las Vegas, the company opened its first freestanding store in New York's Flatiron business district in September 2014. The store offers approximately 850 dresses and 200 accessories to rent, and incorporates personal stylist appointments for shoppers who want to try out items before they make a commitment.
"After we heard enough requests for a physical store, we said 'let's test it out, what harm could it do?'" explained Jennifer Fleiss, Co-Founder of Rent the Runway. "We know every single customer who comes into the store, and we're able to sync their online account to their physical in-store account. I often take that for granted, but it's a very rare thing for a retailer to be able to do. The data that we have on the customer enables us to service her faster and better in the store, and then after her in-store experience, it links with her online profile so she becomes a more repeat customer both online and offline."
Retail Success Story: Bonobos
Bonobos, which is known for its men's dress pants, started considering a brick-and-mortar strategy when the company realized it wasn't selling its new line of dress shirts as well as expected. The company conducted an experiment in 2011, placing two fitting rooms in its New York City headquarters lobby for men to try on a variety of the shirts. Consumers began to spread the news of the fitting room via word of mouth. After approximately 90 days, revenue from the fitting rooms had a projected run rate of $1 million, with no marketing of the program, according to Andy Dunn, Co-Founder and CEO of Bonobos. Dunn revealed two conclusions from the experiment: "Number one, people still like to touch and feel clothes and try them on. Number two — and this was the mind-blowing insight for us — was that the customers didn't have to walk out with the product to be happy. All of a sudden we could reimagine what a retail store might be without having to stock physical inventory."
This experiment led to the opening of the first Bonobos Guideshop in May 2012 in New York City. The Guideshop carries a limited number of items on display, with none of them actually being sold in-store. The shop is designed to allow customers to try on apparel with the help from store "guides" before they make a specific purchase online.
"We want to offer great customer service," Dunn said in an interview with Retail TouchPoints. "That was always a founding pillar of the brand. My assumption was that a traditional retail store might break that because of inventory. I've worked with Marshall Field's, before it became part of Macy's, and I worked at Abercrombie & Fitch folding sweaters, and when you're working in those stores, you're just playing defense all day against inventory. Employees try to keep the store organized more so than they pay attention to the human beings in the store."
Retail Success Story: Birchbox
Beauty products sample provider Birchbox launched in 2010 as a subscription service, in which members receive a monthly box including an assortment of sample cosmetics, fragrances, skin care products, lotions and nail polishes. Birchbox has 80,000 subscribers, with the subscriptions priced at $10 per month for women and $20 per month for men. Customers who like the specific products in the shipment can then purchase those products — and many similar and complementary products — on the Birchbox e-Commerce site, which accounts for approximately 30% of the company's business.
In July 2014, Birchbox leveraged its swelling online popularity by opening a brick-and-mortar location in the heavily populated SoHo neighborhood in Manhattan.
"We never imagined that we would be opening a brick-and-mortar store, because the whole premise of Birchbox — the whole reason we started the business — was that it was difficult to purchase beauty products on the Internet and we wanted to make that easier," said Katia Beauchamp, Co-Founder and Co-CEO at Birchbox. "Before Birchbox, women only went online to purchase products they already knew."
The retail store is intended to reflect the online Birchbox experience, so naturally, the store includes a row of products that can be sampled and tested by customers that are still on the fence about making a purchase. In addition, the store provides personal hair styling services and a Build Your Own Box (B.Y.O.B.) section that enables shoppers to purchase $15 worth of samples that they want.
"We recognized that it would probably be exciting to offer samples to customers, especially since we knew the kind of products they wanted beforehand," Beauchamp said. "Compare that to a retailer that isn't sure if they're selling the right product, and isn't even sure how it's being distributed. We also realized that a brand would probably like to know what the return on investment was from a sample, when they're spending hundreds of millions of dollars producing these products. Trial is the No. 1 reason why someone buys a beauty product."
E-Commerce driven retailers such as Birchbox, Bonobos and Rent the Runway have an advantage in the brick-and-mortar space in that they can carry very limited inventory in their stores, or none at all.
"The challenge brick-and-mortar retailers have is that their whole business is so centered on high-fixed costs and a very expensive, large square-foot retail center, and online is used as the channel to supplement that," said Rathod of J. Hilburn. "The benefit for us is we only need a little bit of space and we can show a bunch of shirts without carrying all the sizes."
Established brick-and-mortar retailers also have consumer bases that expect to make purchases through a specific business model. Any major change to the business model could potentially be greeted with some initial confusion at best — and outrage at worst — so it is rare to see these retailers take drastic steps such as inventory slashing or a full customer service overhaul.
Leveraging Data To Build The Proper Brick-And-Mortar Experience
A major factor in the transition from e-Commerce to brick-and-mortar involves determining where to locate the stores. A store can offer the best products and have optimal customer service, but if it is in a location no one will travel to, then the entire investment can go to waste.
"If a traditional retailer wanted to optimize its physical store network, it would have to use geo-demographic data at a low level of geography," said James Buckley, SVP and General Manager of Location Intelligence at Pitney Bowes. "We'll project what the population and the income level in that area will be. A retailer, in the traditional sense, would then start looking at adjusted drive times or travel times based on their ideal customer profile. They can then look at their network and determine what tolerable distance their customers are willing to travel."
Now, with access to mobile data, eTailers can more easily make the decision to dive into brick-and-mortar, because they no longer have to rely solely on traditional geo-demographic data. Customers engage with online storefronts through a variety of channels and physical locations, enabling retailers to determine exactly where consumers are while they interact with the site. Retailers can then analyze that data to gauge where the store should be built, and most importantly, determine what type of store design and experience would be most valuable.
"If the retailer has a physical network, they can re-optimize it based on better, more comprehensive data," Buckley said in an interview with Retail TouchPoints. "In the online world that's really the data retailers need so they can start sending out promoted tweets or time- and location- relevant advertising and promotional opportunities. That could then be a draw to get customers into the retail store, or at the very least, a more accurate way of delivering messages so that customers receive them when they're at home in the evening rather than when they are at the office."
The Rent the Runway team credits the ability to leverage customer data points as a major factor in the brand's successful move from e-Commerce to the physical store environment.
"We were able to learn from a data perspective about the type of inventory people wanted, the type of customers that were coming to our site and we were able to target and market to them more effectively," Fleiss noted. "We've really continued to leverage and iterate that data and it's actually been the biggest benefit for us as we've gone into retail."
Continuing To Bridge The Physical And Digital Gap
Many online-only retailers are re-establishing themselves with new identities and creating new revenue streams by embracing innovative brick-and-mortar strategies. While it may not be easy for retailers to stake a claim at an appropriate physical location, there is still plenty of room for e-Commerce pure-plays to dip their toes into the brick-and-mortar pool. As customers continue to expect shopping experiences that span across all channels, more eTailers will take a similar leap into brick-and-mortar in the future.