Sessions at the eTail West show, held Feb. 19-22 in Palm Springs, Calif., covered an impressively wide range of topics. But one theme came up again and again: the value to be found in forging authentic human connections with both consumers and employees. Speakers from retailers as varied as LVMH, Dollar Shave Club, HP, Moda Operandi, Boot Barn and jewelry retailer Brilliant Earth identified humanization — not just personalization — as a critical element in brand differentiation, improving the customer experience and boosting revenues.
Following are quotes from eTail West presenters that explore this theme and provide examples of humanization in action:
Valerie Hoecke, CDO, LVMH Perfumes and Cosmetics: We look for opportunities to develop a more intimate relationship with customers. An example of this might be a store associate who has learned what a customer's dream vacation is. We use technology to give our store staff the ability to save information about customers, and we also allow our online customers to connect directly with store staff who have expertise in the areas they're interested in. We remember that it's people visiting the web site, not just users, so we want to start something that feels more like a consultation. We'll encourage them to take a quiz and save their preferences, beyond just providing them with the obvious best-sellers in a category. Humanizing is thinking about all of those things.
Additionally, we encourage all our people to interact directly with customers. Some people that haven't done this think it won't be that valuable, but everyone has that "a-ha" moment. You can create converts to this notion of customer conversations.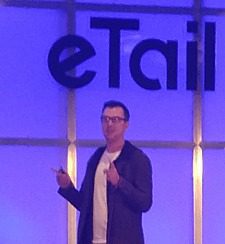 Alan Wizemann, CDO, Dollar Shave Club: Our call center is staffed by a team that we call our Club Pros. They are deeply trained on our product, but they also understand our members. They might offer personal advice — for example, they may assist members that might share details about a tragic event in their lives that necessitates them cancelling their membership. The Club Pros are also empowered to solve problems with what we call an RAA, which stands for Random Act of Awesomeness. This can be sending someone movie tickets or a kid's toy to help out. If you as a member need help, the Club Pro is not just an FAQ or a bot — it's a person. Everyone at a retail company should work at a store for at least one day per year; everyone at Dollar Shave Club works as a Club Pro. Getting closer to people going through those journeys allows you to learn things you can never learn otherwise.
Kobi Elbaz, VP and GM, Personal Systems, HP: We recently introduced a gaming headset that features a self-cooling technology. Had we just analyzed the raw data, we wouldn't have come to the main consumer pain point — that gamers were sweating while they were playing. We had to check in with the gamers themselves. If you want to lead, you must have insights as well as data. Additionally, it's critical to understand the consumer's intent to click, which is not always to buy something. We found from search engine data from our HP web site that a lot of customers were searching for old printers that are obsolete. Their intent wasn't to buy these old printers, but to find supplies and parts for printers they already owned. Our solution was to bring these printers back to the site so these customers could find the supplies. The customer journey isn't finished when the purchase happens — customers today expect a full lifecycle of support.
Ganesh Srivats, CEO, Moda Operandi: In fashion, runway shows take place four to five months before the product comes to the store. However, with Instagram and other social media, the content is online the night that the show takes place. We found that consumers were aware of their choices far ahead of the purchase availability date. We had thought they hated waiting for the delivery, but what they hated was waiting to make the purchase. So Moda changed the dynamic by making it possible for customers to purchase directly from the content, with delivery happening three to four months later. It's a very different mindset, where the content's appearance — not the time the product is available on your site — marks the beginning of the purchase cycle.
John Hazen, CDO, Boot Barn: We introduced a tool designed to help people find the boots they want more quickly online, but we first rolled it out in our stores. We have such a wide selection that we don't need an endless aisle but a finite aisle, because it can be overwhelming to find the right boot. The store rollout gave us a lot of feedback from our store associates. This wasn't "big analytics," but it was very applicable. Talking to 30 store associates about how consumers were using the Range Finder tool was more valuable than a big consumer survey, even though it represented a smaller sample size.
Kathryn Money, VP of Strategy and Merchandising, Brilliant Earth: We seek to create a personalized, memorable experience by allowing our customers to customize, visualize and share our products. We have online tools that allow people to personalize the ring itself, as well as the metal tones and the stones, and we've built visualization to support that, such as 360-degree videos and match set visualization — you can see the engagement ring with the matching wedding band. We also have a skin tone slider, so you can see the ring against different skin tones, along with virtual try-on technology using VR so customers can see the ring on an image of their own hands. We're selling something that's a high-price-point, considered purchase, so we need to instill confidence.
We also recognize that Millennials are comfortable sharing on social media, so we've invested in technology to enable that — for example, "drop a hint" technology. You can send an image to your significant other to let him or her know what you're looking at. Additionally, many customers are making these purchase decisions together, so we allow them to create a joint account that keeps track of their product recommendations and notes. We also try to incorporate user-generated content, e.g. the ring selfie, and we put the option to share those social media assets onto the product display page (PDP). People often solicit feedback via social media to find out which ring settings people in their network like the best.