Thanksgiving weekend was very fruitful for retailers, even outperforming initial revenue expectations. The weekend's sales totals were fed by massive growth in mobile sales and, unfortunately, an overemphasis on deep discounting:
Online sales on Thanksgiving Day and Black Friday jumped to $5.27 billion, up 18% from a year earlier and higher than its prior estimate of $5.05 billion, according to the Adobe Digital Index;
Mobile device sales increased a whopping 33% to $1.2 billion in revenue, according to the Adobe Digital Index;
Average amount spent per shopper from Thanksgiving to Sunday fell 3.5%, from $299.60 to $289.19, according to the National Retail Federation (NRF); and
Nearly 64% of shoppers reported that more than half of their purchases were on sale, with approximately 36% saying all their purchases were on sale, according to NRF.
It's apparent that deep discounting has become a Black Friday tradition of its own and that it now dominates the holiday weekend's sales dynamic.
Promotions that resulted in discounts, such as buy-one-get-oneoffers or 20% off specials, were up 42% year-over-year compared to Black Friday 2015, according to DynamicAction. Additionally, the firm discovered that orders using a markdown or price cut increased 23%, showcasing that brands used offers of lower prices to drive consumers to a purchase.
"We're seeing a shift in spending in that people are getting wise to the deals offered," said Ken Morris, Principal at Boston Retail Partners. "People are looking for the best break and there's a treasure hunt mentality that has bled from the deep discounters like TJ Maxx. Shoppers have been trained to take advantage of the deals and retailers have played right into that over the last several days into today. People are shifting their buying to be less about the five days from Thanksgiving Day to Cyber Monday and have spread it out over a longer period time."
The move to spread discounts also has appeared to influence when consumers are shopping. While the average amount spent per shopper dipped 3.5%, NRF maintains that total holiday season sales are expected to jump 3.6% in November and December.
Macy's Banks On Discounts To Spark Black Friday Magic
Macy's, a retailer doing everything in its power to bring consumers back into its stores, had the highest overall discount rate for 2016 Black Friday ads at 63.4%, according to research from Wallet Hub. Other major discount rates held throughout the weekend for ads included:
Stage Stores and JCPenney (both 62.8%);
The sharpest discounts were seen for tablets, which were discounted an average of 25.4%, according to the Adobe Digital Index. Additional significant discounts were seen on televisions (23.2%), toys (15%) and computers (11.6%).
Web Sites Can't Handle Traffic Bloat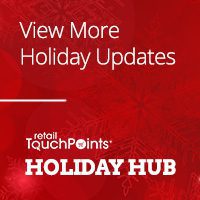 While Macy's kicked-off the record-breaking holiday weekend with 16,000 people rushing into its Herald Square New York flagship at the 5 pm opening on Thanksgiving Day, things took a turn for the worse on Black Friday.
The retailer's web site suffered an extended Black Friday disruption, directing shoppers to a page blaming "heavier traffic than normal," complete with a countdown clock indicating when consumers could again access the main site. "We are still taking a high volume of online orders, and we are working quickly to alleviate the delay issue, which we hope to have resolved shortly," a Macy's spokesperson said Friday afternoon in an e-mail to Bloomberg.
Macy's wasn't the only retailer facing technical problems. The web site for Victoria's Secret, owned by L Brands Inc., suffered delays as well according to Catchpoint. And shoppers at Express Inc. and Pier 1 Imports Inc. complained on social media about errors and slowness on those websites, according to Bloomberg. Slow load times on Williams-Sonoma's page, lasting more than 25 seconds, were also reported by Catchpoint.
In-Store Sales, Traffic Take Expected Decline
In-store sales and traffic at U.S. brick-and-mortar locations declined on Thanksgiving Day and Black Friday, with net sales falling 5% over the two days and the number of transactions declining 7.9%, according to data from RetailNext.
This tide has continued to turn further toward digital shopping. While approximately 103 million people shopped online and 102 million bought in-stores last year, the number of online shoppers in 2016 jumped to 108 million who purchased electronically, while only 99.1 million bought in stores, according to NRF.
"The shift to online shopping has been in part due to many of the same factors for a few years," said Luiz Maykot, Data Science Analyst at Adobe Digital Insights in an interview with Retail TouchPoints. "It's the convenience factor, and it's also the fact that many brick-and-click retailers are starting to compete with the bigger brands. Deals that used to only be available in stores are now also available online, and it's much easier for you to buy online than to go into a store on Black Friday."
Despite the ongoing change in consumer preferences, the shock may not have been as violent as it was in 2015, when the rapid rise of mobile took many brands by surprise.
"I think retailers were ready for the shift," Morris said in an interview with Retail TouchPoints. "There are certain types of merchandise that will always have that 'theater of shopping' attached to them. The average consumer today does a lot more research when they go in to buy. They don't just show up and make an impulse purchase, especially with big ticket items. They take their time, they look around and they want to touch and feel the product. It's now a unified commerce experience, so if people buy on their phones, it doesn't mean people haven't been to the store location."