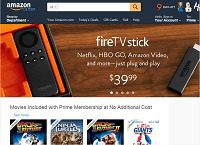 Retailers of all sizes and kinds have found Amazon to be a fierce competitor. The eTail giant has a number of built-in structural and technological advantages — but it's by no means invincible.
That's the message from assortment intelligence provider Ugam, which recently analyzed Amazon's assortment of baseball bats and women's running shoes while factoring in a list of key trending products in these categories in order to compare assortments and pricing with several competing online retailers.
While Amazon had the largest assortment of bats (729 SKUs) and women's running shoes (723 SKUs), its offering was missing seven of the top 40 trending bats (17%) and 26 of the top 50 shoes (52%). A full 40% of the running shoe assortment at Amazon is not comprised of top brands, a higher percentage than at any of the other retailers studied.
Amazon went head-to-head against other retailers' pricing for 29 of the top 40 baseball bats, but it only had the lowest price (or tied for it) 51% of the time. Amazon competed for sales of women's running shoes on 21 items, but offered the lowest price, or tied, only 38% of the time.
"There's a perception that Amazon always offers the lowest price," said Sudhir Holla, Senior VP Retail at Ugam, in an interview with Retail TouchPoints. "While this may have been true when Amazon was only interested in building traffic to its site, now that pressures are increasing on the company to show a profit, it's not as true anymore. In addition, other retailers are making efforts to match Amazon's prices."
Amazon's Built-In Advantages
Even without offering the lowest price or the most optimized selection, however, Amazon still has a number of significant competitive advantages.
In part because Amazon has been evaluated by financial markets as a technology company rather than as a retailer, "the market has had a different expectation of them than those set for a Best Buy or a Walmart," said Holla. "Amazon could afford to work at a loss, investing significantly to gain traffic without worrying as much about their margins."
But Amazon has more than a big bankroll and a higher level of patience from Wall Street. The eTailer also has its finger directly on the pulse of consumer demand signals, in part because Amazon itself has become a primary search destination.
Rather than relying on data from a third-party data provider such as Nielsen or IRI, "Amazon is getting its signals about which products are doing well first-hand from the marketplace," said Holla. "They have also been able to apply those learnings to a series of supply chain decisions about products, for example whether it makes more sense to keep a product within their own inventory or let a vendor hold onto it until it's sold."
Amazon's ability to apply strategic thinking and be more flexible with its inventory is aided by the fact that it doesn't have physical stores that need to be kept in-stock at specified levels, Holla added.
But the strengths run deeper. "Amazon is monitoring the supply-and-demand situation not only of each product SKU, but each color and size within that SKU," said Holla. "In some cases they will have different prices for different colors or sizes depending on demand. If they are seeing greater demand, and they determine that they will make more margin dollars by increasing the price, Amazon will take that position. If they see conversion levels drop, they can and will reduce the price."
Amazon also has the technological capacity to change its prices frequently, depending on factors such as demand and price elasticity. In contrast, traditional retailers have not priced different colors or sizes of the same SKU at different levels, both because their pricing systems are not equipped for this level of "slicing and dicing" and because of the potential for negative customer perceptions.
Price is not the only lever at Amazon's disposal. "Amazon has significant amounts of content associated with many of the products it offers, so if a product starts doing well, they can make a selective investment in improving that content by providing videos, reviews and other user-generated content to customers," said Holla. Such actions can make an emotional connection with customers, tipping the scales toward higher conversion rates.
Using Data To Its Fullest Potential
Given that Amazon has all these tools, what can other retailers do to compete? Information, particularly the consumer demand signals that analyzing social media sharpens, "has become increasingly democratic," said Holla. Price data is also readily available: "Amazon can match the prices at Best Buy, and vice versa," he added.
Omnichannel retailers also can use insights around consumer demand to make even more dramatic changes, such as designating some of their brick-and-mortar stores essentially as showrooms designed for information and entertainment rather than as locations for holding inventory.
"Retailers may need to ask themselves: For which products does it make sense for me to keep inventory at my stores, and for which would it make sense to follow Amazon's model and just ship them directly to consumers?" said Holla. "Each decision of this type has an impact on supply chain costs, pricing and merchandising, but many retailers still look on each of these as independent decisions. What's needed is a model to encompass all of these factors, so as to make more intelligent decisions around where to keep product within the distribution network, as well as which products to keep and how many to keep in various locations."
Holla acknowledges that none of these are easy decisions and that each impacts multiple areas, including which channel gets credit for the ultimate sale. But retailers competing with Amazon will need to ask themselves these types of tough questions to succeed: "What is it that helps differentiate your company from Amazon?," asked Holla. "If it's not your price, your assortment, or the emotion you bring to the customer interaction via content, you may find you'll have no point in being in the retailing business."