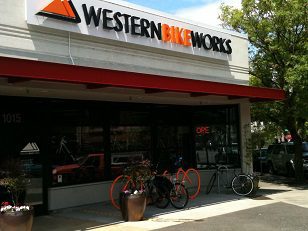 After opening its first brick-and-mortar store in 2011, Western Bikeworks, an online retailer specializing in the sales of bicycle products, implemented Segment and ePaper electronic shelf labels from Pricer to coordinate pricing across channels. Following the implementation, the store's YOY sales increased as much as 70% to 80%, reported Jay Torborg, Owner.
"The ESLs give customers more confidence that prices that they see are the actual prices that they'll pay, and I think that's a real plus," Torborg said in an interview with Retail TouchPoints. "Sales in the store since we implemented the system have just been skyrocketing."
Before implementing the Pricer solution, the retailer was struggling with translating online pricing and promotions to the store environment. The brick-and-mortar location offers thousands of on-sale products (at least 5% to 10% of the products change prices once a week), requiring store associates to change pricing signage manually.
"It was very difficult for us to maintain the traditional paper labels or price tags on all the items to keep things consistent," Torborg said. "Customers would see one price on the floor, and then bring the item to the cash register and it would be a different price. Often, it would be a lower price at the cash register, which means that we weren't showing the product in the best light, with the best price opportunity."
After spending a few years operating with the manual method, the company began reviewing electronic price tag solutions. Torborg noted that he started considering the switch several years ago while on a trip to Europe, where he noticed a lot of department stories using electronic pricing solutions.
After selecting Pricer, the retailer hired an electrician to install IR transmitters into the building ceiling, ten Pricer sent out a team to install the server and its compatible software. The ESLs were provided and installed by MarginMate, the U.S. distributor of the Pricer technology.
"The nice thing about the Pricer systems is that they offer a variety of different display options, which allowed us to configure the most cost-effective solution for each different kind of merchandising application we had," Torborg said. "For example, the low-cost LCD displays work great for inexpensive items. Some of the larger ePaper displays allow us to either display multiple products on a single display or provide additional information for more expensive items."
With the success of the implementation, Torborg is looking forward to opening up a second Western Bikeworks brick-and-mortar store in the "not too distant future," where he expects to install the Pricer ESL system.