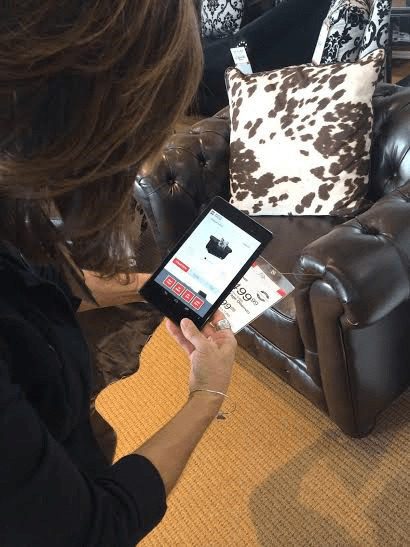 Up to two thirds (66%) of retailers say omnichannel consumers are 11% to 100% more profitable than single-channel consumers, according to Retail TouchPoints research.
In order to engage these digitally savvy and empowered consumers, American Signature Furniture built connected shopping experiences for customers in its Value City Furniture store locations. By partnering with CloudTags, an omnichannel data platform provider, American Signature now is able to identify in-store shoppers who have left stores without making a purchase and successfully re-engage them.
Connecting brick-and-mortar stores with digital engagement tactics has helped American Signature Furniture yield significant sales and engagement gains. In fact, 95% of customer emails collected via in-store tablets were previously unknown. The retailer also has seen a 23% increase in click-through rates for re-marketing emails sent through the in-store tablets. Overall consumers who use the in-store tablets have a 20% higher Average Order Value (AOV) on post-visit purchases than non-tablet users.
"Approximately 90% of sales are still in the physical store, and around 20% of people in the physical store buy while the other 80% walk in, look at lots of stuff, talk to sales associates and walk out," said James Yancey, CEO and Co-Founder of CloudTags. "For us, the big opportunity was, if we can get a much greater percentage of the customers who did not buy to opt in and tell us who they were and list the items they were considering in a store, then we could re-engage them in a personalized way digitally using email, display ads and other formats."
American Signature integrated CloudTags' tablet and software solution into its EASY PASS omnichannel shopping cart system. With EASY PASS, consumers can begin their shopper journey online, save their product wish lists and access them through the web site or in-store using the CloudTags tablets.
"On average, we're getting 30 out of 100 customers who don't initially buy a product to opt in to the CloudTags experience," Yancey said in an interview with Retail TouchPoints. "The main objective is not to try to change physical store customers into online customers. It's to make them omnichannel customers who are coming back to the store more often because we're able to re-engage them digitally."
As a furniture retailer, American Signature is challenged to market high-consideration products to consumers that often take a lot of time to research and compare. CloudTags technology enables the retailer to determine whether consumers are still in the research phase of their shopping journeys and then eventually link their store visits to online purchases.
"Most retailers don't know that the same customer who purchased online actually visited the store, spent an hour with a sales associate and most likely wouldn't have bought online had they not visited the store in the first place," Yancey explained. "There's still a huge divide from an attribution tracking standpoint from physical store experiences that lead ultimately to online transactions, whether through a tablet or a personal device."
Sales associates at participating Value City Furniture locations have CloudTags' "smart tags" integrated into their existing ID badges. When associates work with in-store shoppers, they can tap the customer's mobile device against their badge, similar to how they tap an NFC tag. Ultimately, this ensures that associates get credit for working with consumers and nurturing the relationship, according to Yancey. "When a customer makes a purchase online after visiting a store and working with Bob the sales guy, we're giving credit not only to the store, but also back to the sales associate."
Value City Furniture initially piloted the CloudTags technology in Columbus, Ohio stores in October 2014. Since then, the retailer has expanded the service to all Columbus market stores. The retailer is planning a phased rollout to more than 20 stores along the East Coast.