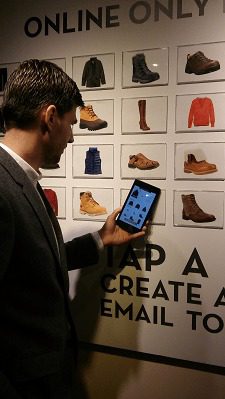 There's a bit of the great outdoors in one of the most urban locations imaginable: the Timberland store in Manhattan's Herald Square, literally steps from the Empire State Building. The retailer is in the midst of a 90-day pilot there that provides visitors with technological "Sherpas" in the form of NFC-enabled tablets available at a kiosk/charging station. When shoppers use a tablet to tap tagged inventory, rich product information comes up on the screen.
"We're creating a blended physical/digital environment where we can show product and immerse customers in the Timberland brand, while gaining a better understanding of their preferences in-store, online and post-visit to help shape our retail strategy," explained Timberland's VP of Direct to Consumer Kate Kibler in an interview with Retail TouchPoints.
For the pilot, which kicked off January 16, approximately 50% of the store's inventory is equipped with NFC (Near Field Communication) tags. There's also a "tap wall" featuring online-only inventory. Shoppers can tap pictures of these items to view expanded product information and add the items to a personalized shopping list that may include items available in-store and online-only.
"The technology also helps us gain exposure for some of the 'lesser-known' Timberland items such as Men's Apparel and Women's Footwear, through the product recommendation engine," said Kibler.
Encouraging Engagement Through The Purchase Cycle
Supported by technology from CloudTags, the program includes features designed to maximize both customer engagement and Timberland's ability to collect useful data, such as:
• The interface waits to ask the customer for his/her email address until the end of their tablet interaction rather than right at the beginning. This encourages a higher percentage of shoppers to provide an accurate email address. CloudTags reports that as many as 50% of shoppers picking up the tablets provide a working email address;
• The post-visit emails are personalized based on the shopper's store activity, with tagged and/or selected items placed within banners;
• Timberland store personnel can help customers using the tablets. An associate interface allows them to sign in, so they can get credit for both in-store and online sales. "Our store associates are always ready to help customers select product, find sizing, walk through the experience and more, but if shoppers want to explore on their own, they can go that route as well," said Kibler. "It's another element of a customized shopping experience.";
• Timberland reduces the "creep factor" by using store tablets instead of shoppers' personal devices. "Psychologically, fewer people are thinking 'I'm being tracked' when they're using store-owned technology," said Brian Prezgay, Head of Global Strategy at CloudTags; and
• The tablets work in partnership with the store's traffic monitoring programs, said Kibler. "We'll now be able to track and understand how customers are interacting with our brand and product, which will ultimately help us enhance the experience," she said. "We're also partnering with RetailNext on video analysis of those that enter the door, to see if and how they're utilizing the tablet. We can also follow the shopping paths through the store and dwell time of those with and without a tablet experience."
While it's still too early for definitive results from the pilot, CloudTag's Prezgay reported that typical tablet usage rates at other deployments have ranged from 25% to 35% of all customers entering a store. The tablets' software, provided via SaaS, also can support other in-store functions, such as associate training or as a manager's dashboard for tracking tablet usage.
"Customers have responded very well to the technology and are using it to shop and learn," reported Kibler. "If this pilot is successful, we'll consider rolling it out in other Timberland doors."