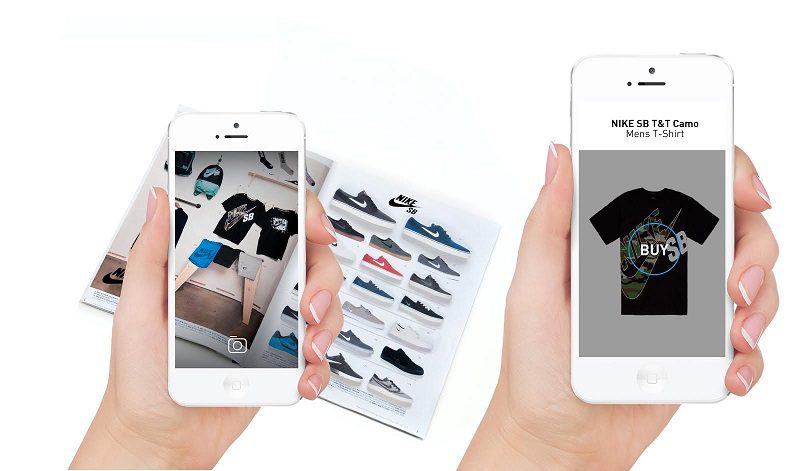 When consumers see a product they like, they often have an impulse to purchase it right then and there. But if a shopper sees a product in a print item, such as a catalog, they cannot act on this impulse successfully.
Tilly's, a retailer specializing in action sportswear and accessories, has unveiled the "Tilly's SNAP SHOP" service, which was developed by visual search platform provider Slyce. The "snap-to-buy" functionality is designed to enable Tilly's shoppers to open the mobile web site on their smartphone, snap photos of items in Tilly's seasonal collection catalogs and immediately purchase these items via their personal devices.
Customers will have access to Tilly's SNAP SHOP starting in early October 2014, when the retailer's fall catalog is released.
Image recognition technology, which is integrated into the Tillys.com mobile web site, opens the camera function instantly. Once a shopper snaps an image from the catalog, the service performs a match based on the product and brings the customer to the instant purchase page for the product.
"There's two kinds of visual search technologies," said Mark Elfenbein, CEO of Slyce. "The one we use with Tilly's is what we like to call 1-to-1 matching, in which the product you're looking at is the exact product you can get driven to purchase. The other technology we find retailers are interested in involves relevancy matching. If you're inspired by a certain product, and you like the color or the style, you may want to reference your favorite retailer's catalog instantly to see what the closest match is to that item."
Elfenbein noted that retailers that use these visual search options are poised to compete against the Firefly feature embedded on the Amazon Fire smartphone, which contains image- and audio recognition technology of its own.
Taking A Progressive Approach
Before partnering with Slyce, Tilly's started to establish plans to bridge its online and offline retail strategies by encouraging customers who read the company's seasonal catalogs to purchase on the e-Commerce site. Tilly's found, after engaging with Slyce at a mobile conference early in 2014, that the visual search platform would help the retailer meet this goal.
"Tilly's is definitely more progressive compared to other brands that we have seen, and they're an early adopter for sure," Elfenbein said. "Typically, the only way shoppers could transact from catalogs is by circling a picture of an item as a reminder before walking into a store. With our technology, we look to eliminate all the friction in acquiring all your favorite products out of the catalog."
The visual search technology is not only designed to eliminate friction in the purchasing process, but also creates a digital showroom out of every product, helping to boost impulse purchases.
"Retailers and brands are trying to figure out a visual product search and image recognition solution for their customers," Elfenbein said. "They're thinking that a lot of customers aren't necessarily physically in the stores or surfing their direct web sites, but they're coming into contact with products in the real world that they're inspired by. They want these products right at the moment of impulse. Tilly's realized that they have to be able to capitalize on impulse purchasing wherever their customers are in the real world."
For now, SNAP SHOP will only be integrated within the Tilly's mobile web site. However, the retailer plans to integrate the service into its mobile app.