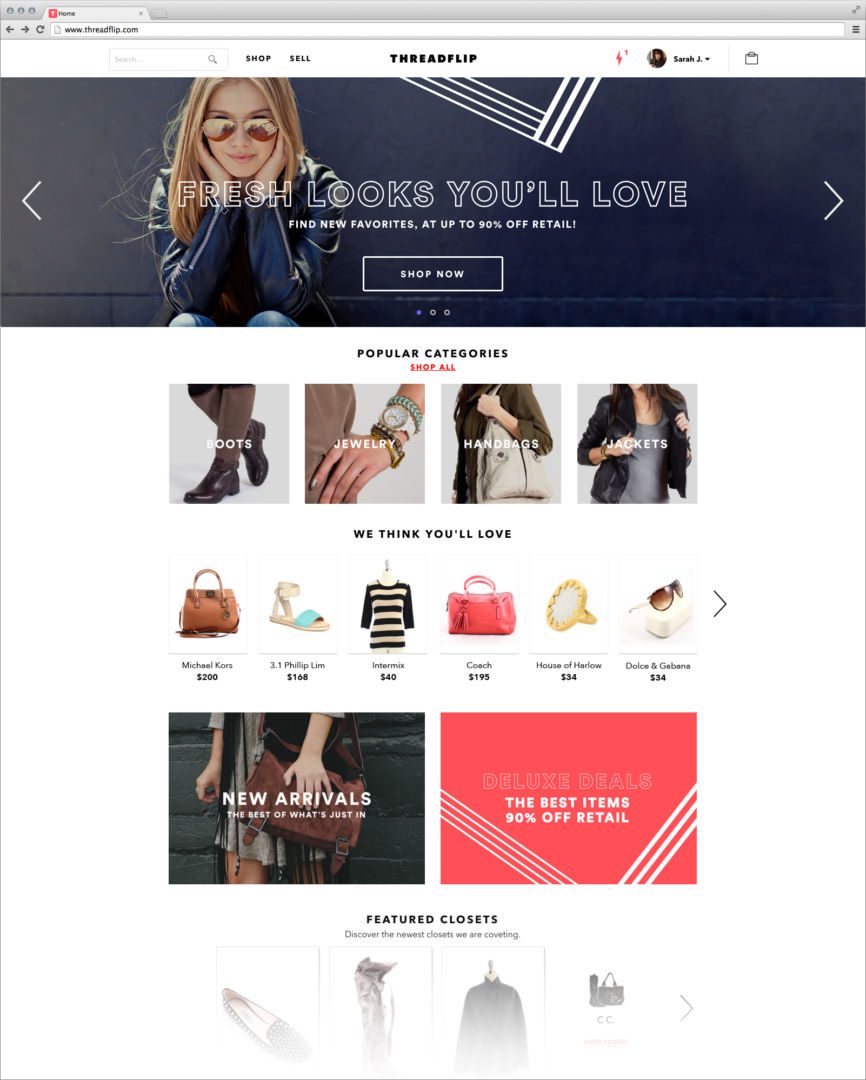 Approximately four months after securing $13 million in Series B funding to ramp up its Concierge Full Service business model, Threadflip has unveiled a new shopping portal designed to improve the peer-to-peer selling experience.
A fashion marketplace designed to help women refresh their closets quickly and efficiently, Threadflip completed a top-to-bottom makeover across its web site and all mobile selling platforms. The revamp positions Threadflip to make online consignment more simple and personal, similar to shopping in a brick-and-mortar store.
"The look and feel of Threadflip was originally designed for a peer-to-peer community," explained Meghan Cast, VP of Marketing at Threadflip. "Consumers decide to consign their clothes based on what other items are sold on the site. Like looking in a store window, they want to be sure that the items we sell are something they would wear. It creates confidence that their items will sell well."
From a shopper's perspective, the new brand look-and-feel also clearly showcases Threadflip's apparel expertise and reaffirms that the platform has the variety of relevant product categories and designers.
"We want to show our brand point-of-view, which is so important, but also accommodate the smart shoppers who rely on technology to find brands and items they love," Cast said in an interview with Retail TouchPoints. "That is why we're just as much as a technology company as an apparel retailer."
The new user experience "marries this technology and apparel expertise even better than in the past," Cast added. Product recommendations are crafted based on users' behaviors on the site or app. Additionally, consumers are presented with relevant stories from the merchandising team.
The Art And Science Of Marketing
Combining data-driven recommendations and trend-based content helps maximize relevance, Cast noted, which is key in the apparel category. "It really is an art and science," she said. "Apparel is not very specs-driven like electronics. While you can publish data on the size of a television, there's a lot more emotion in apparel. That's where the art comes into play."
To fuel the science side of the marketing equation, Threadflip relies on data.
"Although our DNA is our love of clothes, we're a very data-driven organization," Cast said. "We have a team that's tested quite a bit to understand what users are looking for."
Threadflip also continuously refreshes marketing messages and merchandising tactics to help shoppers discover new items and bring them deeper into the brand experience.
"Depth of inventory is a top challenge for our business," Cast said. "You typically only have one piece across all items. So we have to curate and get creative with the brands and categories, and tell stories that send consumers into the product categories and areas of the site where they can easily find what they're looking for."
Content development, merchandising and curation all will play a role in the growth of Threadflip's Full Service business, in which the company handles all of the heavy lifting for sellers. Full Service members send their items to Threadflip, and Threadflip manages the entire listing and selling process.
"The way we bubble up stories on what our buying community wants gives sellers confidence to give their items to us," Cast explained. "They see we carry everything from great-condition Gap jeans to great-condition Chanel bags. We have a broad array of items but our quality and relevance standard is consistent."
Expanding Full Service also will help improve the buying experience for shoppers, according to Cast. The Threadflip team takes detailed photos of products, provide accurate measurements and detailed descriptions to drive trust and loyalty. "This is a key driver of why Full Service is growing so quickly," she said, "and is such a meaningful part of our business."
Threadflip also is streamlining the buying process by expanding its payment options. The mobile app is now fully integrated with Apple Pay, which reaffirms the Threadflip DNA, Cast said. "It's a way of signaling that we value technological innovations that are going to improve options and ease, and make Threadflip a convenient place to shop and sell."