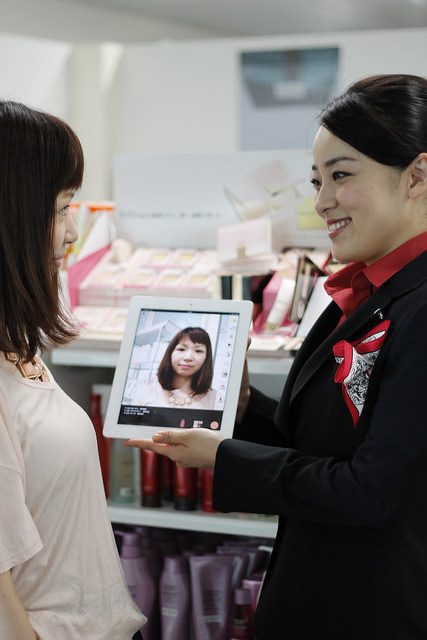 With smartphones and tablets in hand, store associates can access a wealth of information, such as product information and prices, customer profiles and inventory levels across channels.
Cosmetics manufacturer Shiseido is providing its 10,000 beauty consultants in Japan with tablets and enterprise apps to help improve customer experiences and build employee loyalty. Developed using the IBM MobileFirst Platform, the mobile apps are integrated with Shiseido's back-end systems so they can act as one-stop solutions for communication, scheduling, reporting and other vital tasks.
In the below Q&A, Mitsuru Kameyama, General Manager of the Strategic Information System Planning Department at Shiseido, shares more details on the brand's mobile strategy, and how the solution helps create stronger engagement among beauty consultants.
Retail TouchPoints (RTP): What role do beauty consultants play in the customer education, engagement and conversion process?
Kameyama: Our beauty consultants are our primary brand ambassadors, and their role is critical to creating personalized, consultative and rewarding experiences for customers visiting our beauty counters. Their knowledge and expertise are the reason customers not only like our products, but also love the Shiseido brand.
RTP: How do you strive to ensure that consultants are engaged and have the tools and resources they need to sell effectively?
Kameyama: We want our beauty consultants to be able to build valuable, long-term relationships with customers, and have access to tools that enable them to surprise and delight our customers at every interaction. Investing in technologies that support consultants is key.
A powerful example of one such technology is mobile: 10,000 Shiseido beauty consultants in Japan are currently empowered by the Beauty Tablet, an iPad that is equipped with several mobile applications that help beauty consultants engage customers in a new way, improve product and skills education, collect valuable customer feedback, and create a sense of community and pride amongst consultants. Since its roll out in 2013, the Beauty Tablet has completely transformed the way beauty consultants deliver Omotenashi — the Japanese spirit of hospitality.
RTP: What were your training and empowerment strategies like prior to developing the apps with IBM?
Kameyama: Mobile fundamentally changed the way we engage with customers. While we've always been committed to delivering an exceptional brand experience, mobile helps deepen the level of engagement and personalized consultation. Now with mobile, the same business processes that ensured exceptional services are done with greater speed, accuracy and relevancy. We can more easily integrate feedback to influence future product innovation, anticipate customer needs and encourage a greater sense of community among our 10,000 beauty consultants across Japan.
RTP: What made Shiseido decide to select the IBM MobileFirst Platform to develop the enterprise app for the Beauty Tablet?
Kameyama: The IBM MobileFirst Platform was the long-term solution to address the rapidly changing dynamics of the mobile industry. We already had a long history in developing mobile solutions before we launched our Beauty Tablet project. This experience made us especially concerned regarding the ability to rapidly deploy on mobile device standards such as iOS and Android, security of the data on the device, and the high availability these applications would have to have to support the consultants accessing it on a daily basis.
Our beauty consultants are everywhere, in front of customers and needed the robust capabilities of an enterprise mobile application development platform: The IBM MobileFirst Platform. The ever-evolving capabilities of the IBM MobileFirst Platform will also support Shiseido's plans to embrace emerging mobile technologies such as Big Data, wearables and the Internet of Things.
RTP: How did you determine what features would be included in the app? Did you consider consultant feedback at all in the planning and execution process?
Kameyama: The Bureau app was based on the idea of a woman's bureau — the piece of furniture where a woman has everything she needs to look her best. Every module of the app is a drawer with capabilities that are essential for beauty consultants to provide an exceptional customer experience, so yes, consultant feedback was extremely important to make sure it was easy to use and would increase their productivity.
To support our goal of better obtaining customer feedback, we created the Customer Voice module in the Bureau app. It enables us to capture real feedback from our customers and communicate it to our product teams as quickly and accurately as possible. To improve teamwork, we created another valuable module in the Bureau app that creates a virtual community for beauty consultants to learn from each other, to exchange best practices, share photos, tips and tricks and comment on each other's work — all in an engaging and social manner.
RTP: How long did it take to develop and rollout the app?
Kameyama: For the Beauty Tablet, it took one year to go from project planning to deployment of 10,000 tablets. With the IBM MobileFirst Platform, we finished development for the Bureau app and back-end integration work in just three months, and most importantly, have been able to continuously release improvements to the app.
RTP: What have been the results and benefits of the app since deployment?
Kameyama: In terms of results, in the past, it took nearly a month for a beauty consultant to write up a detailed-enough customer feedback report, and have it be read or analyzed. Now using the Bureau App, a photograph gives great detail and the appropriate product team can capture customer feedback within the day.
For example, through this feedback mechanism, we improved the package design of a moisturizer cream from our luxury brand, Cle do Peau Beaute. Through the Customer Voice module, we discovered that our customers were struggling to open and close the lids, especially after applying the cream to their hands. Now, with a new lid, we have solved this issue. This customer-centric product improvement is a source of pride for our beauty consultants and product engineers.
RTP: How did you ensure consultants adopted and were using the app effectively?
Kameyama: Shiseido regularly conducts surveys on the usage and effectiveness of the Beauty Tablet and its applications. The IBM MobileFirst Platform offers operational analytics to show the IT department how the application is being used and the systems that are being accessed. According to Shiseido's surveys, the adoption of Beauty Tablets in improving the quality and productivity of beauty consultants' work has been very successful.