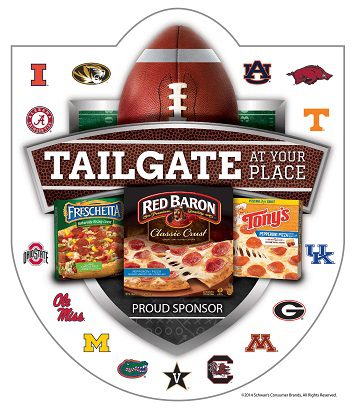 With the college football season underway, many consumers like to spend their weekends watching games and eating their favorite foods. During this time, food brands and consumer packaged goods companies strive to stand out and engage customers across all channels to drive in-store sales.
Schwan's Consumer Brands launched its college football web site TailgateAtYourPlace.com to promote its pizza brands: Freschetta, Red Baron and Tony's. Digital and mobile marketing agency HelloWorld launched the mobile-optimized site, which is designed to offer consumers an online destination for all their home tailgating needs. The site includes sweepstakes, recipes, tailgate hosting tips, contests, trivia, an interactive "Football Blitz" game and a scavenger hunt. The promotion went live on Aug. 1, 2014, and will run until Jan. 10, 2015.
On the site, consumers can select a college football theme based on a selection of 15 teams. Participants then see a virtual living room decorated with their selected schools' colors.
"This is the second year of our college sponsorship, so we learned quite a lot from our first year experience," said Marcie Anderson, Integrated Marketing Manager at Schwan's. "We had jumped in fairly late to the game last year. This year, with more planning, we are able to ask ourselves: 'How can we take this to a new level? How can we make this into a more integrated campaign with all touch points around the whole path-to-purchase? How are we going to influence the purchase at that crucial moment in the freezer section?' It's reaching them on all the different devices: Mobile, tablets, laptops, all the way to the physical stores."
Participants who register are automatically entered into a sweepstakes to win more than $150,000 worth of prizes. Grand prizes include five monthly sweepstakes of $10,000 in cash, a home entertainment makeover and a kitchen makeover.
The sweepstakes is compatible with social media platforms. Consumers can enter by "liking" Facebook pages, as well as sharing the promotion and recipes on their personal Facebook, Twitter and Pinterest accounts.
"What's great about this program in particular is the strategy," noted Sara Kowal, VP of Product Innovation at HelloWorld. "It's using that chance to win the sweepstakes to drive people to register, but then it's the actual content and that personalization that will drive people back on a regular basis. I think that's what makes a program like this so successful, especially over an extended period of time like the college football season. All these aspects make it a holistic experience and drive the engagement with the brands."
To determine the success of the omnichannel program, Anderson and the Schwan's team will consider multiple factors. "We're not only going to take into account how many people visited and registered, or how much time people spent on the site or the Facebook page," Anderson said. "We're going to keep in mind how the promotion is actually driving the rest of our business. We're going to be working with our Nielsen partners and try to measure what impact it has had on the store level, specifically on in-store displays."