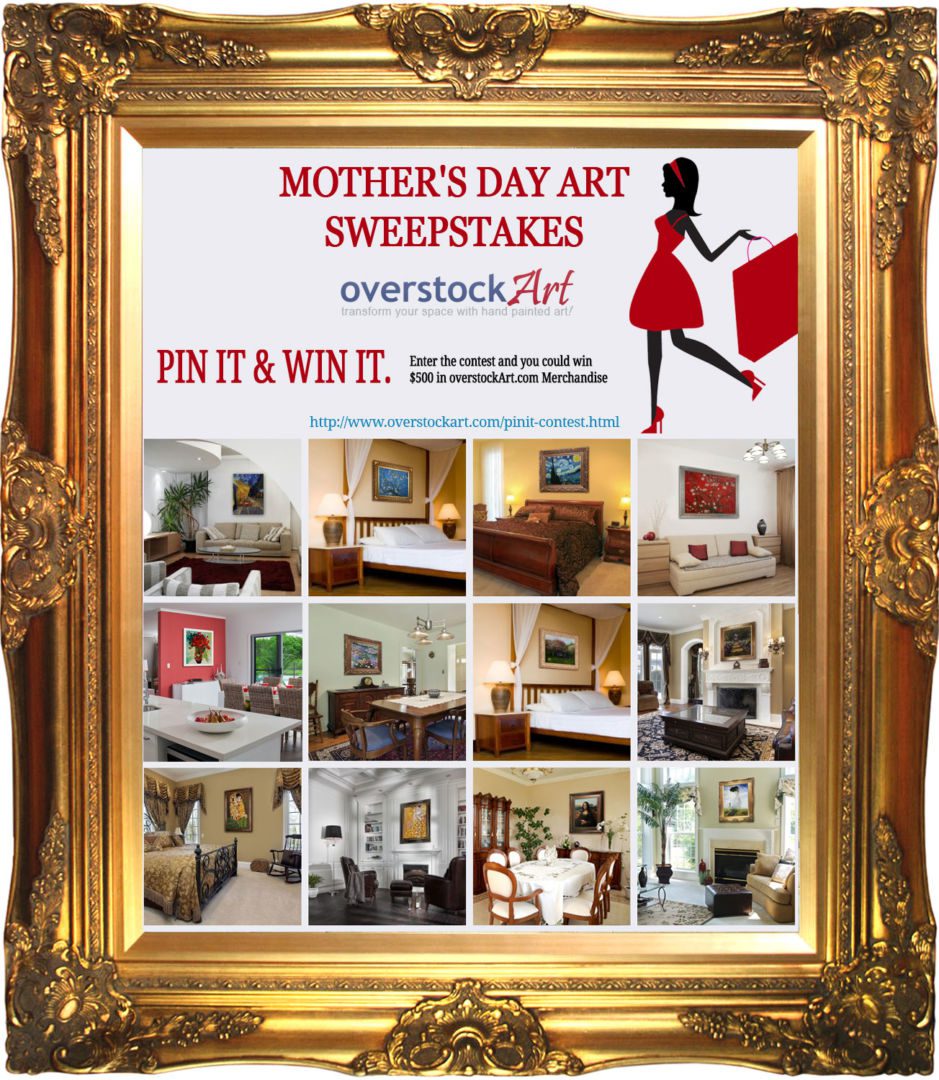 Prominent consumer spending holidays such as Mother's Day are prime selling periods for retailers. In fact, consumers spent nearly $21 billion on Mother's Day in 2013, according to the Prosper Insights & Analytics Monthly Survey.
OverstockArt.com, an online-only distributor of wall art, tapped the holiday to generate buzz and social shares via its Mother's Day Favorite Pinterest contest. Over the campaign's duration from April 15 to May 15, the eTailer gained more than 700 new Pinterest followers and saw traffic from the social network increase 1,000%.
"The Pinterest contest was a great way to get our entire social ecosystem involved with our brand during the 2014 Mother's Day shopping season," said Amitai Sasson, VP of Marketing and Development at overstockArt.com. "It enabled us to strengthen our presence on the social web and have our customers buzzing about our brand and our hand-painted oil paintings."
To participate in the contest, customers needed to create an "overstockArt.com Mother's Day Sweeps" board using their Pinterest account. Then, they were required to pin five overstockArt.com framed art images, as well as the main contest promo image. Once consumers submitted the URL of their Pinterest boards via a landing page on the overstockArt.com web site, they needed to complete an entry form by entering their full name and email.
Consumers were encouraged to pin, like and tweet the sweepstakes to their friends. The more they shared information about the contest, the more likely they were to win the $500 prize.
Overall, the Mother's Day contest resulted in mentions across a number of social sites, including "mommy blogs," Sasson noted in an interview with Retail TouchPoints. "We had 1,500 pins and re-pins generated and close to 500 boards. This is a phenomenal number for us."
Due to the positive word-of-mouth created by the campaign, overstockArt.com is planning another social media contest for the 2014 holiday season.
Results from the Mother's Day initiative indicate that social media, especially Pinterest, is a powerful platform for overstockArt.com to amplify engagement and increase sales. However, because the browsing and buying journey is more extensive, the overall sales cycle is longer.
Despite the "outstanding" traffic boost, "sales from Pinterest have been slow," Sasson noted. This is because "starting conversations about art with these new followers is the essence of the competition. It's just a longer sales cycle than usual."