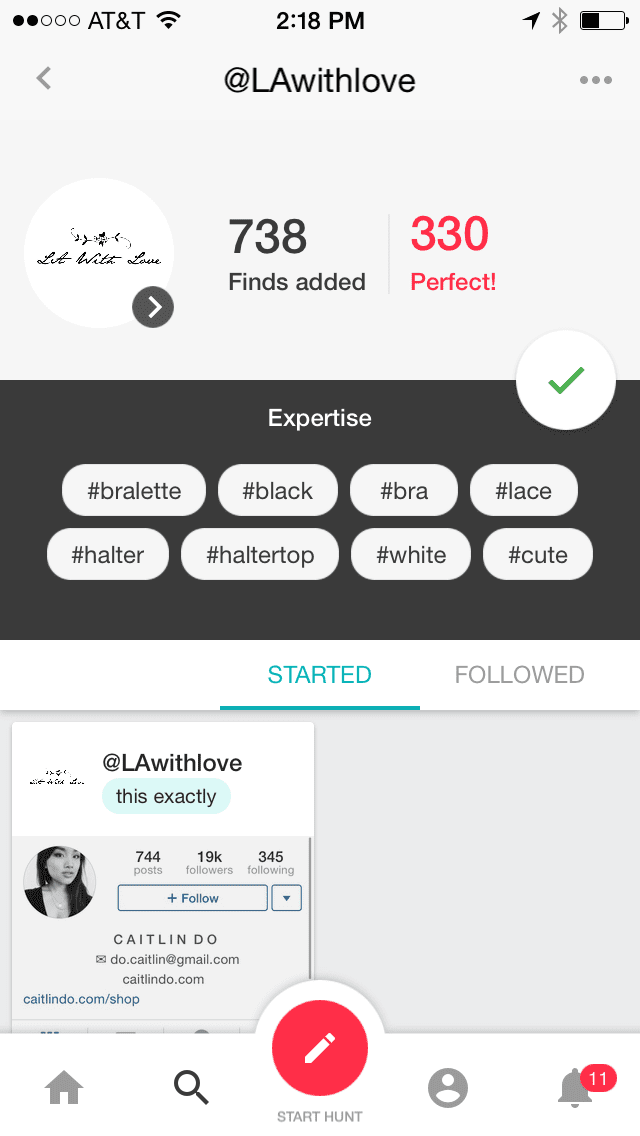 Shoppers today are savvier and have access to an increasing number of tools that allow them to make the best buying decision.
The Hunt is one mobile app designed to help consumers find the products they want. Tapping into a network of 3.5 million users, consumers use the app to create a Hunt by posting a photo of an item they want (such as a piece of clothing or jewelry), sharing their budget and asking where they can find it.
Businesses such as LA With Love, a Los Angeles-based intimates brand, are trying to capitalize on this thriving community. With The Hunt, LA With Love can drive free marketing and awareness, which has led to an online traffic and sales increase of up to 100%.
LA With Love founder Synty Briones discovered The Hunt through the web. As a shopper, she realized the app could guide her effectively to the pieces she wants that are sometimes hard to find in the vast e-Commerce universe.
"As a shopper, I often come across pieces that interested me on social media," Briones said in an interview with Retail TouchPoints. "The Hunt is able to make it easier for shoppers like me to easily 'hunt' for these pieces with the help of other shoppers who may be looking or have come across the same pieces."
Because LA With Love targets trendy women online, Briones uses The Hunt to drive online traffic to the web site. Specifically, she and her team use the app to look for Hunts that feature LA With Love intimates — or pieces that are similar. The team then solves these Hunts by linking to specific styles from the brand that align with their wants and needs.
Over time, The Hunt has become "a great form of free marketing that targets potential customers who would actually be interested in our brand," Briones noted. "Trust and engagement are built because The Hunt is a credible app. We also can attribute the reliability of our profile, which features the number of 'perfect finds' we have, which are noted by other users who believe our finds are reliable and helpful. This is just one of the many great features that The Hunt offers."
Due to the success thus far, LA With Love plans to use The Hunt on a regular basis to promote products.
LA With Love's success story affirms the fact that consumers are always looking for ideas and recommendations from not only their peers, but also trusted sources and experts. Shoppers initiate approximately 100,000 Hunts each week, with a 60% success rate within a week, according to Tim Weingarten, CEO and Co-Founder of The Hunt. "We see about 10% to 15% of our user base solving Hunts and about 20% to 25% starting Hunts on any given week. In most user-generated content systems, the percent of people creating content is much lower, around 1%. The community is extremely active on The Hunt."
Although most users tap into The Hunt to look for specific products, use cases have evolved over time.
"The community started evolving beyond the single use case of finding exact matches and started asking each other much more broad questions about personal style and shopping," Weingarten explained. "We're currently working on some exciting new features to support new use cases to give our community more ways to engage and share their tastes and knowledge with each other."