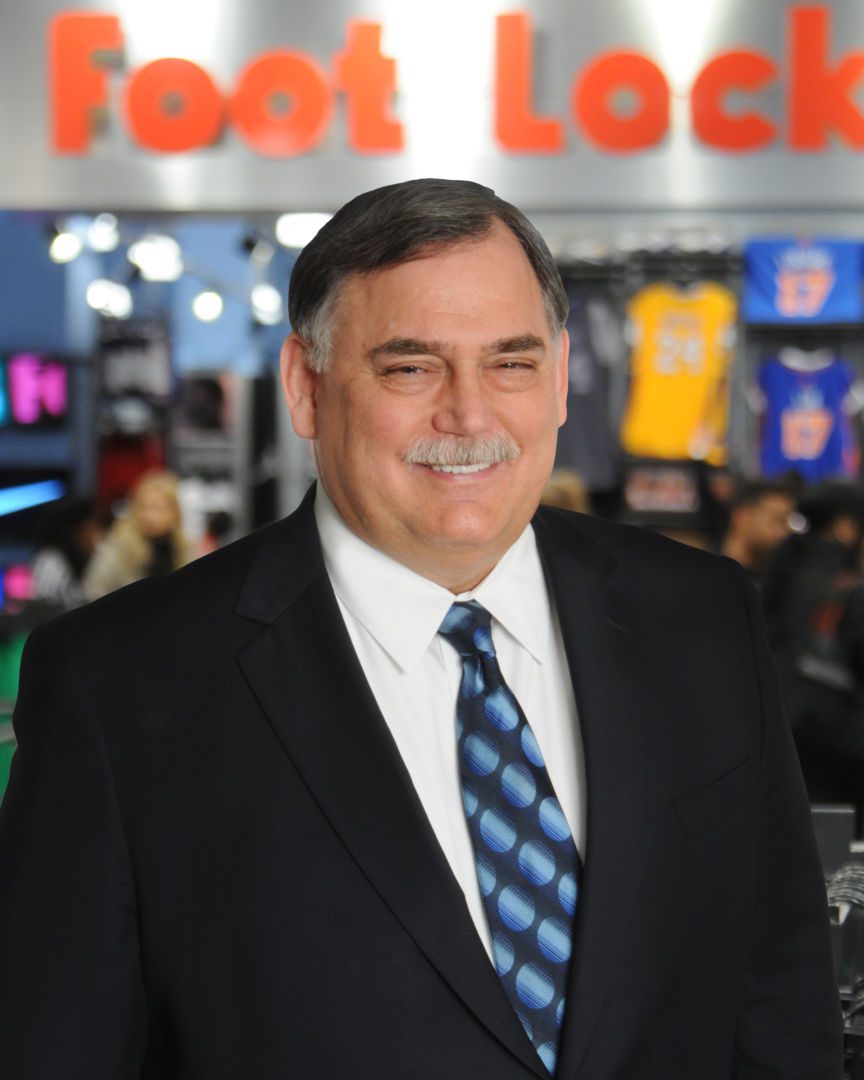 Today's retail customer shops in a number of different ways — online, through their mobile devices, in stores, in print — and we retailers must adapt to these new shopping trends. This requires us to be more flexible in order to personalize the shopping experience across channels. We know, for example, there are people who go into the store to look at our merchandise and then buy it online, while others will go online to get product information and then buy it in-store. The only way to support these new shopping patterns effectively is with an enterprise-wide view of inventory.
Making It Easy For The Customer
Our whole concept at Foot Locker Inc. is to make it easy for our customers to shop the way they want to shop. That's why we make our entire inventory available to our customers and our stores. Let me give you some examples.
A customer may come into one of our Foot Locker stores looking for a particular Jordan basketball shoe in a size 12. If we don't have that size or color in the store, an associate can look on the register or their mobile device to find a Foot Locker store nearby where the customer can go and pick up the shoe right away. Or the customer can order the shoe they want in the store and have it shipped to either their home or to the store so they can pick it up later.
Similarly, a customer may find a shoe they like while shopping in our store and ask for a size 16 in a certain color they saw on our online site. While we may carry 12 colors of that shoe online, we may only stock six colors in our stores. And although we carry shoes for some brands up to size 21 in our distribution centers, we do not stock those large sizes in the stores. But the customer can order the exact color and size they want in the store for shipment to the store or their home.
The Advantages Of Ship-To-Store
While having products ordered in our stores or online shipped to their homes is an obvious convenience for many of our customers, ship-to-store is also very popular. For our urban customers or those living in condos or apartments, if there isn't a doorman or manager available to receive and store the packages when they arrive, either the delivery person has to leave the packages unsecured outside the door or the customer has to go pick the package up. However, if the customer knows they will be going to a mall in the near future, they can have their purchase shipped to our store at the mall for them to pick up.
We also allow our customers to shop online and reserve merchandise in our stores. This allows customers who prefer to try products on before purchasing them to do so, but is also important for customers who don't have credit cards, especially many of our younger shoppers. They can reserve their purchases online and then pay cash for them in the store.
Supply Chain Visibility Is Key
All of the buy online, shop in the store, ship-to-store or ship home options I have described are possible because Foot Locker has made our entire inventory visible across our supply chain and stores. A customer walking into our store doesn't just have the inventory in that store available to them; they also can utilize the complete inventory of our company. Even though our inventory may physically reside in our distribution centers and our hundreds of stores, to the customer it appears all at their fingertips because of our supply chain visibility and flexible distribution processes. This is an obvious advantage for our customer since they have a broader selection of styles and sizes from which to shop, but it is also an advantage for us.
Besides helping us to better satisfy our customer and increase revenue, supply chain visibility enables Foot Locker to make more productive use of our inventory. For instance, we may have hundreds of pairs of a certain Adidas shoe across our company, but only one or two pairs in each store, which is very difficult to sell. Since the customer doesn't care where the shoes are shipped from as long as they arrive at their home, having visibility to all inventory across our stores allows us to sell down to the last pair.
The Store Of The Future
Going forward I think you will see increased blurring of the lines between stores and online. As one example, we are augmenting some of our physical stores with our online East Bay site, which is an online-only site for elite athletes. East Bay has all of the cleats, gloves and equipment for the major sports. We're putting a section in four Champs stores where the customer can walk in and see key features of the cleats from Nike, Adidas and Under Amour in all available colors and sizes, then try the cleats on. They will also be able to touch the video wall and the shoe or glove they want will pop up and they will be able to rotate it so they have a 360-degree view. They'll be able to see the ratings from other people who have worn it. They will also have access to a computer screen with all 250,000 SKUs in East Bay's inventory that they can shop from right in the store.
We're also doing a number of different things to further personalize the shopping experience across channels. We've connected our store and our Internet sites so the same events and activities that you see online you will see in our stores. For example, we recently had our big Jordan release. That was the feature online, and that was the feature in our stores. If we have a price break on something, you would also see the price break normally in both places.
We're also sharing merchandising concepts across our stores and online. For instance at our Champs stores, we took the shoes off the wall and put them down the middle of the store along with matching apparel. Next to the Jordan shoes is the Jordan apparel. Next to the Adidas shoes is the Adidas apparel. Next to training shoes is the training equipment and apparel. The customer can shop for a complete matching outfit all in one place.
On our Foot Action online site it is also all about the outfit. Every two or three months we go out and photograph 30 or 40 complete outfits that go with a particular shoe. The site shows you the shoe along with the t-shirt, the shorts or pants, the socks, or the hat that goes with those shoes, and the customer can buy the whole outfit right there.
Winning The Multichannel Race
At Foot Locker, we feel we are well positioned to win the multi-channel race that today's empowered consumer has made the new standard. By connecting our supply chain, stores and internet sites with enterprise-wide inventory visibility, we can provide an exciting shopping experience for our customers that will fuel our growth.
Ken C. Hicks was elected President and Chief Executive Officer of Foot Locker, Inc. effective August 17, 2009. He was subsequently appointed as the Company's Chairman of the Board, effective January 31, 2010. Prior to joining Foot Locker, Inc. Hicks served as President and Chief Merchandising Officer of J.C. Penney Company, Inc. since 2005 and was a member of its Board of Directors since 2008. From 2002 to 2005 he was President and Chief Operating Officer of Penney's stores and merchandise operations. Before joining JCPenney, Mr. Hicks was President of Payless ShoeSource from 1999 to 2002, where he had responsibility for all elements of merchandising, marketing, product distribution and direct product development and sourcing for 4,900 stores in seven countries.