It all started with the world's fastest-growing tree — the Royal Empress Tree. That's an auspicious place to start a business, but true to its roots, the DTC large plants seller FastGrowingTrees.com has been able to deliver swift growth of its own over the last 15 years.
"We come from a direct marketing background," said Justin French, VP of Marketing at FastGrowingTrees in an interview with Retail TouchPoints. "We discovered the world's fastest-growing tree and we said, 'That's an informercial in itself, let's see if we can sell this product.'" Spoiler alert: turns out they could.
Now the company is continuing to grow by deploying solutions such as advanced search, which has been a critical tool in a segment where not all customers know exactly what they're looking for. In fact, last year FastGrowingTrees saw a 6X increase in conversions from customers using their search bar, which has been developed in partnership with Searchspring (previously Nextopia).
2020 was a banner year in general, as FastGrowingTrees found itself at the epicenter of a number of major consumer trends — an ecommerce boom, the stay-at-home economy and a shift to the suburbs. What started in 2005 in the backyard of founder Marc Zboch with that single (albeit highly marketable) product has now expanded into a multi-million-dollar ecommerce business with more than 2,900 SKUs.
Part of the evolution for FastGrowingTrees has been enhancing its online experience to replicate that of a physical nursery as much as possible. They've done this with detailed product descriptions and visuals, educational content, a Perfect Plant Finder quiz tool and their dynamic search bar.
Helping Customers Find the Tree They Want in a Forest of Products
With its digital marketing campaigns, FastGrowingTrees is generally able to take shoppers directly to relevant pages and categories within the site, but the company also invests heavily in offline marketing tactics like direct mail and national radio spots. Those offline-driven customers typically land on the homepage, and many of them arrive with only a broad topic in mind, said French.
Using Searchspring's search and autocomplete solutions, FastGrowingTrees is able to proactively guide customers who are unsure of exactly what they are looking for and increase conversions as a result.
When shoppers arrive on the site with a broad search term, the search bar suggests specific items in a visual dropdown as they type, as well as alternative search terms. Product imagery and ratings are included in the initial results, and those results can be filtered by facets such as growing zone, sunlight level and product type that dynamically populate the results field.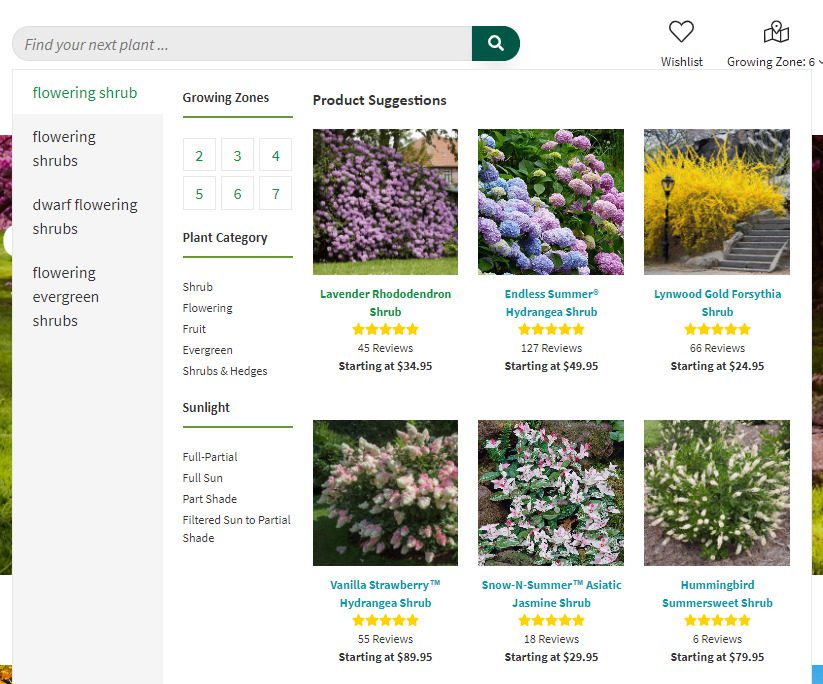 In 2020, customers who used search on FastGrowingTrees were 6X more likely to convert, spent 7X longer per visit and accounted for 28% of overall revenue.
The Challenge of Selling Trees Online: Logistics and Awareness
FastGrowingTrees is equipped to handle the increased sales, even though it faces unique sourcing and fulfillment challenges, as well as the nursery industry's historically low operating margins. In particular, the difficulty and cost of shipping large, unwieldly products — products that can die, mind you — across the country has presented a unique ecommerce challenge.
Finding a cost-effective way to ship large, fragile plants across the lower 48 states has been a learning process, and French said it is only in the last few years that they've really hit on a winning solution: proprietary packaging that keeps the plants secure and alive during what can be up to five days of transit.
Another big obstacle has been getting the word out, not just about the company but about the concept of shopping online for this type of product. "There are still not a lot of people that know you can buy trees and other large plants online," said French. "Our #1 challenge is awareness, and by that I mean category awareness, not brand awareness."
However, as more shoppers shifted online and younger, internet-savvy consumers shifted to the suburbs due to COVID, sales at FastGrowingTrees spiked — so much so that the company had to pull forward inventory set aside for 2021 to meet demand.
"Plants are not like a widget," said French. "We can't just call up a factory and say 'Send 50,000 more.' Plants take six to 36 months to grow."
Fortunately, the company was able to secure the supply it needed for 2021 and beyond from its own nursery in South Carolina and its network of national suppliers.
Leveraging Search Queries to Enhance Merchandising
In this regard, search has also played a key role. FastGrowingTrees is able to proactively manage inventory and assortment levels through its search engine by curating results based on availability, profit margin and seasonality.
"Rather than just presenting a list of 50 random plants that might relate to a search, we can actually curate these pages," said French. "If there's a type of tree that's blooming right now, we can push that to the top of the results. If there are products where we have a slightly better margin, we can push those up, or if we're running low on something, we might bump that down. The manual curation has really taken us to the next level."
The Searchspring tool also takes a lot of the "grunt work" out of that curation process, with machine-learning capabilities that can automatically adjust product results based on pre-set rules.
Of equal value to the FastGrowingTrees team is the data gleaned from those dynamic search journeys.
"If we see people continually searching for a plant that we don't carry, there's huge opportunity for us to add that plant and immediately start seeing sales," said French. "We review the search data on a quarterly basis, and if we have something missing, we'll go find that product."
The next step, according to French, is to expand that dynamic search experience to other areas of the site.
"As we continue to grow and have more and more products, our category pages are becoming larger, so we're looking at adding faceted navigation to our category pages," said French. "This will allow people to drill down based on filters to find exactly the product they want, whether it's by region, the height of the plant, the color of the flower, how many reviews it has and so on."
Looking to the future, French thinks the shift to online is here to stay.
"Last year there was a seismic shift in the way people bought plants, and we're confident that will continue in the future," he said. "Yeah, you can't touch it or smell it like at a physical nursery, but you can look at the social proof of people that have already bought a product and are happy with it. Plus, you don't have to figure out how to haul 10 seven-foot-tall evergreen trees in your Honda Civic."