As the starting point for so many shopper journeys, the search bar also represents the first potential fork in the road. Customers' search experience can swiftly move them along the funnel, but it can just as easily stop them dead in their digital tracks. Too many wrong turns and dead ends and a retailer may have lost not just this particular sale but the customer as well.
Sharpening the search experience is particularly critical for home improvement retailers, with their hundreds of thousands of SKUs, multiple and widely varied product categories and shoppers whose knowledge about the intricacies of home improvement is often limited.
"Our goal is to improve the simplicity of the Home Depot experience, because we know it can be complicated and cumbersome," said Daniel Grider, VP of Infrastructure and Operations at the retailer in an interview with Retail TouchPoints. He admitted that while Home Depot previously didn't offer a best-in-class search experience, the retailer has made a "conscious investment" to use the data from the 3.6 billion visits to its digital properties to improve the search process.
While these efforts are ongoing, Home Depot already has noted a decline in secondary searches, meaning more shoppers are discovering the products they're looking for on their initial attempt. Grider discussed the reasons why Home Depot has focused its resources on improving search, as well as the retailer's overall commitment to technology as a competitive advantage.
Retail TouchPoints (RTP): What's behind Home Depot's focus on improving search relevancy?
Daniel Grider: We realize that customers want to go in and get the tools or products they're looking for, and so search is the new front door to our stores. The feedback we're getting with these efforts is positive; the decline in secondary searches, along with customer satisfaction scores and customer feedback, tell us that we're going in the right direction. Customers are getting where they intended to go, and our investments are doing what we want them to do.
That said, we're still in early phrases with the effort to improve search relevancy, and we're giving it some time to play out. And search is ever-evolving. You're never really done, because customer behaviors, product names and overall trends keep changing, so it's a continuous journey.
I want to give credit for much of these improvements to the growing group of data scientists at Home Depot, who have been leveraging data to discover what kinds of predictions we can make in terms of forecasting the customer's journey, and determining what type of project [the customer is undertaking]. That also helps us make good recommendations for their shopping cart.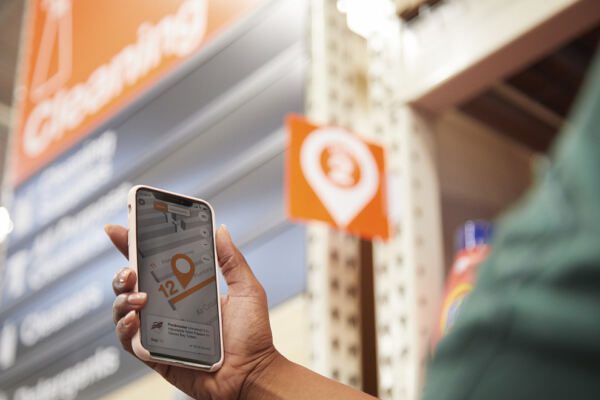 RTP: How do these improvements tie into the in-store shopper experience at Home Depot?
Grider: Stores are equally important to our digital properties; 60% of the orders placed by online customers are picked up in stores. So we want to make sure our stores are also a best-in-class experience, and digital is a big part of that in-store experience. All this requires connectivity within stores, not just for consumer devices but for the associates and managers to use. If you're looking at a faucet that you like with a certain finish, say brass, but all the other fixtures in your house have a brushed steel finish, while we may not have that item in a brushed steel finish on the showroom floor, improved searchability allows the in-store customer to see all the different options available for a particular product.
RTP: Home improvement retail got a real boost during COVID. Do you think the sector will be able to maintain that momentum in 2022?
Grider: None of us has a crystal ball, so I can't predict with much certainty. But home improvement was strong even prior to the pandemic, and then [with COVID] the home became an office, a learning center for kids, a gym — many things it wasn't prior to the pandemic. People were willing to tackle small projects, which gave them the confidence to tackle something bigger. But of course a lot depends on home values, the equity you have in your home and its age.
RTP: How will Home Depot use technology to continue its growth?
Grider: I feel very lucky that Home Depot recognizes technology as a competitive advantage, and that the company has heavily invested in it year over year. But also, we look at ourselves as technologists second and retailers first. The question is always, what problems in retail are you trying to solve? So for example when retailers needed to stand up curbside pickup quickly during the pandemic, because of previous investments in streamlining our platforms and cloud enablement we were one of the first to do curbside. Technology is about having that agility and that elasticity when the demand is there.
RTP: What do you see as the biggest challenges Home Depot faces from a technology perspective?
Grider: As we continue to grow as a company, size becomes a challenge. We have 2,300 stores and 500,000 associates, so there's lots of complexity that can bog you down and distract you. The way to deal with that is to learn, fail fast and iterate. We've been working on our ability to move much faster versus trying to predict the future. That's how we'll be judged: by how fast we can react to consumer demand and behavior.