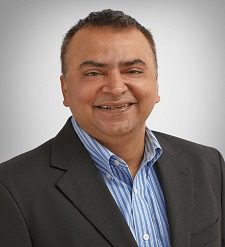 In this exclusive Q&A, Amit Shah, CMO of 1-800-Flowers.com, details the three initiatives that are helping to grow the 41-year-old brand. He also talks about getting "bolder" with email personalization and the steps to competing with Amazon.
Today, 1-800-FLOWERS, Inc. owns a number of different gifting brands, including: 1-800-Flowers.com, 1-800-Baskets.com, Harry & David, FruitBouquets.com, The Popcorn Factory, Cheryl's Cookies, Wolferman's, Moose Munch and Simply Chocolate.
Retail TouchPoints: What are the priorities for improving business at 1-800-Flowers.com?
Amit Shah: We are focused on three key areas:
Enhancing the customer experience;
Driving demand more efficiently; and
Building a workforce that supports our product and tech innovations.
We want to be the easiest go-to solution for all gifting needs, focused on all our brands. To that end, we've completed a number of web site enhancements. And we're deepening our work around newer platforms. For example, we launched Google Assistant last month.
We also now offer a program called Celebrations Passport®, which gives members one year of free shipping. Tactically this is an important program for us because we are expecting it to provide us with some rich learnings about our customers.
RTP: How can 1-800-Flowers.com and other retailers compete with Amazon?
Shah: It's become increasingly important for retailers to deliver a curated, thoughtful selection. When it comes to gifting, the idea of "one size fits all" translates to "one size fits none." If you are going to complete on full catalog with Amazon, you are going to lose. They are too broad and too deep.
RTP: What new technologies should retailers be focusing on?
Shah: Voice search will be one technology that will determine the companies that survive and those that don't. Interactions with chatbot involve learning over time about individuals. For example, you may prefer "Hi Debbie" vs. "Hello Debbie." There is a proven impact on customer response for those slight differences. And you can't copy that learned skillset, so it will be hard to play catch-up if you don't start working on it now.
RTP: How should retailers be thinking about personalization?
Shah: To deliver personalization at scale, we have to get past the current situation with external platforms that are becoming more antagonistic to retailers by holding back important shopper journey data and analytics. We need to find a way to get more personal with shoppers. Right now, most shoppers log in as guests. We need to be able to identify individual shoppers so we can offer more effective personalization. Because today, you could visit a site to purchase for your significant other and tomorrow for your niece, the retailer is not able to personalize the next visit effectively.
We have to get very bold around these concepts, like paying for login. There has to be some kind of payoff for providing your identity.
I'm surprised, for example, that if I repeatedly buy one size of clothing on a site, very few apparel companies show my size each time I log in. I have to click on the size I want each time.
RTP: How is 1-800-Flowers.com keeping up with industry innovations?
Shah: We have a very active innovation lab group with three main efforts under way:
Integrating with intelligent agents: We have integrated with Google Assistant and Facebook Messenger (and we're anticipating other innovations will launch early next year).
Machine Learning: Last year we announced GWYN®, an online gift concierge on our site powered by IBM Watson. We can now offer better curated gift recommendations using AI.
Customer Service innovation: We are using machine learning/intelligent agents to provide more thoughtful customer service. We are experimenting with anticipating shoppers' questions based on the web page they've landed on. We consider this "augmented intelligence."
RTP: How did you get started in retail?
Shah: I am an accidental marketer and accidental retailer. I started my career in strategy and business development at McKinsey. What really interests me is using data to disaggregate complex and ambiguous problems, and thinking about the end-to-end customer journey. The ability to keep learning is going to be a key competency for retail executors.
RTP: Your company has an innovative approach to team building. Can you talk about that?
Shah: Over the last four years we have built a digital leadership program internally. The two people leading innovation are an ex-investment banker and someone from the finance field. I believe the talent required to be successful in modern retail is a talent around being smart about learning; and knowing how to match data to the customer experience. You are not going to overcome machine learning with just the smartest people. You need to hire people who can ask the right questions and can conjoin three or four functions together.
Retailers should be careful — savvy competitors are not just raiding customers, they're raiding talent as well.
Hear more from Amit Shah at the Retail Innovation Conference, May 1-2, 2018 in New York City.