In an omnichannel world, innovators can choose multiple avenues to break into an existing market. Because of its relatively low cost of entry, many upstarts gravitate to e-Commerce first. Other startups choose to work with existing retailers to take advantage of their brand recognition, customer base and operational capabilities.
At the Retail Innovation Conference, speakers from two companies that are less than 10 years old — Adore Me and Bedgear — explained why (and how) they took different routes to become players in the lingerie and mattress/bedding businesses, respectively.
Adore Me Leverages Rapid Online Growth For Offline Expansion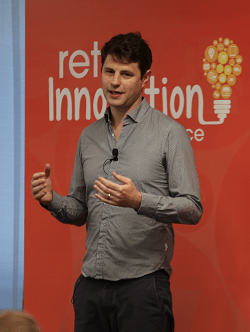 Founded in 2010, Adore Me set out to challenge Victoria's Secret by starting as an e-Commerce pure play offering more affordable high-quality lingerie for a wider range of body types, from petite to plus-size, than the category leader. Adore Me also shook up the market by unveiling new styles much more often than the traditional two collections per year. Sales took off. The most recent Inc. 5000 list of the fastest-growing private companies reported that Adore Me grew almost 1,400% from 2014 to 2016.
With revenues in the $100 million range and a customer base of more than 11 million, Adore Me is now looking offline to catapult its business to the next level. Romain Liot, COO of Adore Me, shed light on the company's plans in a session titled Online To Offline: How Adore Me Is Rethinking Its Operating Model To Open 300 Retail Stores.
Looking ahead five years, Liot sees Adore Me as an omnichannel brand with 200 to 300 boutiques — even though it has no previous experience operating at retail aside from its New York City showroom, which provides a personal shopping experience by appointment only.
Liot explained that the company launched into the physical world sooner than expected in 2017. When its U.S. distributor could not fulfill its orders, Adore Me decided to build its own warehouse and distribution center in Secaucus, N.J. It took 10 months and $10 million to get the facility up and running.
Now, the warehouse will be the linchpin for retail expansion as Adore Me looks to open its initial three stores within a 45-minute radius. The first unit is set to debut in June in nearby Staten Island, N.Y. "We will open our next 20 stores in the Northeast, and after that we will expand opportunistically," Liot said.
Watch a video of the session here.
Bedgear Seeks To 'Wake Up' Bedding Through Partnerships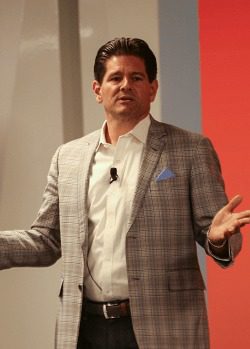 In a time of so-called retail "disruption," Bedgear CEO Eugene Alletto eschews the term. "It might seem fun and exciting for a new brand to come in and disrupt an industry, but we didn't want to do that," said Alletto, who also goes by the title of Quarterback/Founder.
In his presentation, Wake Up, World: The Importance Of Global In-Store Experience And Being Additive To Your Industry, Alletto shared his philosophy of adding value to an ecosystem rather than undermining the existing order.
When he was launching Bedgear in 2009, Alletto found a "boring" and fragmented retail marketplace for bedding. Using advanced textile fabrication techniques, Alletto had developed an integrated system of mattresses, mattress toppers, pillows, sheets and blankets that work together to improve sleep quality by dissipating heat, wicking away moisture, and blocking dust and allergens. But how was he going to bring his innovative line of "performance sleep solutions" to the public?
Alletto told the RIC audience that he could have boxed up the products and sold them to consumers directly, but he understood that customers needed to experience the Bedgear difference in tactile ways. "We decided to work with retailers that could provide a really engaged interaction between consumers and sales associates," he said. That led him to form partnerships with furniture and mattress specialists such as Art Van Furniture, Ashley HomeStore, Nebraska Furniture Mart, and Raymour & Flanigan.
Aside from one pop-up store on Boston's Newbury Street, Bedgear isn't going into the retail business. However, Alletto is strengthening his relationships with key retailers by rolling out a store-within-a-store concept that brings Bedgear sleep solutions together in ways that emulate the pop-up.
At the same time, Alletto is ramping up globally. Bedgear products are sold in 70 stores in Russia and 36 stores throughout Asia, where Alletto plans to be present in 300 doors by 2020.His reason for this expansion is ambitious: "We believe that we can literally bring world peace, one pillow at a time, by selling a good night's sleep," Alletto asserted.
Watch a video of the session here.