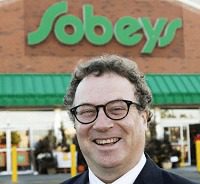 Empire Company Ltd., parent of Canadian supermarket chain Sobeys, has experienced a sudden change at the top of its C-suite. President and CEO Marc Poulin is stepping down following steep losses in Q4 and for fiscal 2016 as a whole.
Sobeys, which operates more than 1,500 stores throughout Canada, had a same-store sales decline of 1.8% for Q4 2016, which ended May 7, 2016. For the full year, same-store sales declined 0.2% compared to the previous year. Empire had a net earnings loss of $942.6 million (Canadian) for Q4, compared to positive earnings of $55.4 million in Q4 2015. The change was even more dramatic for the full fiscal year: a loss of $2.13 billion compared to $419 million in earnings in fiscal 2015.
In addition to its financial woes, Empire has had difficulty integrating operations of the Canada Safeway chain, which it purchased for $5.8 billion nearly three years ago according to a report in the Financial Post. Two years of rising food prices have driven many Canadian consumers to seek discount alternatives, and a depressed economy in Western Canada has also hurt Sobeys' results.
François Vimard, Empire's Chief Financial and Administrative Officer, has been appointed interim President & CEO as the company initiates a succession process. Vimard also will take Poulin's place on the company's board of directors.
"Despite the significant challenges we have faced over the past year, the Board is confident the company is pursuing the right strategy," said Empire Chairman Rob Dexter in a statement. "It is our clear expectation that François and his strong and experienced leadership team will prioritize and advance the most critical elements of the company's strategy to ensure we meet the needs and expectations of our customers and see the return of long-term profitable growth for the company."
Poulin joined Sobeys in 1997 and held a number of executive roles at the Stellarton, Nova Scotia-based company. He was named CEO and president of Sobeys in 2012 and added the president and CEO of Empire titles in December 2013, six months after the company's announcement that it would buy Safeway.