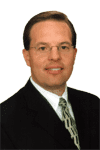 eCommera, a cloud-based Big Data solution provider, has appointed Kevin Sterneckert as the company's Chief Marketing Officer (CMO). Sterneckert, who most recently served as the lead retail analyst for Gartner, brings more than 20 years of experience in retail leadership to eCommera.
As Gartner Research VP, Sterneckert oversaw analysis of hundreds of retail-focused software solutions each year, offering expert analysis on topics such as Big Data, the future of merchandise life cycles, and the path to create excellence in the supply chain. He previously served as the Sr. Director of Global Product Strategy at Oracle Retail, and as the VP of Retail for DemandTec. Additionally, Sterneckert was the CIO of Big V Supermarkets and Director of Merchandising Services and Development for Walmart Supercenters.
"Hundreds of software companies and retailers have relied upon Kevin over the past decade to guide their technology capabilities, hone their commerce prowess and achieve success in this rapidly-changing retail market," said Andrew McGregor, CEO of eCommera. "Kevin is an industry thought leader and authority who can amplify the eCommera brand worldwide to achieve our growth objectives."
Current eCommera customers include 70 global brands such as: Asda, House of Fraser, Neiman Marcus, Brooks Brothers, Lifetime Brands, Bouclair and Clarins. Prior to the appointment of Sterneckert, eCommera secured a $41 million funding round in February 2014.