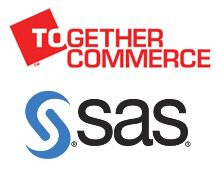 Toshiba Global Commerce Solutions has signed an agreement with SAS that enables the two companies to integrate retail promotions and loyalty systems with business analytics processes. The agreement is the first original equipment manufacturer (OEM) agreement for SAS.
Under the agreement, Toshiba can embed SAS advanced analytics products, such as SAS Visual Analytics and SAS Visual Statistics, into its loyalty management systems, allowing retailers to uncover insights that help them recognize and react to trends through real-time data visualization.
The system integration is designed to enable retailers to better identify ways to influence consumers at critical decision points before, during and after a transaction.
"SAS has been steadily expanding its alliances and channels program to give customers the solutions they need to be successful in a way that makes the most sense for them," said Russ Cobb, VP of Global Alliances and Channels at SAS. "This partnership furthers those efforts. From traditional partnering efforts to working with resellers and now engaging with OEMs, we are making it easier for businesses to tap into the power of SAS analytics while benefiting from the expertise of our partners. This provides a more holistic approach to help our mutual customers succeed in their evolving markets. It offers them a competitive advantage through creative application of analytics to their ever-growing variety of data."