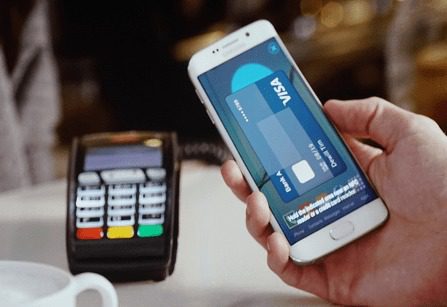 Private label credit card provider Synchrony Financial now allows Synchrony Bank-issued credit cards to be accessed through Samsung Pay. The new mobile payment service is expected to launch in September 2015.
Samsung Pay leverages Magnetic Secure Transmission (MST) and NFC technologies to integrate with most existing payment terminals. All of Synchrony Bank's payment solutions and CareCredit cards, including approximately 12 million active accounts, will be compatible with Samsung Pay.
"We continue to make our cards valuable to consumers, retailers and merchants, and are pleased to securely offer the benefits of our private label credit cards through Samsung Pay," said Margaret Keane, President and CEO of Synchrony Financial. "Through our ongoing innovation and strategic partnerships, we have developed a mobile platform that we can rapidly integrate with providers' wallets while preserving the value of Synchrony Bank's private label credit cards and patented Dual Cards for whichever mobile wallet our partners and customers choose."
All Synchrony Bank private label credit card accounts in Samsung Pay will be device-specific and will have domain-restricted tokens so they will only work in the merchant's store.
Synchrony Financial's mobile product suite includes mApply, which allows shoppers to apply for credit on their mobile devices and access their approved credit line, as well as mService, which allows customers to pay bills and service their accounts on their mobile devices. Additionally, the lifecycle includes a proprietary digital card that enables in-store account lookup and mobile payment functionality. The solution integrates with mService and is device agnostic, so no new hardware or mobile application download required.
Synchrony Financial's mobile strategy is spurred by an Innovation Station team comprised of cross-functional employees focused on emerging technology, ideation and new product development. This team also initiated the strategic partnership with Samsung-owned LoopPay, which developed the MST technology.