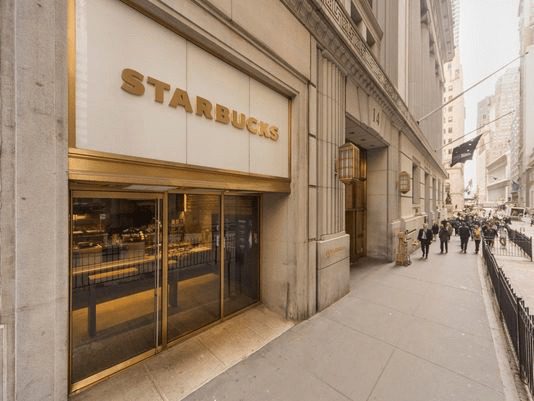 Starbucks has opened its first express store at 14 Wall Street in Manhattan, across from the New York Stock Exchange. The new store concept is designed to provide quick service for on-the-go consumers, with Starbucks executives referring to it as the "espresso shot" version of a typical store.
As customers enter the 538-square-foot store, they see a digital menu board displayed on four low-glare monitors. A set of menu options tailored to New York customers rotates on the screens. This display also serves as a form of art at night with glowing images of coffee farms shining through the front window.
The location also is equipped with mobile POS stations to help employees streamline customer service and better manage wait times. Representatives greet customers as soon as they enter the location, and then can use their mobile POS devices to take their orders. Starbucks first deployed the mobile solution at the Starbucks Reserve Roastery and Tasting Room in Seattle.
"This location on Wall Street was intentionally designed to take what's at the heart of our cafés and distill that for a smaller space," said Bill Sleeth, VP for Store Design at Starbucks. "It is the perfect example of how to balance high design, attention to detail and efficiency, while maintaining what is unique to who we are — our coffee and the connection between our customers and partners."
Artwork made from hot-rolled steel with a black patina finish and a laser-etched coffee tree design hangs where the menu would traditionally be. Combined with the horizontal wood paneling on the walls and ceiling, the artistic focal point is designed to create a sense of depth.
"We carefully considered every component from a design and environmental perspective," said John Park, Senior Architectural Designer at Starbucks. "Not only have we created something beautiful but we have built it to our green building Leadership in Energy & Environmental Design standards."
Starbucks plans to open four more express format stores in New York during 2015 as part of an extensive pilot project.