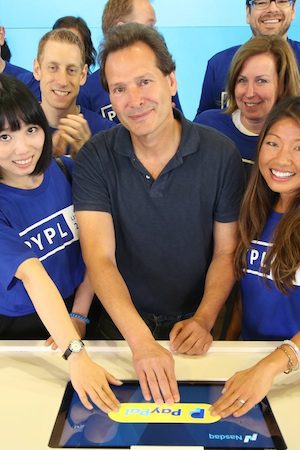 After nearly a year, PayPal has completed its separation from eBay Inc., making it an independent public company on the Nasdaq Stock Market. Moving forward, the company will have the ticker symbol "PYPL."
Stockholders who held eBay common stock at the close of business on July 8, 2015, received one PayPal common share for every one share of eBay common stock.
"Mobile technology is transforming payments, making it easier, safer and more affordable for people to move and manage their money than ever before," said Dan Schulman, President and CEO of PayPal. "As an independent company, we see a tremendous opportunity for PayPal to expand our role as a champion for consumers and partner to merchants, and to help shape the industry as money becomes digital at an increasingly rapid pace."
PayPal initially announced its plans to split from parent company eBay in September 2014. The president and CEO at the time, John Donahoe, indicated that keeping the companies together beyond 2015 "becomes less advantageous to each business strategically and competitively."
With Schulman taking the helm, PayPal made significant strategic moves in the first half of 2015, acquiring mobile payment provider Paydiant in March and digital money transfer company Xoom in July.
Serving more than 169 million active customer accounts across 203 markets, PayPal processed $235 billion in payment volume and generated more than $8 billion in revenue in 2014. The company also processed $46 billion in mobile payment volume.