Happy Returns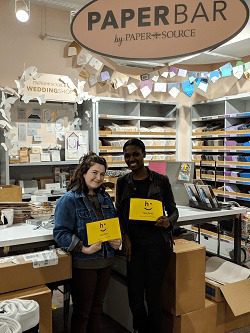 , which offers a combination of software, services and logistics for returning items purchased online, will place its "Return Bars" in all 125 Paper Source stores by the end of September. The chainwide expansion follows an 18-store pilot program that began in March 2018 in Chicago and Los Angeles.
When the Paper Source stores open, the Happy Returns network will consist of 260 locations in 50 metropolitan areas. At the beginning of this year, the company had 50 Return Bars; in early May Happy Returns marked its 100th location.
"We're excited to roll out Happy Returns' innovative services to all our stores nationwide," said Jenica Myszkowski, COO at Paper Source in a statement. "Based on our pilot program, Happy Returns visitors are new to the brand, and during their visits, they become Paper Source customers at a very encouraging rate."
"It took us two years to open 100 locations, but alongside premier partners like Paper Source, it took only four months to open the next 150," said David Sobie, Co-Founder and CEO of Happy Returns in a statement. "Our growth is accelerating, and the business is driving value for retailers, locations and shoppers."
Online retailers offering the Happy Returns service include Everlane, Tradesy, Eloquii, Jaanuu, Mizzen+Main and UNTUCKit.