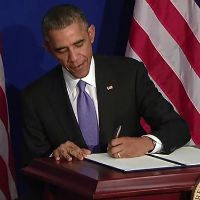 President Obama has signed a new Executive Order, onboarding the government to lead the charge in better securing transactions and sensitive data.
The BuySecure Initiative was crafted to better assist victims of identity theft and improve the government's payment security. It also is intended to accelerate the implementation of more robust security technologies and development of payment security tools.
"Last year, more than 100 million Americans had information that was compromised in data breaches in some of our largest companies," Obama said. "Identify theft is now America's fastest growing crime. These crimes don't just cost companies and consumers billions of dollars every year, they also threaten the economic security of middle class Americans who worked really hard for a lifetime to build some sort of security."
With the Executive Order, the government is pushing the move towards enhanced security measures. For example, standard mag stripe cards will be replaced with credit, debit and other payment cards with EMV microchips. Notable businesses already are unveiling major plans to accelerate chip and PIN adoption, including:
American Express will launch a $10 million program to assist small business customers in upgrading their POS terminals starting January 2015.
Home Depot recently completed a payment security project that provides enhanced encryption to payment data at the in-store POS. Up to 85,000 POS terminals also were transitioned to support chip and PIN in stores.
Target has installed chip and PIN readers in all 1,801 stores nationwide. In addition to accepting all chip-enabled cards in stores, the retailer will reissue more than 20 million chip and PIN enabled Target-branded credit and debit cards beginning early 2015.
Visa plans to invest more than $20 million to educate consumers and merchants on secure technologies, while sending experts to 20 cities in a national public service campaign.
Walgreens has rolled out chip and PIN readers in all 8,200 stores and will begin accepting enabled cards in early 2015.
Wal-Mart will activate chip and PIN readers in nearly all 5,000 Walmart and Sam's Club stores across the U.S. by Nov. 1, 2014.
The President also announced the White House Summit on Cybersecurity and Consumer Protection, which will be held later this year. The Summit is positioned to encourage key players to converge and discuss how all members of the financial system can collaborate and better protect U.S. consumers and their financial data.