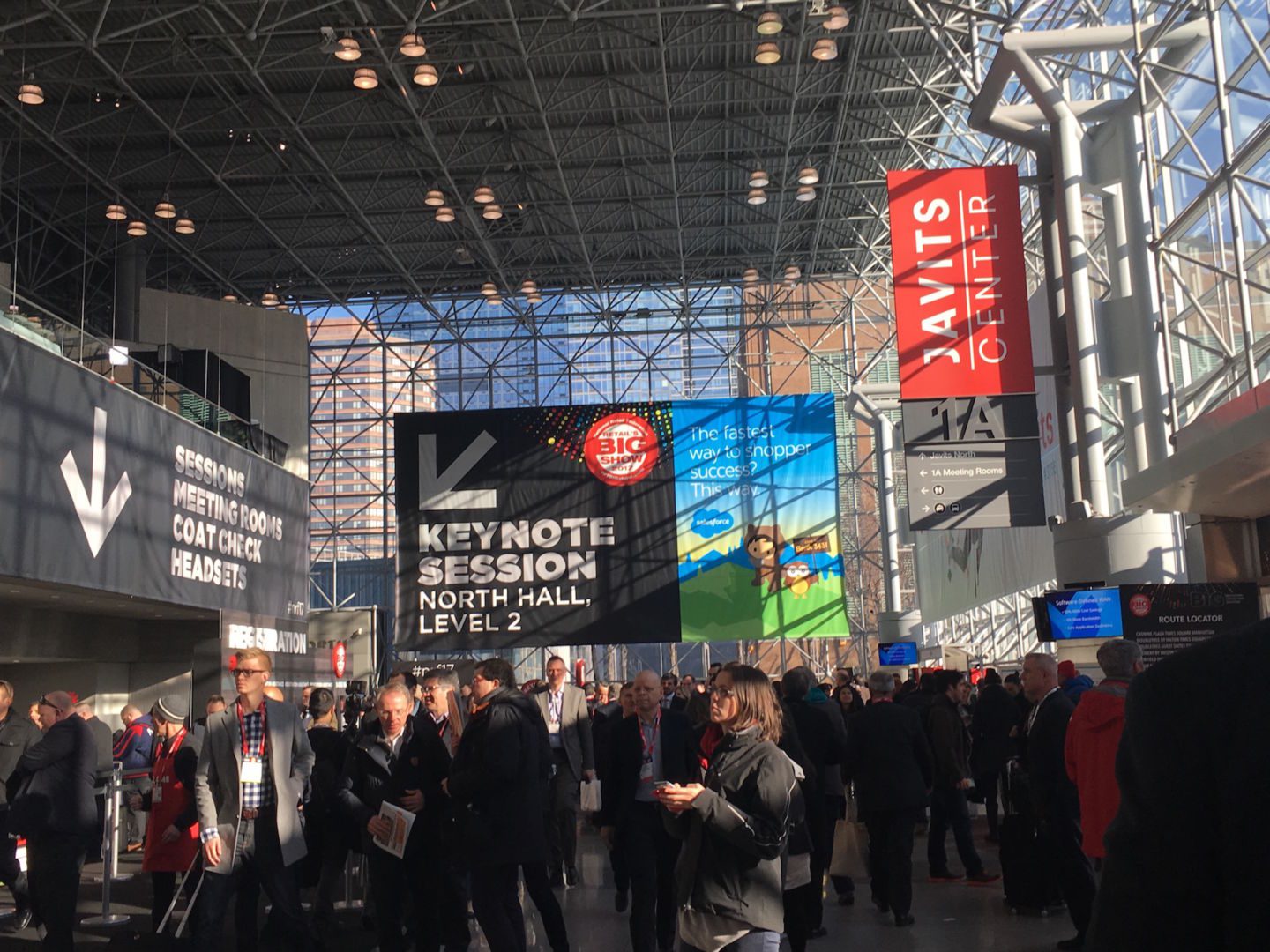 Attendees were treated to a glimpse into the store of the future at nearly every turn. These sessions taught retailers how to embrace new technology and ideas, from cybersecurity initiatives to the cutting edge of IoT, to bring the future to their stores now.
Smart Is The New Sexy: How Aldo Powers Intelligent Journeys With Salesforce
Aldo Shoes is a 40-year-old company with a global reach, selling through 2,000 of its own stores in 100 countries as well as online and via department and specialty stores. Connecting directly with its customers requires making "everything intelligent," and creating a "360-degree shopper view across sales, marketing and service," according to CMO Erwin Hinteregger.
Hinteregger revealed how Salesforce has helped Aldo connect different data sources, including its web site, mobile site, call center and stores, enabling systems to see which products customers try on and bringing this information together into one database.
The impact of Aldo's centralized data-gathering and personalization efforts include:
A 70% jump in email revenues even with 40% fewer sends: "We don't bombard the consumer, we're going for relevancy rather than frequency," said Hinteregger.
Supercharged service, with 20% faster case resolutions; and
An overall conversion increase of 131%.
Cyber Security For The Small Biz Experience
Ethan Steiger, VP, Information Security for Dominos talked about how local businesses are part of the fabric of the community. While people may feel secure shopping at these places, there is a dark side. SMBs typically spend less time and money on security, but the average cost a small business pays for a data breach ranges from
$36,000 to $50,000. Steiger maintains it is essential for SMBs to rethink their security strategies.
Key takeaways:
Take a risk-based approach; invest in proactive protection against cyberattacks to detect, protect and respond;
Cyber insurance forces you to have the right plans and documents in place;
Limit employee access to data; and
Get a security audit, prioritize the risks and heed its findings.
Exhibitor Insights: Inside The Store Of The Now
Chris Riegel, CEO of STRATACACHE, discussed how retailers can deploy scalable technologies that monetize and optimize shopper engagement within their stores. Riegel indicated that conversions increase 40% when customers use digital technology before and during the in-store shopping experience. Riegel also discussed:
Case studies from McDonald's (digital menus), AT&T (digital signage kiosks) and Luxottica (content acceleration appliances);
How automated content publishers can assemble and distribute locally relevant content in real time; and
How content acceleration engines can store local information to reduce download times, enabling costumers and associates to engage with content faster.
Enabling Smart Retail With IoT And Mobility
Abhinav Jawadekar, Sr. Director and IoT Solutions Architect of Harman Connected Services, and Stephen Vance, Director of Collaboration and Client Technologies BIG for Coca Cola, discussed how retail CIOs and IT leaders look to shift to the digital workplace by supporting workforce optimization, engagement, collaboration and security. They need to innovate faster and operate smarter by enabling a connected retail environment.
To keep pace with today's consumers, retailers must:
Automate and enable optimal customer experiences in stores;
Optimize occupancy across all stores;
Operate smarter with real-time information; and
Innovate faster, optimizing inventory and operation costs.
Exhibitor Insights: RFID As A Key Enabler Of Omni-Channel Success
Three panelists discussed the impact of RFID on the consumer experience as well as the successful RFID adoption across the performance market. Jonathan Aitken, Director of IT, Store Tech Ops and Program Director of the RFID Program at lululemon athletica, revealed that RFID has played a massive role in optimizing omnichannel fulfillment. On a "bad week," order cancellations reach 4%, but on a "good week," this number drops to less than 1%.
Despite acknowledging the importance of inventory accuracy, Bill Hardgrave, PhD, Dean and Wells Fargo Professor at Auburn University, noted that retailers need to use RFID to better execute within stores and enable buy online/pick up in-store if they want to gain serious value from the technology.
Going Global: Taking Brands To New Markets
Darren Williams of T2 Tea, Arthur Grynbaum of Boticario Group and Meg Lustman from UK retailer Hobbs discussed the importance of understanding local customs, segmenting shopper needs and offering the promise of your brand when entering new international markets. Always be clear to all internal stakeholders about your core principles and values and above all, offer a good experience for shoppers to capture their attention.
Key takeaways:
Don't run before you can walk; be realistic about expectations and realize you may not make your domestic market turnover right away;
Invest heavily in your digital platform; and
Regional, local, even family owned businesses can be extremely competitive in international markets.
Move Over Globalization; Community Retail Has Arrived
Sophie Ross, Group Head of Multichannel, Hammerson, and Erika Serow, President and U.S. CEO, Sweaty Betty, discussed the concept of community retail. This third wave of globalization is challenging retailers to grow their international footprint at the same time as they create local customer relationships. Serow says that brands are global, but retail is local, and to think of profitability on a market level, not a shop level.
Key takeaways:
Adapt to market conditions;
Coordinate with brand campaigns;
Find the local influencers; and
Instill a frontline mentality.