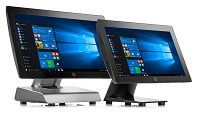 A new point-of-sale system from HP is the company's first to include key integrated peripherals enabled with Intel Data Protection Technology for Transactions (DPT for Transactions) technology. The HP RP9 Retail System, which was introduced at the NRF 2016 Big Show, provides end-to-end protection of both payment and non-payment customer data. This creates a secure transaction path that routes data directly from the point of entry to a bank's servers, encrypting sensitive information throughout the process.
"We know the safety of personal data has become a growing concern for retail customers in recent years," said Joe Jensen, VP of Intel's Retail Solutions Division in a statement. "Our Data Protection Technology implemented on the new HP RP9 retail system helps assure customers their data is safe from the moment they make a purchase and provides peace of mind for retailers who are ultimately responsible for customer information."
The all-in-one system can be deployed as a countertop device, a kiosk or mounted on a wall. It features two screen sizes, 15.6″ or 18.5″ diagonal displays, with 10-point multi-touch capability and edge-to-edge glass. The system has a 10-year support lifecycle and features Microsoft Windows 10.