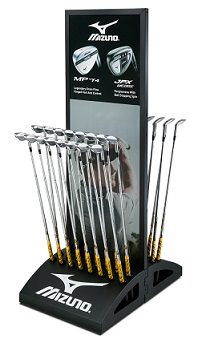 Sports equipment manufacturer Mizuno is partnering with in-store merchandising and display company Frank Mayer and Associates, Inc. to design a new Golf Wedge display.
The new point-of-purchase display includes a modular construction that enables single and double-sided fixture configurations in store. Golf Wedge displays are expected to be placed in a variety of sporting goods retail locations nationwide.
The Golf Wedge is the first in a series of new merchandise designs and displays for Mizuno that will feature golf clubs, baseball bats and running shoes. Designed to suit a variety of environments, the branded Mizuno displays can hold up to 32 wedges within a molded base.