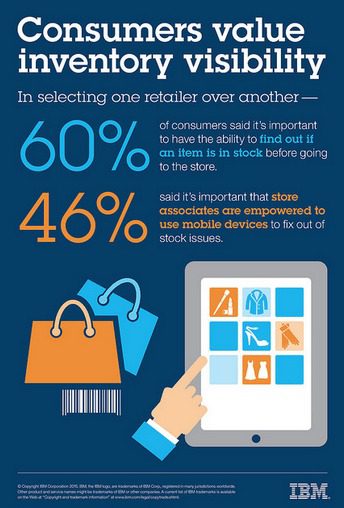 Unveiled at the 2015 NRF BIG Show, the IBM Institute For Business Value study found that consumers are looking for better inventory visibility and more personalized offers. The research featured data from more than 110,000 consumers in 19 countries, collected over four years.
As shoppers spend more time researching product availability before they head out to a store, they have become less tolerant of out-of-stock (OOS) scenarios. As many as 66% said that it is important to confirm an item is available before entering the store. And when presented with an OOS in-store, 46% of shoppers expect store associates armed with mobile devices to rectify the problem.
Almost half (48%) of shoppers said they value personalized communications with retailers when they are shopping online; and 41% of consumers said they want store associates to offer personalized promotions based on their purchase history or preferences, up from 36% the previous year.
Yet there is a significant disconnect when it comes to sharing personal data. While 42% of consumers said they believe they could benefit from sharing their location with retailers, only 28% are willing to do so.
Additionally, while more consumers have become interested in online shopping with retail brands, they are still hesitant to complete purchases digitally. As many as 43% of consumers said they prefer to shop online, but only 29% had completed their last purchase via e-Commerce.
For more on the study, visit: www.ibm.com/business/value/shoppersdisrupted.