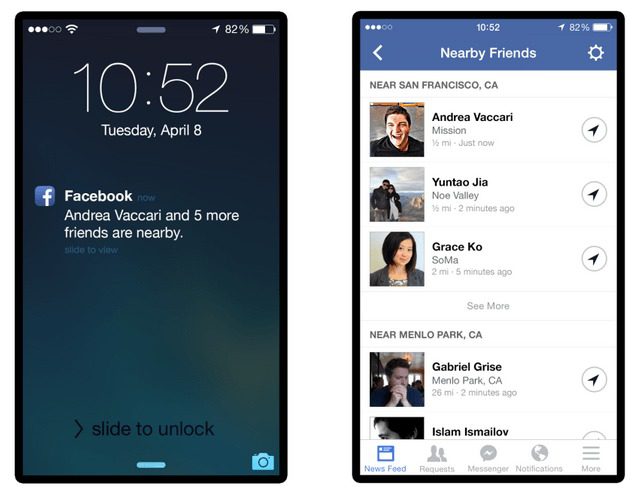 Affirming its stance as a social network that encourages community and interpersonal engagement — online and offline — Facebook has unveiled a new feature called Nearby Friends. The optional service enables Facebook users to discover which friends are nearby or on the go.
Nearby Friends will be launched on Android and iPhone in the U.S. during April and May 2014.
To activate Nearby Friends, users simply opt in. Once the feature is turned on, users will be notified when friends are in close proximity, so they can get in touch and get together, according to the Facebook announcement.
In the press announcement, Facebook reinforced that Nearby Friends is strictly an optional feature. Users can select the friends who are able to see their location, and can turn the function on and off at any time. This flexibility is designed to help address privacy and tracking concerns that sometimes emerge with location-based services.
While Nearby Friends undoubtedly is a valuable tool for friends looking to make plans with each other, there also may be potential for retailers to drive in-store traffic using the tool. For example, when consumers use Nearby Friends, they can determine a specific meeting location at a specific time with certain friends. Once an "event" is created, all people invited will see the precise location on a map. Rather than entering vague locations such as "the park" or "the mall," users may be able to tag specific companies and locations.
When opted in, users also can see when their friends are traveling. The city or neighborhood a person is in will be displayed on their profile, which allows opted-in friends to recommend restaurants, shops and things to do in the area.
Nearby Friends can help add value to Facebook's mobile experience, increasing engagement and satisfaction among mobile users. With nearly half of all daily Facebook users now accessing the social network via mobile only, the new offering can help consumers stay connected, recommend restaurants and shops, and connect with each other quickly and seamlessly online.
Watch the video below to get a more detailed look at how Nearby Friends works: