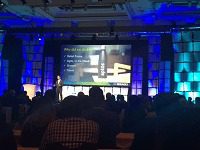 The end goal for all retailers should be to achieve "customer intimacy," according to Aptos CEO and Culture Leader Noel Goggin.
During his keynote presentation at Aptos ENGAGE in Las Vegas May 2-5, 2016, Goggin showed how a series of retailers, including Payless ShoeSource, Plow & Hearthand rue 21 have embraced cloud, CRM and other technologies to improve customer relationships. With these examples, he encouraged retail attendees to "take that relationship with the customer and drive it to where you want to go."
Goggin also used the theme of customer intimacy as a way to show Aptos is practicing what they preach. "We're not that interested in billing you for every hour," he explained. "We need to poke and prod and be provocative so your business can get the most value."
To support this vision of collaboration and communication, Aptos is focused on building a tight-knit company culture and rolling out a series of new tools and processes. The company has rolled out Salesforce Service Cloud across its support, services, cloud and hardware divisions. The resulting metrics, dashboards and customer data will provide "full transparency regarding where we are, where we're messing up and how to improve," said Goggin.
Aptos is also embracing a new trust-based methodology, both internally and to support client projects. Several teams are completing leadership training from The Table Group in order to improve internal and customer team dynamics, build trust, encourage accountability and drive innovation.
The Five Dysfunctions Of A Team
The Aptos team gave ENGAGE attendees an in-depth look at new team-building tactics and best practices during a morning keynote featuring Pat Lencioni, Founder and CEO of The Table Group. During his presentation, Lencioni outlined the five dysfunctions of a team. These dysfunctions can "poison organizations," make projects go off the rails and discourage communication, collaboration and idea sharing. They include:
A lack of trust and inability to own mistakes and learn from them;
Avoiding disagreements that may actually improve business results;
Commitment to communicating disagreements, and learning and growing from them;
Enforcing accountability and ownership of tasks from the top down; and
Inattention to results.
Organizations struggle when they don't encourage healthy conflict, idea sharing and problem solving, Lencioni concluded. All of these elements require ongoing communication, which can sometimes be challenging when companies have teams and employees dispersed around the world.
"Don't let people live life in silos, it will only lead to more conflict," Lencioni said. "Conference calls are the most effective way to connect and start building trust, but to be successful, you need to make sure there is no multi-tasking and that everyone is engaged."