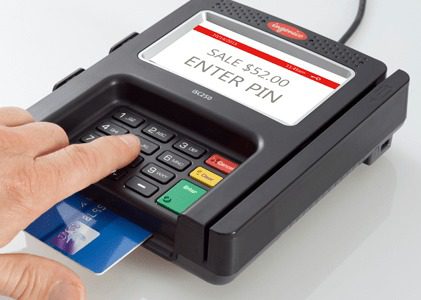 More than half (52%) of SMBs will not be EMV-ready when the EMV liability shift deadline passes on Oct. 1, 2015, while 37% of SMBs still have no plans to accept EMV cards after the deadline, according to a study from payment solutions provider Cayan.
Cayan surveyed 344 small business owners and managers in June 2015 for the study designed to uncover tactics for SMBs that currently have no existing EMV plans to transition to EMV-enabled technology after October 1.
The study examined three specific situations likely to occur after the liability shift: Cost of fraudulent transactions; Customer complaints; and How to handle the response to another business experiencing fraudulent transactions. Cayan designed the survey to educate SMBs on the liability shift and the cost of upgrading to EMV, and asked them whether experiencing the situation would drive them to become EMV-capable.
A majority (60%) of SMBs said they couldn't bounce back if they were required to cover a fraudulent charge of more than $500 out-of-pocket.
As many as 63% of SMB businesses that currently have no plans to accept EMV said they would adopt the technology if it gave them fraud coverage, while 47% would become EMV-capable if they had to cover $100 or less in fraud.
In addition, 57% would become EMV-capable if consumers complain about not being able to use their EMV chip card, with 40% saying they would upgrade to an EMV-capable payment system after receiving five or fewer complaints a week.
Only 16% of small businesses would become EMV-capable after hearing about another business being liable for fraudulent charges.
"When we talk to small businesses about the risk of card fraud after October 1, they aren't highly motivated to upgrade," said Henry Helgeson, CEO of Cayan. "However, when we start associating a dollar amount to the risk — even $100 lost to covering fraud — they are much more interested in becoming EMV-ready. The survey results reinforce our observation: Small businesses cannot afford to be on the wrong side of the liability shift. Our goal is to help small businesses understand the consequences of not upgrading and become EMV-ready before they risk losing a single dollar to fraud."