Visa has launched a global initiative — dubbed She's Next, Empowered by Visa — designed to support the advancement of women-owned SMBs around the world.
The program is part of Visa's ongoing commitment to support female entrepreneurs and encourage women SMB owners to build, sustain and advance their businesses. As part of the program, Visa will create pop-up events offering tools, resources, insights and networking for female entrepreneurs, which include:
Interactive workshops: Beginning with an inaugural event in Atlanta on January 30, alongside Super Bowl LIII, Visa will host a series of interactive workshops to tackle business challenges specific to each community. Future events also are planned for the FIFA Women's World Cup France 2019, among others.
Access to experts: Workshops will host experts from Visa, local and national subject matter experts and partners to maximize benefits to female business owners.
New research: Initial insights from a forthcoming survey, commissioned by Visa, of U.S.-based female small business owners will help to inform the issues that matter most to women entrepreneurs.
Advertising campaign: In 2019, Visa will launch phase two of its "Money is Changing" marketing campaign in the U.S., building on its Millennial women focus and featuring real-life female business owners. Visa will feature a diverse spectrum of women in the campaign, who will highlight the practical steps they have personally taken to change the game and challenge existing taboos when it comes to money.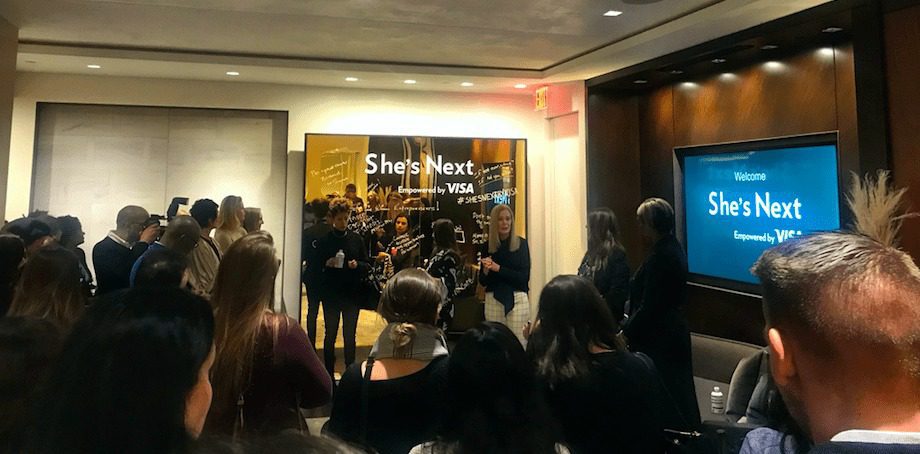 "Starting and growing a business can be both incredibly rewarding and daunting. That is why Visa is committed to empowering women business owners through a year-long program of education, cutting-edge digital payment technology and a powerful peer network," said Suzan Kereere, Global Head of Merchant Sales and Acquiring at Visa in a statement. "There is never enough time or enough resources, but when we work together to support each other, amazing things can happen."
She's Next is supported by the Female Founder Collective (FFC), a network of businesses led by women to support women that launched in 2018 and now has more than 3,000 members. Visa and FFC will work together to build awareness of women-owned businesses, provide more opportunities and invest in women across the socioeconomic spectrum.
"For me, other than my day-to-day job as a designer, female-founded companies are really important," said Rebecca Minkoff, Founder of Rebecca Minkoff and the Female Founder Collective, in a statement provided to Retail TouchPoints. "Knowing that there are between 1,100 and 2,000 female-owned businesses started every day and they all have different challenges and struggles — struggles that I had. Working with Visa, I can tap into their wealth of knowledge and give that to my Female Founder Collective, and just be able to sync together and have their capacity to power businesses forward with financial help and loans."