Sneakers are designed for moving quickly, and the same could certainly be said of The Edit LDN, a global marketplace for limited-edition sneakers and streetwear that is growing at 500% year-over-year after just 2.5 years in operation. The UK-based marketplace already offers same-day service in the London area for sales on its ecommerce site, with plans to roll out this capability across the UK next month. On the brick-and-mortar side, The Edit LDN has been selling high-end footwear at the iconic Harrods department store in Knightsbridge for a year, and plans to expand to a Galeries Lafayette in Doha, Qatar beginning Nov. 11, 2022.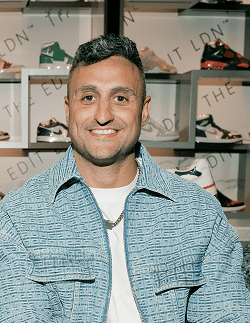 Even that's just the beginning, according to Moses Rashid, CEO and Founder, who happily refers to himself as a "sneaker addict." The Edit LDN's growth over the coming months will include:
The launch of PreLoved, a secondhand sneaker marketplace, in November 2022;
The marketplace's metaverse debut on Bloktopia in Q1 2023;
Additional premium retail outlets in the Netherlands (slated for July 2023) and at a Las Vegas luxury hotel in December; and
The signing of its first brand ambassador, New York Giants captain Xavier McKinney.
Rashid shared how he turned his childhood passion for having the coolest clothes and the latest sneaker styles into a business currently valued at £10 million ($11.2 million USD) and his plans to "aggressively" enter the U.S. market.
Retail TouchPoints (RTP): You've said starting this company was based on your personal experiences as a sneaker buyer/collector. How did that come about?
Moses Rashid: My background had been in building up other businesses, but I found myself at a sneaker festival paying $700 or $800 for a pair — and then having to ask them for a plastic bag to put them in. I was paying a premium, but not getting premium service, and there was nothing [in the market] that felt premium or could deliver items as quickly as I needed to get them. Most competitors deliver in two to six weeks, but I was willing to spend the extra $100 or so to get them quickly.
The key really is, and has been, that we've positioned ourselves as the most premium marketplace in the sneaker space, and the business is moving incredibly quickly. By this time next year we will be in five different countries and offer same-day service in all those major territories.
RTP: How do you maintain that premium promise and high level of service?
Rashid: Our resellers are vetted by us, and they have hundreds of pairs to sell, not just one or two. Those guys sell with us because they can achieve 10% to 20% higher sales than on other platforms. We provide them with trends data about what's selling as well as an account manager and personal shopping team. We give them the opportunity to consign products with us and charge them a storage fee, and we take a percentage of the sales when they occur. And if they sell enough to achieve Baller status, then they get to go into the inventory sold at Harrods. Our clientele includes a lot of professional soccer players from some of the big UK clubs, including Chelsea, Arsenal, Manchester City and Manchester United.
We offer lots of added value for members, including pre-access to sneaker drops and free shipping within the UK. We also use blockchain and digital signatures of authenticity passed along from the sellers — a feature that will fit nicely moving into our PreLoved marketplace.
The beauty of running a rapidly growing business is that it has a load of passionate young individuals driving it forward that are on the pulse of everything that's cool in culture. We currently have 40 to 45 employees, but with what will happen over the next 12 months via retail expansions in the UAE, Europe and the U.S., I'd say our revenue and personnel figures will double.
RTP: Speaking of trends, what are some of the interesting ones you're seeing?
Rashid: One big one is the rise of the female "sneakerhead" over the past two years. They've been putting pressure on Nike to put out models in women's styles and sizes, because they want to wear these shoes. Our demographics are split 50-50 between male and female buyers. In fact, in May 2021 we dropped the "Man" from our company name — it was previously the Edit Man London.
Another is sustainability, and we're about a year ahead of plan with our agenda, which has been led by our COO Millie Pearson. We say we're the first global sneaker platform to donate sustainably with every single sale; we work with Handprint Technology to keep our promise of removing one kilogram of plastic from the ocean for each sale. And of course our PreLoved marketplace contributes to the circular economy. For every sale on PreLoved, we'll be giving people a £10 credit on The Edit LDN.
RTP: The U.S. generates the most revenue in the worldwide sneaker market — $21.58 billion out of the global market, which Statista values at $72.72 billion. Is that why you're so interested in expanding into the U.S. market?
Rashid: Already, about 20% of our sales go to customers in the U.S., and our first brand ambassador is the captain of an NFL team, the New York Giants' Xavier Kinney. I'm also talking to teams in the MLB and NBA; we're looking to partner with one huge club as well as other pro athletes.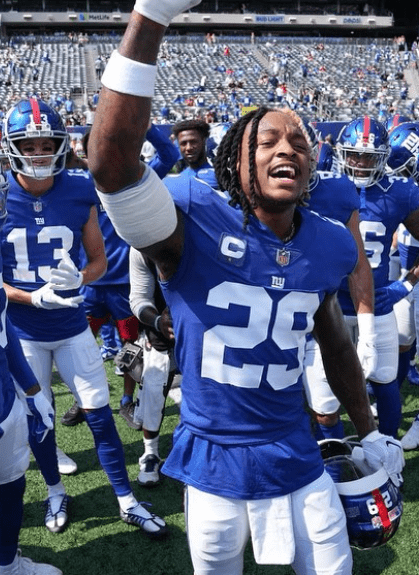 RTP: Why do you think there's so much enthusiasm — and so much money — in this market?
Rashid: Sneakers and streetwear are a culture that's become a commodity; the prices of shoes go up and down like other asset classes. It goes back to Michael Jordan when he was on the Chicago Bulls and people would queue around the block to get their hands on the latest Jordan sneaker. There's also the status element, as there is for watches or cars. If you're driving a Ferrari and you see someone else driving one, you give them a wink and a nod.