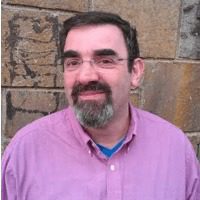 As part of the Retail 20 20 event I attended last week, our group took a store tour of Samsung 837 in New York City's uber-trendy Meatpacking District. For those who haven't visited the location, it's a truly impressive multi-level environment, jam-packed with the latest retail technology yet with an open and airy feeling. And as anyone who has lived, worked, shopped or eaten out in crowded Manhattan knows, the space required to create an open and airy feeling does not come cheap.
Our group of retailing professionals found loads of Samsung products, from handheld devices to major appliances; a massive theater space featuring the latest in digital signage; food (those oversized doughnuts made me drool); a booth where you can compare your smartphone's screen resolution to a comparable Samsung device; and a petting zoo (just kidding about that last one).
What we didn't find was a POS station. The explanation for that is simple: they don't sell anything at this Samsung store. It is the anti-Apple store. Instead of amazingly high sales per square foot, it has zero sales per square foot.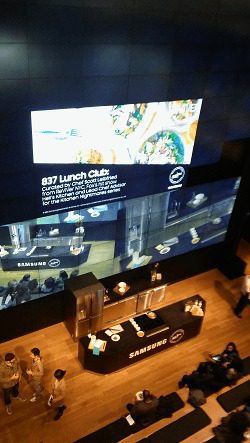 What Samsung 837 does offer is a practical example of the latest trend: experiential retail. For example, it showcases a refrigerator in its very realistic kitchen featuring a front-door screen that transmits images from cameras inside the refrigerator. No more wasting energy holding the door open to see what's inside. The true Internet of Things cool factor, however, is that this image can be viewed on the owner's smartphone, allowing her to check the real-time contents of the refrigerator while she's out shopping in the supermarket.
Samsung lets shoppers discover these functions themselves, but there are also plenty of staff people around to help. And if someone really wants to buy an item, the staff directs them to the web site of a retailer that carries the product.
Service But No Sales
The store hosts numerous events, drawing in foot traffic in this tourist-friendly neighborhood near the High Line park. It also features a host of trained service technicians. This alone should create customer loyalty among device users who are sick of having to buy a new smartphone just because the old one gets a crack in the glass or has some other fix-able failure.
Samsung is far from the only retailer that's emphasizing the shopping experience as it ostensibly de-emphasizes sales. To take just one example, Bass Pro Shops' 535,000-square-foot glass-clad pyramid in Memphis, Tenn. features an alligator swamp, a 13-lane bowling alley and plenty of opportunities to try out products, from shooting a gun to learning how to tie a fishing fly. "People try the product and have an experience that brings it to life," said Paul Martin, Managing Director of the consulting firm KPMG Boxwood, as reported in the Financial Times. This shopping-as-entertainment philosophy leads to higher conversion rates and basket sizes, Martin added.
Smart, Or Too Smart For Its Own Good?
Is Samsung a retailing genius, or has the company created the world's most expensively wasteful showroom? I'm really not sure. To quote This is Spinal Tap, "It's such a fine line between stupid and clever."
This isn't Samsung's first attempt at a look-but-don't-buy retailing space in New York City. In 2004 the company opened "The Samsung Experience" in the upscale Time Warner Center mall at Columbus Circle. While The New York Times reported that the store attracted 500,000 visitors per year in 2006, Samsung closed the midtown location down in 2011.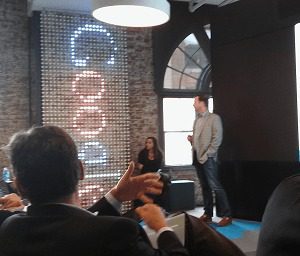 However, given the trends that are roiling retailing today, many of them discussed during the Retail 20 20 conference, it's entirely possible Samsung was simply ahead of its time. The conference, sponsored by Zimmerman and held at Google's New York headquarters, featured a pres entation by Google's Head of Retail Stephen McDermott, who shared a number of pertinent factoids:
Between 2010 and 2015, brick-and-mortar store traffic dropped from 40 billion to 16 billion, according to the MasterCard Spending Pulse. But during this same period, in-store sales rose from $641 billion to $750 billion. "That says to me that while people are visiting fewer stores, they are walking in much more informed," said McDermott. "They know what they want."
What they want is influenced by what they see online. Digital influence, which McDermott defined as any online research or social recommendation consulted during the path to purchase, went from 5% in 2010 to 70% in 2015.
Digital's dominance may actually be creating a hunger for real-world experiences, one that retail stores like Samsung's can fulfill. McDermott noted that consumer spending on experiences is forecast to outpace overall spend on things by a dramatic 33% over the next five years.
So Samsung may well be on to something. I know the next time I'm walking the High Line with friends, I'll recommend we stop at the Samsung store for a doughnut or two.