For some people shopping, a.k.a. retail therapy, provides as much relaxation as a cruise vacation. Starboard Cruise Services strives to combine the two, and also to making shopping fun for everyone. In celebration of its 60th anniversary, Starboard opened a media tour of its "Fun Shops" on the Carnival Horizon, which are designed to embody a theme identified by President and CEO Beth Neumann: "These shops are not about transactions but about creating experiences for guests onboard."
With high-end brands such as Victoria's Secret, Hublot, Kate Spade, Michael Kors, Swarovski, Breitling and Le Vian all under one roof, Starboard and Carnival didn't skimp on bringing in partners that would catch the eye of a cruise-goer. Before taking the store tour, it was clear to me that Starboard very much understands the nature of retail in 2018. Neumann noted during her opening presentation that Starboard saw how retail on land has undergone a difficult transformation, and the company has evolved its cruise retail model to stay at the forefront of industry trends.
"It's about creating magic in retail onboard and has to be about entertainment," Neumann said. "There is so much to do onboard, so as a retailer we have to ensure guests choose our experiences. That can mean educating them in the art of watch-making or offering a Victoria's Secret night out. Also, you don't sail if you don't like people, and we help connect people to each other."
Victoria's Secret was the clear star of the experience — as soon as I walked into the central hub of the ship, I was greeted with a three-floor display illuminated in hot pink with the Victoria's Secret logo plastered all over it. Additional lights on the roof displayed the same shade of pink, illustrating that Victoria's Secret would be a recurring theme throughout the ship.
The tour's first stop? None other than the Victoria's Secret boutique. The "Girls Night Out" experience, which is the first for the fashion brand, enables guests to browse the latest assortment of merchandise and fragrances while sipping champagne, with the chance to compete in a runway face-off or spin a wheel where they could win a selection of beauty prizes. Additionally, the site included a beauty and fragrance bar where guests could experiment with various makeup and fragrance options. Press attendees were most enamored with the prize wheel, and if that's any indication, I could certainly see that being a big hit among guests given the excitement of a free gift along with a purchase.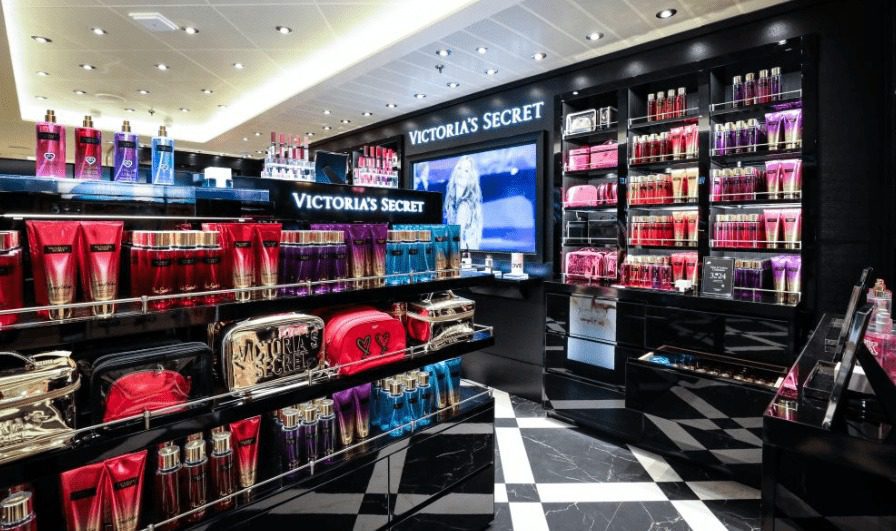 The next set of experiences took place at the Le Vian location, with the jeweler hosting the "Le Vian Style Me Famous Fashion Event." At the event, a specialist styled attendees with the company's signature Chocolate Diamond ring, and they could pose for a photo-op. All press received a Le Vian gemstone with the option to upgrade to a piece that complements their style.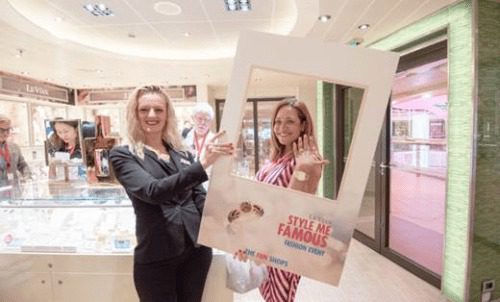 The last stop was at The Library Bar, an intimate lounge that enables attendees to read from a selection of books while having a drink. But the tour also opened up a chance for men in attendance to learn more about jewelry, watch and cologne brands with the tutorial "The Gentleman's Guide to Love & Life." For the tour, the two men hosting the event focused on teaching the audience how to tie a bow tie, but the full experience is designed to give attendees ways to perfect their own signature cocktail, choose a gift for their significant other and source ideas for a date night.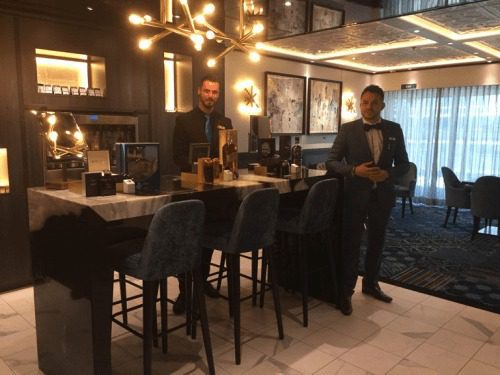 While these might have been pretty basic (though well-executed) experiences, a major win was that I never felt like I was in a mall despite walking from shop to shop. Despite not being a target customer for many of the stores, the "retailtainment" aspect of the experience was charming in a way that did keep me interested in what was going to happen next. It was entertaining, and given that that's what they were going for, they succeeded. I can imagine cruise vacationers having a stronger interest in shopping the stores, which would benefit both Carnival and Starboard in the long run.