All eyes and ears have been on American Dream since the project's initial proposal in 2003. Initially dubbed Meadowlands Xanadu, the mega-mall-slash-experience-center has been a point of debate for industry players and New Jersey residents alike. Just how long will the project take to complete? Will it be worth all the time, effort and money it took to build? How will it impact local tourism, traffic and economic performance? How will it influence the future of retail?

While the project has evolved exponentially from the early days, we're now seeing the vision truly come to life. Just a few weeks ago, American Dream celebrated the "completion" of its latest opening stage: The Avenue, promised to be the "ultimate luxury destination."

To celebrate this pivotal moment, members of the Retail TouchPoints team ventured to American Dream to see what all the hype was about…and if it was warranted. Some of the editors were surprised at how impressed they were by American Dream; others saw conflicting intentions in its wide range of offerings. Most felt the retail elements were disappointingly cookie-cutter, particularly in comparison to the impressive entertainment and family-friendly adventure theme parks that seem to be the real "draw" for visitors. All realized that American Dream is still very much a work in progress, particularly given the headwinds physical retail has faced due to COVID-19.
American Dream: Micro Malls Represent Different Retail Worlds
– Alicia Esposito, VP of Content

When it comes to malls, it's safe to say I've been around the block. But even this born-and-bred New Jersey resident, who has seen her fair share of shopping destinations, American Dream left me completely awestruck. High ceilings, gigantic windows and luxe-yet-modern aesthetics make you feel like you're someplace special. And as you venture through the mall, you realize that it's broken up into different sections — micro-malls, if you will. The differences were so stark that during our time at American Dream, I felt like we were walking (slowly) into different worlds, each with its own retailers, restaurants, audiences and intentions.

As someone who analyzes and reports on retail, I appreciate the strategic design decisions made at American Dream. We've been hearing more about hybrid spaces and destination malls, and American Dream seemingly checks all these boxes. It even goes a step further by creating immersive designs and experiences that successfully reflect the "vibe" of each space. For example, the scaffolding in the Avenue is adorned with pearls, pink hues and even caricatures of luxury icons like Anna Wintour. Heck, even the fountains have koi fish in them. Yes, koi fish!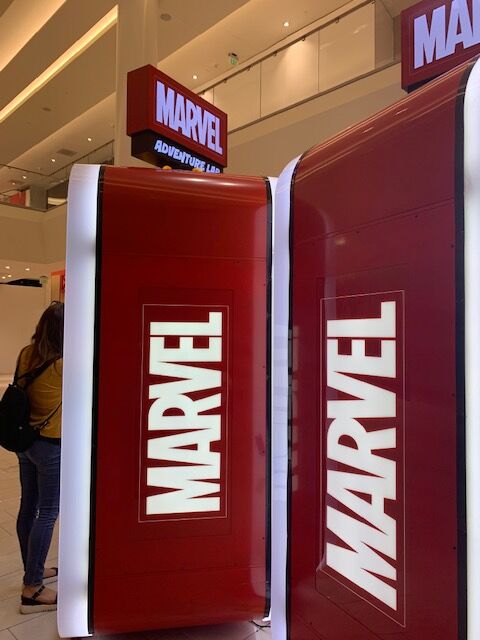 Meanwhile, the more "everyday" mall space is adorned with photo booths, clusters of high-top tables and chairs that inspire congregating and gossiping, and even MARVEL Adventure Lab booths that allow visitors to create their own comic books. And as you finally make your way to the more family-friendly areas, equipped with rides and entertainment destinations, you'll find more booths filled with candy, snacks and all of the beloved knick-knacks you find at amusement parks.

American Dream strongly represents a basic tenet of "good retail": knowing who your audience is, what they want and creating experiences that fit their needs. But amid the shopping mall's existential crisis, developers also need to use a dose of magic: creating surprise, delight and "wow, I didn't know I needed this but I do" moments that encourage consumers to try new brands, products and yes, even destinations. I'm not sure American Dream has completely achieved that, but that doesn't mean I'm not amazed at what they've accomplished thus far. I'll be watching to see what comes next.

Whose American Dream?
– Duke Ratliff, Senior Editor
Considering the trials and tribulations of the New York area's latest and largest shopping destination, the American Dream mall seems to be almost ironically named. After nearly two decades of starts and stops, including a historic recession and a full-blown international pandemic, the gargantuan development (it's three million square feet!) reflects current shopping center trends with its megafocus on experience and entertainment.
During our visit, I noticed mall visitors hurriedly pass by the mostly typical retail storefronts to get to the big bang of gigantic family entertainment venues. Bath & Body Works, Old Navy and Victoria's Secret compete for attention with Nickelodeon Universe, dubbed the "Western Hemisphere's biggest indoor theme park," a giant DreamWorks Water Park, LEGOLAND Discovery Center, a large aquarium called Sea Life, as well as an indoor ski slope and ice skating rink.
Meanwhile, The Avenue, a much-hyped luxury section of American Dream, is notably void of retailers except for Saks Fifth Avenue, Hermes and Dolce & Gabbana. Ornately painted faux walls attempt — and fail — to hide the fact that The Avenue is mostly empty.
Public spaces are lovely and inviting with natural lighting, fake greenery and gnomes. Children climbed and cavorted in designated play areas. Older kids buzzed by on electric plush animal scooters. Pre-teens jaunted between attractions and food vendors. An action-packed destination of gigantic proportions has undoubtedly been created in New Jersey's Meadowlands. Whether it will someday evolve into a retail destination remains to be seen.
This Skeptic is Sold
– Nicole Silberstein, Ecommerce Editor
I was negatively predisposed against this mall before ever visiting it for one simple, very superficial reason — the name. Calling your shopping venue "American Dream" has always felt to me like a slightly tacky commercialization of one of our country's highest ideals. And so my expectation was that the experience would also be kind of tacky and over-the-top.
I was right about it being over-the-top, but I was wrong about it being tacky. The overall effect of American Dream is airy, bright and fresh in all the right ways, a very satisfying mall experience indeed. That said, the commerce-driven aspects of American Dream are probably the least exciting part about it. More exciting, in my opinion, were all the things you could do besides shop — mini golf, ice skating, a water park, an amusement park, a museum and Oreo-themed café — enough to fill days. In contrast, the stores sprinkled throughout are the definition of run-of-the-mill, with the notable exception of The Avenue.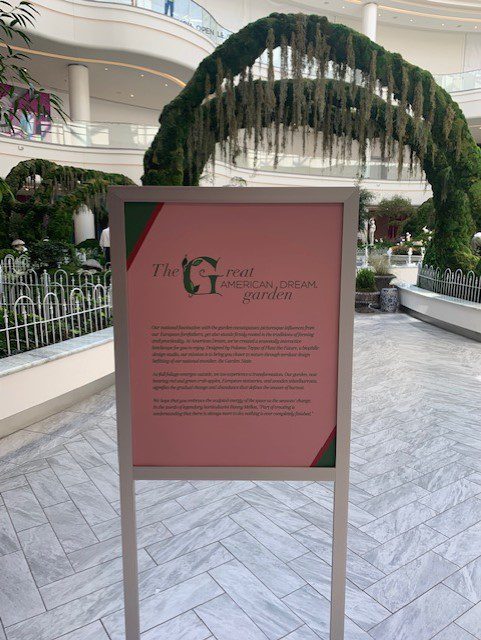 To be fair, American Dream is still very much a work in progress — scaffolding abounds and many storefronts are still boarded over. One space that is finished is the gorgeous, highly Instagrammable Great American Dream Garden, featuring an abundance of fake, but very realistic, greenery, winding paths and gnomes bathed in sunlight coming through a glass atrium. Fitting then that the placard welcoming visitors to the garden quotes horticulturist Bunny Mellon as saying, "Part of creating is understanding that there is always more to do; nothing is ever completely finished."
That is certainly true for American Dream as it stands today — there is much more to do. That said, the aspiration of creating a space that is forever transforming and evolving seems apt given the nature of retail today. I will absolutely go back (I've got to try out that indoor ski slope). And who knows, maybe I'll end up doing some shopping while I'm there.

This Editor Came a Cynic…and Left a Cynic
– Bryan Wassel, News Editor
American Dream doesn't know what it wants to be. A destination, certainly, but being just a destination is essentially meaningless. American Dream has shops. It also has entertainment. But much like the half-finished luxury wing, neither half feels part of a cohesive whole.
A major problem is that you don't know just what awaits you behind the walled-off attractions without doing your own research. This is fine for families who specifically want to visit the Nickelodeon Universe or DreamWorks Waterpark: they're coming specifically for the rides, so they know what they're in for. They also can easily plan their whole day around these destinations.
However, shoppers looking specifically for a modern mall experience have no reason to venture to the aforementioned attractions. They don't look particularly engaging from the outside, and they're expensive enough that no one is going to impulsively purchase tickets for their whole family. The smaller, free experiences like the mini park are nice, but they're not enough of a step up from what you'd find in a traditional shopping center to make American Dream stand out.
And from the perspective of the amusement seekers, why would they bother with the shops? There is no coherent theme or reason behind the layout of the mall and the shops within. This isn't a problem for a traditional mall but it wastes the potential synergy if you're making experiences a big part of your draw. I ate at a noodle shop directly outside Nickelodeon Universe. It was tasty, but that space should instead be dedicated to a restaurant that would draw in a hungry group of kids from a theme park, not an adult reporter.
Overall, American Dream doesn't do anything poorly, but it doesn't live up to the potential or the 15-year-plus development time. It's a nice but ordinary mall at a time when malls are on the decline. Throwing in unconnected experiences isn't enough to make it a destination worth visiting over New Jersey's abundance of other malls.