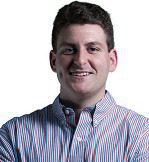 The application of radio frequency identification (RFID) tagging within retail has been a major discussion point for industry analysts for seemingly years now. But while you could argue its role has been overshadowed by the recent excitement around beacon technology, RFID has been making a major impact for big brands behind the scenes.
In fact, Macy's brought attention back to the technology in a big way with its decision to tag 100% of its merchandise with RFID by the end of 2017. The retailer's decision will have an impact well beyond its own four walls: Macy's is asking all of its product vendors to supply merchandise already fitted with passive ultrahigh-frequency (UHF) RFID tags, based on the EPC Gen 2 standard.
Bill Connell, Macy's SVP of Logistics and Operations, made the announcement at the RFID in Retail and Apparel Conference, revealing that more than 60% of all goods at most of Macy's stores will be RFID-tagged and cycle-counted monthly via handheld RFID readers by the beginning of 2017.
Macy's is a high-profile RFID adopter, but it's far from alone in the retail industry. While 34% of retailers either implemented or were in the process of piloting RFID in 2014, this number has more than doubled to 73% this year, according to a survey from Kurt Salmon.
What's behind the rising enthusiasm for RFID? The technology offers a number of benefits that boost its ROI:
Bolstering inventory accuracy: This is top-of-mind for retailers for a reason, as RFID improves inventory accuracy by as much as 25%, according to the Kurt Salmon report. Retailers reported 67.4% inventory accuracy before RFID and 84.5% accuracy after implementation. More accurate inventory diminishes costly hassles such as replenishment mistakes, incorrectly marked goods and inaccurate merchandise counts.
Reducing out-of-stocks: Perhaps the most impactful to the consumer experience, RFID implementations increase visibility, which can lead to a more precise determination of how many products are needed to keep shelves stocked at each location. Out-of-stocks can be a nightmare scenario for retailers that seek continuous engagement throughout all channels. While consumers may be able to purchase an item from a retailer online, they may be turned off from the brand as a whole if they go into a store and see that it's not available. More than just one individual sale is at stake when items are unavailable.
Optimizing omnichannel fulfillment: It's critical to keep track of merchandise throughout all channels, but with retailers' ongoing struggles around designating which items are sold through store or e-Commerce channels, RFID becomes even more of a priority. With purchase options such as buy online/pick up in-store and ship-from-store now a reality for most retailers, the introduction of RFID also simplifies the tracking process for products delivered.
The Case For Slow Adoption
RFID's progress through multiple hype cycles is similar to the more recent excitement around another in-store technology: beacons. When beacon implementations started to really kick in at select retailers two years ago, media members including myself reported heavily on the tech and what it could potentially accomplish.
But these applications haven't captivated consumers in the way that many initially anticipated — and that's perfectly okay. While beacon technology can be deployed to deliver more personalized customer experiences to mobile devices — as in the use cases of True Religion, Sephora, Neiman Marcus and GameStop — the technology's primary benefit still seems to be as an in-store data collection tool.
Even though these non-customer-facing applications are less visible to consumers, they can prove vital to retailers that need as much real-world consumer data as possible. While both the beacon and RFID examples show how slow the adoption of these technologies can be after the initial hype dies down, they also reveal why it's important for brands to explore these technologies' core values before trying to accomplish too much in a short time.