Walmart and P&G have joined forces to offer free in-store recycling collection for beauty packaging at 25 Walmart locations across Pennsylvania, New Jersey, Oklahoma and Arkansas.
The program is being run in partnership with TerraCycle, which offers recycling solutions for products not typically collected by curbside programs, and is free to customers through sponsorship from Walmart and P&G. Consumers are invited to bring in empty hair care, skincare and cosmetic packaging from any brand, purchased anywhere.
"Walmart and P&G are working together to strengthen recycling solutions and educate their communities about the importance of sustainability by offering convenient in-store drop-off points for haircare, skincare and cosmetic packaging," said Tom Szaky, CEO and Founder of TerraCycle in a statement. "The innovative collaboration offers consumers the opportunity to divert traditionally non-recyclable beauty waste from landfills in a convenient way."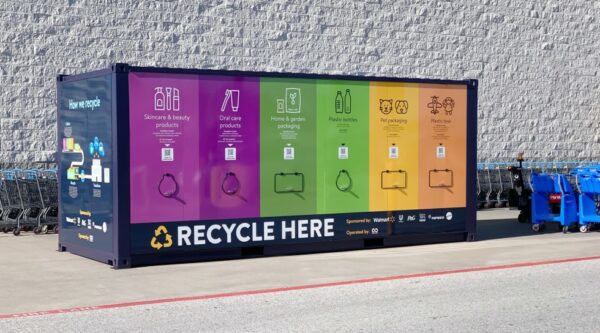 The expanded beauty recycling program joins Walmart's existing recycling initiative with TerraCycle for three "recycling hubs" — two in Arkansas and one in Oklahoma. At the hubs, consumers can recycle a larger selection of products that includes home and garden packaging, pet food packaging, plastic toys, soft plastic food packaging, coffee capsules and water filters, worn clothing, plastic bags and ink cartridges in addition to beauty items. The recycling hubs are supported through sponsorships from a number of CPG companies in addition to P&G, including Unilever, Nestlé and PepsiCo as well as toy brand Mattel.
Online warehouse retailer Boxed also recently teamed up with TerraCycle to allow its customers to recycle home essentials and personal goods packaging through a mail-in program, also sponsored by P&G. For CPG companies and retailers these kinds of programs not only help toward ESG initiatives; they also provide a nice marketing angle for the growing number of conscious consumers seeking more environmentally friendly ways to reduce waste.