2023 was a critical year in Princess Polly's growth story. After a successful partnership with Pacsun, the fashion brand opened its first U.S. store in September — the first step in a much larger global vision that extends into 2024.
But Princess Polly isn't focused solely on being in more stores; the Australia-based retailer has multiple priorities that "reflect a holistic approach to growth and sustainability," according to Courtney Dres, Chief Merchandising Officer of Princess Polly in an interview with Retail TouchPoints. The core of this approach is "aligning our brand with the values and expectations of today's consumers, while expanding our reach and optimizing our operations."
Dres revealed that Princess Polly's growth pillars for 2024 include:
Sustainability Goals: "Sustainability continues to be a foundational focus for Princess Polly, including increasing the number of new styles made from lower-impact materials," said Dres. "By focusing on eco-friendly materials and production processes, we not only contribute to a better planet but also cater to a growing market of environmentally conscious consumers."
On-Trend Styles: "Delivering on-trend fashion continues to be the cornerstone of our business and the focus of our strategy for the holiday season and through 2024," Dres explained. "For this period, we will specifically focus on [categories like] Winter, Winter Formal, Holiday and Party."
Global Store Expansion: "By reaching new markets and increasing our physical presence, we will not only boost our brand visibility but also tap into new customer bases," she said.
Wholesale Partnerships: Pacsun was Princess Polly's first wholesale partnership but many more are in the pipeline, according to Dres, so the brand is focused on "working closely with our partners to align strategies and deliver a consistent brand experience, ensuring our products reach a wider audience."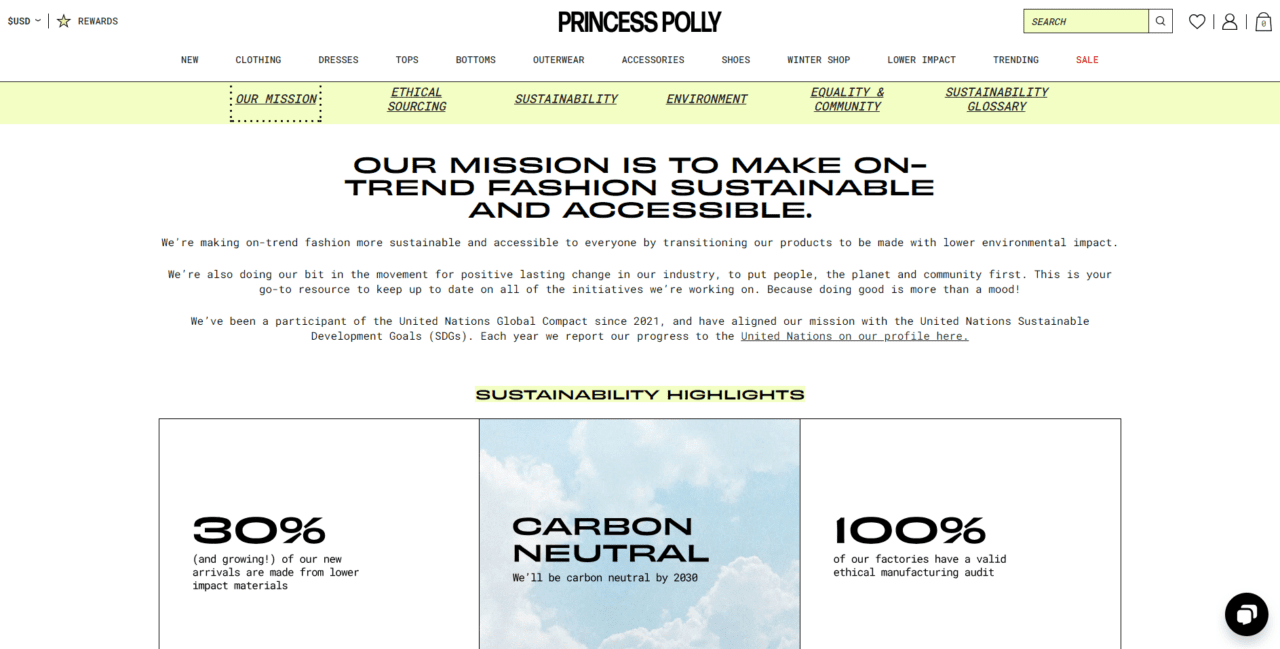 Balancing Sustainability and Staying On-Trend
More than half (56%) of consumers care about purchasing goods from businesses that align with their values, according to EY research. But though shoppers say they want to make more sustainable and ethical buying decisions, when they come face to face with trending TikTok looks that are available for highly affordable prices, the temptation is far too good to resist.
Princess Polly is aiming to stop this tug-of-war between consumers' intentions and actions by getting approved by the Science Based Targets initiative (SBTi), which was developed by CDP, the United Nations Global Compact, World Resources Institute (WRI) and the World Wide Fund for Nature (WWF). 
"Princess Polly's mission is to make on-trend fashion sustainable and accessible, and we've built our social responsibility strategy to achieve this goal," said Alex Peters, Social Responsibility Director for Princess Polly in an interview with Retail TouchPoints. "After measuring our first carbon footprint in 2020, our attention turned to reduction. We chose to align with the best practice of leading businesses and set Science Based Targets."
As part of this process, Princess Polly committed to halving its emission intensity by 2030.
"To ensure we stay the course to achieve this, we regularly footprint our global emissions, performing hotspot analyses and spotlighting opportunities to improve," Peters explained.
By removing, replacing and reducing emission-intensive activities, Princess Polly has already seen a 17% intensity reduction on its 2020 baseline, a significant increase from its 7% goal for 2023.
Peters explained that because Princess Polly is a demand-driven business, it has always strived to operate efficiently and avoid overproduction. Now, the brand is focused on larger innovations to achieve its near-term goals, such as:
Working with existing supply chain partners to establish the Princess Polly Fabric Markets and create its Lower Impact edit. Today, 40% of all new styles are made with Lower Impact materials, according to Peters.

Maintaining fast lead times while reducing the emission intensity of deliveries to its warehouse by 40%; and

Installing solar at the Princess Polly headquarters in Australia and expanding its renewable energy mix.
Princess Polly also is investing in new ecommerce features designed to reduce carbon footprint and textile waste, which will help the brand reach its aggressive sustainability goals. For example, Princess Polly incorporated Fit Finder and AR Try-On technology from Snap into its ecommerce experience and has seen a reduction in returns. This is just one example of how different teams align and collaborate to support a much larger company mission.
"We can't achieve these ambitious commitments without unity across the global team," Peters noted. "It's the Social Responsibility team's role to inspire and enable innovation within the teams that have the most control of our emission hot spots. We couldn't have achieved our 17% intensity reduction without our Procurement, Merchandise and Logistics teams, to name a few."
While alignment across the Princess Polly business keeps everyone engaged and focused on the goals, community-wide communication drives transparency.
"Transparency builds trust and keeps us accountable," Peters explained. Every year, the brand voluntarily reports to the Carbon Disclosure Project and shares ongoing updates via the Princess Polly site, its United Nations Global Compact Report and Annual Report.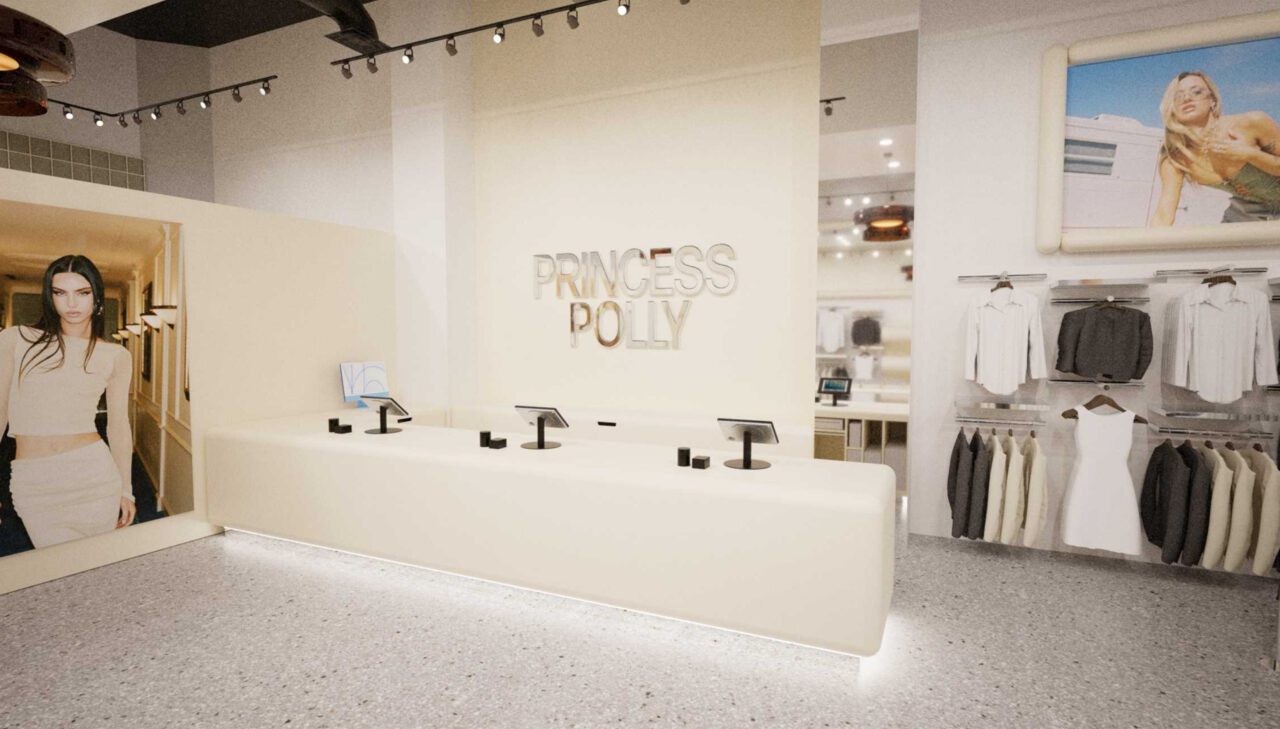 Taking a Holistic Approach to Global Growth
The measurable sustainability goals Princess Polly has set will be the cornerstone of the brand as it expands globally and across channels.
Alex Collis, Senior Director of Operations for Princess Polly, explained that the opening of its first U.S. store marked a "significant step towards offering our customers an exceptional omnichannel experience."
Since the store's opening, Princess Polly been able to validate that customers "are not only excited about the opportunity to shop with us in person, but they're also eager to engage with our brand on a deeper level," Collis said in an interview with Retail TouchPoints. "The ability to see and feel our products firsthand has resonated positively with our growing consumer base, reinforcing our commitment to providing them with a holistic and immersive shopping experience."
Wholesale partnerships like the one developed with Pacsun also will help Princess Polly extend its reach to both new and existing customers in new markets. Princess Polly fashions are currently available in 100 Pacsun stores and online, and the brand is assessing other possible partners that align with the tastes and fashion behaviors of its customers.
"We'll weigh opportunities based on their alignment with our mission to make on-trend fashion sustainable and accessible, ensuring they are the right fit for both our business and our valued customers," Collis explained.
Princess Polly will take a data-driven approach to expansion to help ensure all decisions are driven by consumer behaviors and tangible feedback.
"We're eager to bring the Princess Polly experience to new territories in response to our customers' preferences and requests," Collis said. "We believe in growing where our customers want us to be, aligning our efforts with their expectations to ensure we provide efficient and effective service."