The good news is there will be a retail recovery in 2010, according to Retail Forward's recent Strategic Outlook Conference in New York. The bad news is the recovery will be a fickle one, and not all retailers will see business return to the levels they were enjoying prior to the 2008 downturn.
The one day conference, themed "Retail Renewal," emphasized that 69% of shoppers have changed their shopping behavior due to the economy and many of the changes are expected to continue to influence purchasing behavior long after the recession.
While factors such as pent-up demand and lean inventories are expected to drive the recovery, senior analysts at the Columbus, OH-based strategic consultancy predicted it will be a "staged recovery" with consumers demonstrating more "purposeful" and price-driven behavior.
In a presentation titled "Retail Landscape Redefined," Retail Forward SVP Lois Huff categorized the emerging shopping modes as:
Low-Cost Replenishment
Speed & Convenience
Thrill of The Hunt
Solve A Problem
Huff pointed out that many of the "recession behaviors," such as using more coupons or doing more price comparison, are being driven by a motivation to trade down, limiting or deal seeking perspective. She predicted trade down and limiting behaviors will level off after the recession, but deal seeking behaviors such as couponing and buying in bulk will likely continue long term.
Even after shoppers return to their old spending levels, Huff suggested they will come back with a new mindset. "The new ROI is Return on Involvement. Deal-seeking shoppers will selectively invest time in order to get a big financial return," Huff said. She pointed to mobile and online tools such as list-making tools, meal planning tools, online coupons and comparison shopping engines as examples of ROI drivers for the new consumer.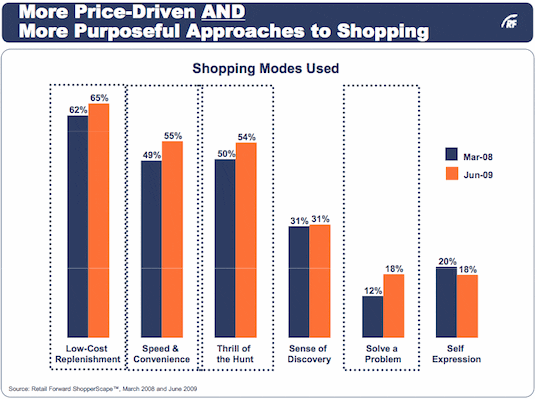 The influence of deal seeking shoppers is already reflected in some of the new formats and promotional strategies emerging in online and brick and mortar formats. In her presentation titled, "A Tour of New Business Models and Innnovations," Retail Forward SVP Mary Brett Whitfield presented some of these new examples. A few of the interesting new models Whitfield specifically spotlighted included for their ability to create a sense of urgency and tap into the deal-seeking mentality included:
Gilt Groupe: An online evolution of the traditional "sample sale," which extends invitation-only, timed sales and blocks out 15 minutes on a customer's Outlook calendar to participate.
Groupon: A new twist on couponing that offers a collective buying twist on daily deals.
Alice: A direct replenishment model for consumer products, providing powerful online tools such as price comparison engine and reviews.