Store associates are now freed up to help customers following the implementation of electronic queuing at two JCPenney stores in the U.S. Lawrence Metal Electronic Call Forward (ECF) queuing system was first tested in a Texas-based JCPenney store before it was installed in the company's new New York City flagship store.
"We were very happy with the results in our Fort Worth, TX store," says John Wise, VP & Director of Store Planning/Design for JCPenney. "In our customer surveys the grade on speed of checkout was up 12 points in less than two weeks" following the installation of electronic queuing, he notes.
In the New York City store, customer service scores are exceeding the overall company's scores "by a long shot," says Wise. "The electronic queuing system has complimented our overall customer service strategy."
With electronic queuing in place, customers' perception of the overall JCPenney brand also improved, says Wise. "Customers now feel someone is paying attention to them all the time" since the electronic queuing systems gives them verbal updates of the progress of the line. Also, in the past JCPenney staffed busy lines with a sales associate who often felt the need to yell at the customers to keep the line moving. "Customers don't appreciate being yelled at and the sales associates don't like to yell at customers," says Wise.
In addition to electronically speeding the checkout process, Lawrence's ECF system also provides customers with multimedia marketing messages. "While the screens are announcing the time until checkout they also are playing commercials," explains Wise. "It's working very well."
Twin displays offer twice the information
Using digital voice and a twin LCD central display unit (CDU), the ECF system relieves customer frustration, eliminating walkaways. While the first CDU screen alerts customers in the front of the line of the next available cashier, the second CDU screen displays the number of customers per minute being served, giving customers in the back of the line an accurate time frame for checkout.
Space-wise the electronic queuing system takes up approximately the same amount of square footage as previous systems. "The screens are mounted above the line and there is a small computer under the wrap stand," Wise explains.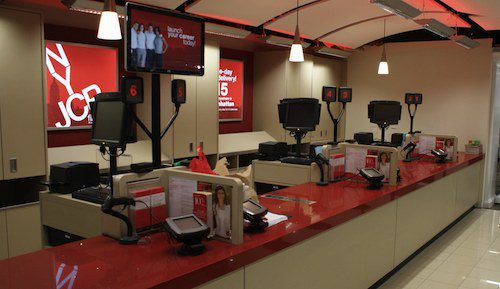 For the future, JCPenney plans to add the ECF system to high-density stores. "It is overkill for small stores that don't have a high density of foot traffic," says Wise. "We will focus on the stores that need to get a lot of people through the lines fast."
JCPenney operates more than 1,100 department stores throughout the United States and Puerto Rico, as well as an apparel and home furnishing website: www.jcp.com. JCPenney also operates the nation's largest general merchandise catalog business. The company is opening a total of 17 new stores in 2009.